UConn won its first of ten consecutive games on Thursday night, defeating USF in the opening round of the AAC Tournament 77-66. It wasn't pretty, but that doesn't really matter anymore.
This website, and me in particular, has earned a reputation for jinxing Husky senior Rodney Purvis. Every time we publish a piece praising his play, the next game is usually a dud. So we'll skip telling you that Purvis scored a career-high 30 points and came up big on the defensive end down the stretch, finishing with three steals and two blocks.
Instead, we'll give you some non-Purvis themed takeaways.
Jalen Adams looks hurt. The star guard was limping around the court most of the evening and rarely looked for his shot until late in the game. He finished with only eight points, two of which came on end-game free throws (his only attempts of the night). The Huskies looked disjointed and occasionally lost on defense, something associate coach Glen Miller attributed to Adams missing the last ten days of practice as he works to heal his injured ankle.
Kentan Facey slumping. Despite his revelatory senior season, forward Kentan Facey is mired in brutal shooting slump. The little jump-hooks and mid-range shots that made him an offensive weapon earlier this winter have suddenly stopped falling. He is 3-22 from the floor in the last three games. Against USF, he recorded only two points, both on free throws (he's made his last 11 attempts, so that's cool), and had only three rebounds. His tough game extended to the defensive end: Facey played only 19 minutes because of foul trouble.
- Advertisement -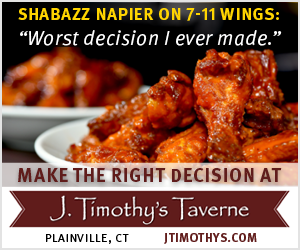 Vance is back and still good. Returning to the court after getting his noggin scrambled and taking down a plane, Vance Jackson contributed 21 important minutes. His three-point shot wasn't falling (1-4), but he found other ways to be productive. His six rebounds helped mitigate Facey's foul trouble, and he made several nice plays to get teammates open buckets — even if he also beaned Amida Brimah in the face with a fastball.
¯\_(ツ)_/¯ pic.twitter.com/Jev1PYJOLW

— A Dime Back (@ADimeBack) March 10, 2017
Typical up and down performance. At this point, 31 games into the season, we've grown to expect uneven performances from UConn. On Thursday, the Huskies started slow, turned it on, led by 13 at halftime, promptly let USF back in the game, and then closed them out for a double-digit victory. The key, as always, as UConn readies to face Houston on Friday, is to find a way for the positives to outweigh the negatives. That's a lot easier against a bad team like USF than it is for a real opponent like the Sad Panthers (is this right?). One thing is certain, UConn will need much more out of Adams if it plans on continuing its season.
Up next. Houston. 9pm (so really like 9:30). ESPNU. Tickets are dumb cheap still. Houston is trash.