Following UConn's thrilling victory over Memphis on Saturday night, Naismith and Wooden Award finalist, guard
Shabazz Napier
spoke about the hardship he's experienced off the court.
"My college experience has been tough," said Napier. "We don't have enough money sometimes, and there's so many rules now that you can't take money from anybody [to help]. That's understandable but, when it gets down to it, we make so much money for the NCAA and they don't give us any money at all. [They] expect us to starve, or expect us not to eat, it's kinda tough."
"You've got to learn how to save your money. You've gotta learn how to do a lot of [other] things that are kind of unnecessary. We come here to get a good education, and that's really important, but at the end of the day, if I can't study because I'm hungry, I'm not going to be able to do well in class. And [then] I won't be able to play. There's a lot of things that they don't really take into perspective."
While the NCAA has yet to formally address the issue, American Athletic Conference Commissioner Mike Aresco, revealed before Saturday's game that the AAC is committed to following the lead of the power five conferences in providing athletic scholarships that cover the full cost of attendance, if permitted.
Currently, scholarships cover tuition to the university but can sometimes fail to cover the expenses of items like food, text books, and even room and board. Student-athletes are frequently left with thousands of dollars in additional costs that can pile up and become unmanageable given the financial restraints placed upon them by the NCAA.
While a full cost of attendance scholarship would come too late to benefit Napier, he said it would benefit players in similar financial situations going forward. For a conference struggling to find its identity, like the AAC, it could also provide a crucial recruiting tool to its member schools as they aim to compete with their major conference rivals.
- Advertisement -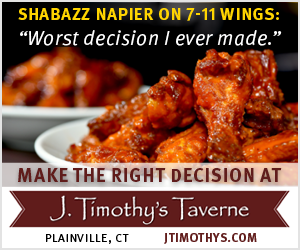 All parties will have to wait for the full cost of attendance policy to be enacted and permitted by the NCAA first. The major conferences have essentially agreed to the concept, as did a majority of schools at the latest NCAA convention. The NCAA is expected to seek a vote on the matter this summer.