We're back with a new mailbag right in your face! This week we're talking about men's basketball recruits, Olympic sports we'd totally kill at, and looking forward to more match-ups with hated rival Syracuse.
Remember: If your question wasn't answered or you've been living under a rock and are just hearing about this, you can submit your questions here or on Twitter (@ADimeBack).
---
Mike Murphy asks: Do these last two commits being power forwards affect the likelihood of higher profile players like Bamba/Richards to pick UConn?

Nick Richards remains an extreme longshot for UConn, as he's had eyes on Kentucky for quite some time, and appears to be the Squid's #1 priority for the class. Mohamed Bamba remains in play, but only if a number of things work out, specifically Richards going to Kentucky and Duke landing Wendell Carter. If that's the case, Bamba may prefer the sure starting spot for the Huskies.
Carlton isn't going to be a day-1 impact player, so he's not standing in between a talent like Bamba and the starting lineup. Polley is strictly a forward, while either Bamba or Richards would be playing (and starting) at center right away. So, long answer, neither Bamba nor Richards is likely to be affected by the presence of Carlton or Polley.
- Advertisement -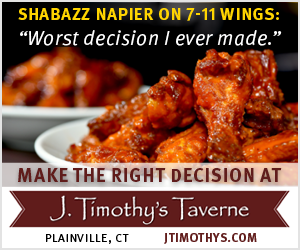 ---
Jungle Husky asks: What weird non-NCAA Olympic sport would UConn be good at? (Curling, rugby 7s, dressage, bobsled, handball etc)

Judging by the dominance of UConn polo, you'd have to think that the talent is there to master the equestrian events. Horsebarn Hill is basically the perfect cross-country horse jumping course, once you sprinkle in those classic equestrian obstacles like The Windmill Of Despair and the Crowd Of People Who Make Less Than $300K Per Year.
Curling is another strong possibility, and I would strongly encourage that whatever new ice hockey arena/Freitas renovation happens, provisions be made for a couple curling sheets. If a UConn curling team had existed in the late-2000s, I'm confident I would have skippered a national championship team.
But I'm gonna go with handball, because if you trained Rodney Purvis or Moriah Jefferson in that sport for like a week, they'd both be the greatest handball player of their gender in history, and we'd be talking about how in 2016 UConn won national championships in both men's and women's handb
---
David Karwoski asks: After the women's basketball win in April, football this week, and men's basketball Dec 5th at MSG, could this be the best fuck Cuse year ever?
– Literally all of us. Seriously.