Friends, we are in that beautiful sports sweet spot, where fall sports are still going on and the winter season is beginning. There is a regular cornucopia of UConn sports to feast on this weekend, and we've got all the deets right here for you. Who loves you, babby?
Men's basketball kicks things off with its regular season home opener against Colgate at Gampel Pavilion. Fingers crossed we don't have to come up with a new #narrative after tonight. Also keep an eye out for whether Jalen Adams plays. He was issued a summons yesterday for leaving the scene of a scooter accident. (Stop riding scooters, guys, they are dangerous, and there are too many mashed potato joints for any of you to risk getting hurt.) Tickets are still available here. The game airs at 7:00 on SNY.
Icebus is in action tonight and tomorrow against Ohio State at the Xl Center. The puck drops tonight at 7:05 and tomorrow afternoon at 3:35. You can still score tickets to both those games: here and here.
Undefeated(!) field hockey begins its quest for another national championship in the second round of the NCAA Tournament tomorrow at 11:30 am against BU (UConn had a first round bye). You can watch the game here. If, excuse me, when they win, UConn will face the winner of Delaware-Penn State in the quarterfinals on Sunday. Nancy Stevens Tha God and Co. are going after their first ever undefeated season, so get on board the… field bus?
UConn football travels to Orlando to play in what is most definitely not a rivalry game called the Civil ConFLiCT, and there is certainly not a mystery missing trophy that Meacham would pay all the dollars in his bank account for. (Sell Meach the trophy, damnit.) Kickoff is at noon on ESPNU.
- Advertisement -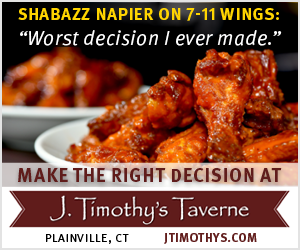 And your wonderful weekend of UConn sports ends with a delicious dessert in the form of UConn women's basketball kicking off its season against Stanford in Ohio, for some reason. As much as we think UConn wins all of the games this season, never count out Tara VanDerveer, because she's an X's and O's genius who is the only person even close to being on Geno's level. Tipoff is at 1:30 pm on ESPN.