Four-star small forward Sid Wilson is transferring to UConn, effective immediately, according to Corey Evans.
UConn has landed the commitment of top-75 wing Sidney Wilson https://t.co/zxanu0eEF9 pic.twitter.com/5867ky5rLV

— Corey Evans (@coreyevans_10) September 1, 2017
When Sid Wilson announced on Wednesday that he was transferring from St. John's – where he has been attending summer classes but has yet to play a game – UConn was seen as the immediate frontrunner for the Brewster Academy grad's services. Ollie and Co. were thought to have locked up Wilson during his initial recruitment in the spring, but at the eleventh hour, hometown-team St. John's won out.
- Advertisement -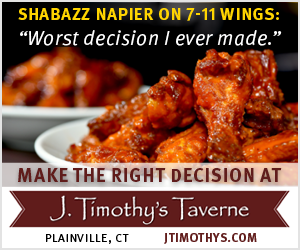 Wilson's father, Sid Sr. told Evans that Wilson had been unhappy being back at home, and all indications were that UConn was always his preference.
So it comes as no surprise that only two days after the initial transfer announcement that Sid will be bringing his talents to Storrs. Still to be determined is whether Wilson will be eligible to play this season, or will be forced to sit the season out. Despite not having played any games for any college team, Sid will need a waiver from the NCAA to play this season because he enrolled and took classes over the summer at St. John's.
Either way, expect the bouncy forward to be a successor to Terry Larrier, who may be off to the pros after this season. Wilson snagged the final open scholarship for the season, and (with apologies to Christian Foxen) it's really quite refreshing to see Ollie fill all his available scholarships with non-walk-ons.
And if this turns out to be true, I think I can speak for all UConn fans when I say, yessssss
Wilson may remind UConn fans of Stanley Robinson – elite level bounce, not quite as athletic laterally or with 1st step, best around rim. https://t.co/9blPxaVoBq

— Adam Finkelstein (@AdamFinkelstein) September 1, 2017