Yesterday we recapped the men's basketball season. Today, we're doing the same with the UConn women's team.
Since UConn won its 11th national championship – and fourth straight – we've bid adieu to the Breanna Stewert Era, and urged the rest of college basketball to finally get on the Huskies' level. Now let's put the finishing touch on the season by answering some key questions and handing out some awards.
WHAT SURPRISED YOU THE MOST?
Peter Bard: We talk about it a lot, but this team still managed to consistently surprise me every time I watched them play. What an incredible team.
Meghan Bard: How improved Stewie's game was from her freshman year. It never ceases to amaze me that someone with that much talent to begin with was able to completely erase every even perceived weakness in her game. She has the most complete skill set I've ever seen.
Russ Steinberg: I was expecting Stewie to throw down an insane 360, through the legs, off the backboard lob to herself, eyes closed dunk. Didn't happen. Get it together, girl.
- Advertisement -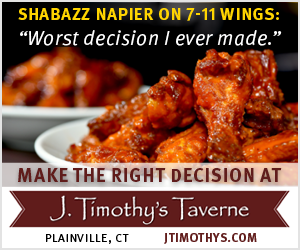 Tyler Wilkinson: That the team managed to stay relatively healthy. Minus a few missed games for Natalie Butler and Morgan Tuck (whose time on the bench felt almost precautionary), the Huskies managed to avoid any serious injuries until Katie Lou Samuelson went down in the Final Four. For a team with potential (relative) depth issues, staying healthy was critical.
WHAT DISAPPOINTED YOU THE MOST
Tyler: This is insane, but I was really hoping Stewart would play the best game of her career in the championship. Like, Jordan at the Garden level. Instead she was only just exponentially better than everyone else on the court.
Meghan: That Stewie never dunked. I'm not sure I'll ever get over this.
Peter: The season ended and we'll never be this good again (probably?).
Russ: I lost my credential before the Elite Eight game and needed to be issued a new one before entering the arena.
MVP
Russ: The best thing to ever happen to Syracuse, Breanna Stewart.
Tyler: Fine, Stewie, you win again! Happy?!
Peter: As much as I'd love to use this space to address how incredibly Moriah Jefferson and Morgan Tuck were this season, Breanna Stewart is the most complete WBB player I've ever seen, so it would be a shame if she didn't add this prestigious honor to her collection of prestigious honors.
Meghan: I mean, it's obviously Stewart, but shout to MoJeff who did work all season as the second best player in the country.
BEST MOMENT
Peter: Any number of dominant, game-breaking runs that they went on this year. There was nothing more satisfying to me than watching this team systematically run opposing teams off the court.
Russ: That time they won their fourth straight national championship.
Meghan: Three blocks on one possession was the funnest.
Tyler: Briana Pulido's final hoop to end the season.
WORST MOMENT
Russ: Trailing at Houston, 15-14, at the end of the first quarter.
Meghan: When it was all over, and I realized I was never going to get to watch a team this good play ever again.
Tyler: Samuelson's broken foot. She progressed so much in the last few weeks of the season and deserved to be on the court for final game.
Peter: The Syracuse run in the finals that almost threatened to make the game competitive. I wanted to win that game by 80 points, and that ruined it.
TEAM'S BEST QUALITY
Russ: There are so many great qualities. Obviously. So I'll use this space to point out the one that I think bodes best for the future: Napheesa Collier and Katie Lou Samuelson both showed marked improvement as the year went on and finished the season playing really well. UConn fans have a ton to look forward to.
Tyler: Passing. Geno's teams also pass well but rarely do they have five near-elite passers on the court at the same time. Tuck and Stewart always making the right decision on the block was a luxury that I don't think we'll see repeated at the college level for some time.
Meghan: Just one quality? Selflessness. These players work for the good of the team, always making the extra pass to find the open player. No one is out for personal stats; they just want to win. And that attitude is why they were so damn good all year.
Peter: They were a well-oiled machine. On offense, we could talk about how well they shoot or how many of them can handle the ball, but really it's that everyone looks for the final pass – the one that creates an easy layup or wide-open midrange jumper. They played like they didn't care who scored, which resulted in everyone scoring a lot.
TEAM'S WORST QUALITY
Meghan: None. Fuck internet chodes.
Tyler: Temporarily giving Dan Shaughnessy's corpse of a career some newfound relevance.
Peter: N/A.
Russ: Their ability to systematically kill the game of basketball in excruciating fashion over the course of 38 torturous games.
GRADE GENO'S PERFORMANCE
Tyler: A+
Peter: A++++++, Lifetime Achievement Award
Meghan: A+ because there's literally no one better than Geno.
Russ: We like to joke around about #FireGeno, but in all honesty, if you want to give him anything other than an A, you can go right to hell. 
WAY TOO EARLY PREDICTION FOR NEXT YEAR
Meghan: They will not be a unbeatable juggernaut, but they will be very, very good. A couple out-of-conference losses seem likely, but when Geno's the coach, bring home a giant trophy in April is always a possibility.
Peter: Losing the three best players in the country would bury most programs, but this isn't most programs. With KLS, Nurse, Gabby Williams, and Collier all returning, there should be plenty of points, and incoming freshman PG Crystal Dangerfield looks to pick up the reins from Jefferson and keep things humming. Expect this team to contend for another title next year.
Tyler: Some growing pains as the team settles into their roles. A loss or two in the out-of-conference schedule. Coalescing down the stretch to become the best team in America.
Russ: UConn fans are in for a rough year, complete with two, maybe three losses! Buckle up, because it's going to be a bumpy ride. The Huskies won't be the No. 1 overall seed and might have to settle for ONLY a Final Four appearance.