UConn will be reuniting with the most successful football coach in its history. The university announced on Wednesday that Randy Edsall will return to Storrs, taking over the program from Bob Diaco, who was fired after three unaccomplished seasons.
The news broke about 12 hours after we published Big Meach's piece on potential head coach candidates, that included a plea to leave Edsall out of the search. Meach will be posting later today with a detailed explanation of why this is the wrong move for UConn. My task today is to take the opposite tact and give you the glass half-full view on the move and what it means for the program going forward.
For Edsall's second tour of duty to be successful, it requires a belief that he can immediately approximate the success of the past. That means, in short order, UConn needs to compete for conference championships and be consistently bowl-eligible. The Huskies are banking on Edsall's "program building" process to be accelerated because he's done it here before.
While the hire certainly lacks in creativity, it is a sign that UConn is eager to get back to a basic level of respectability as soon as possible and figure out the rest later. That's not an unreasonable approach. Edsall will also bring the reputation of being an actual, functioning adult, a quality that was missing in Diaco, leading to UConn football headlining some humiliating national sports coverage. Edsall likely won't inspire too many casual fans at home to buy tickets, but his vanilla-ness may be a selling point at the moment.
In an attempt to redeem himself for his previous exit, Edsall apologized, saying "[c]ertainly as I look back on it, I wish I had done things differently in that instance. I completely understand and respect that there are loyal fans, supporters and former players that still have not forgotten and it will take time to forgive."
- Advertisement -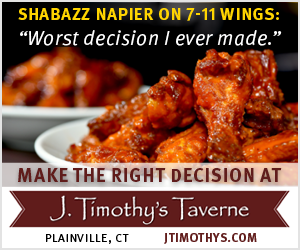 To further illustrate his high character, Edsall has blocked ne'er-do-well twitter account @NoEscalators.
Bringing back Edsall is a clear sign to UConn's football alumni and ever-anxious donor base that they matter. Athletic director David Benedict has been working to repair the frayed relationship between the university and its athletic donors since he arrived on campus. We're told that donors were more involved and informed in this decision-making process than in the past (like when Edsall originally fled UConn). Additionally, Edsall's former players had been essentially shut out of Diaco's program, with several openly voicing their displeasure. Edsall's return allows the football program to cobble together an approximation of the alumni support enjoyed by both the men's and women's basketball teams — an important aspect of UConn's branding and fundraising strategy. With a host of former players collecting checks in the NFL over the last decade, this is important.
In his previous tenure at UConn, Edsall's strongest skill was the development of unheralded talent. He will inherit a roster full of one- and two-star recruits that need an awful lot of development. Edsall also managed to win a lot of games without a real quarterback, which will be helpful because UConn might not have one of those at the moment either. In addition to players, Edsall also had an ability to spot hidden talent in his assistant coaches, several of whom have gone on to have successful careers at other schools. With the entire staff needing to be replaced, Edsall will be counted on to surround himself with good coordinators and position coaches.
Lastly, and this is a sad thing to write about UConn sports, Edsall saves them money. His new contract will pay him $1 million per year for five years, significantly less than the $1.3 million Diaco earned in 2016. The last two seasons of Edsall's contract have a zero-dollar buyout, meaning the university can fire him after year three without owing him additional money. The savings will help cover Diaco's (very necessary) buyout, and may leave funds left over to spend big on capable assistant coaches, specifically on the offensive side of the ball.
[A Dime Back has requested a full copy of Edsall's contract and will have more information when available.]
Ultimately, Benedict likely viewed Edsall as the safe bet. While much of the fanbase (myself included) clamored for a hotshot coordinator from a big name school, we all witnessed how much fishcake you have to eat when that goes wrong.
[Ed. Note: I think this was a bad hire but had to write this piece anyway.]