David Benedict has a momentous decision ahead of him over the next week or two, as the athletic director searches for the coach who will lead UConn football into its next stage of development, the fabled "hopefully not terrible, most years" stage.
Benedict's announcement yesterday that Bob Diaco would be relieved of his duty was surprising, given that he had said Diaco deserved a fourth season three weeks ago. That seems to imply that Benedict already has his target in mind; and there have been media reports that an announcement could be coming within the next 24-48 hours.
However, in the meantime, there are a lot of exciting options (and Randy Edsall) that UConn can throw a decent amount of money at, and all of them have their pros and cons. Join us, won't you, as we take a trip through a list of folks who aren't Randy Edsall (and Randy Edsall) who might be tabbed with the solemn duty of winning seven or eight games once in a while:
THE OBVIOUS PICK (IF HE'D TAKE IT)
Joe Moorhead
Moorhead is probably the ideal candidate for this spot at this moment, and if you have any faith in the UConn athletic department as a smart, proactive unit, you might suspect that Moorhead — the current Penn State offensive coordinator, who coordinated UConn's only good offensive season in the past decade (2009) — was the target all along. In this theory, Benedict has been in contact with Moorhead, sending feelers out as Penn State prepares for the Rose Bowl, and once they reached an understanding, it was bye bye Bobby. That probably didn't happen, but I can dream, can't I?
Moorhead has UConn ties, has produced successful FBS offenses at UConn and Penn State, and did an incredible program-building job at Fordham (he took over a team that went 1-10 and averaged 13 points per game, and in three seasons went 38-13 with a scoring average of better than 30 per game all three years). He knows this part of the country. I have to think he'd be able to recruit. If there's anyone who can rebuild this program, and do so in a way that produces entertaining football, I think it would be him.
- Advertisement -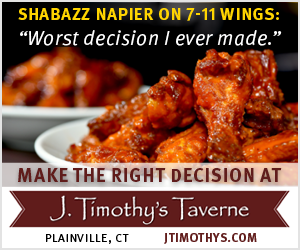 Of course, he can probably do all those things at any number of Power 5 schools, too, if he stays put at Penn State and waits for an opening in 2017. While it's true that one of the horses training for next year's Kentucky Derby told Pat Forde that Moorhead is committed to Penn State for next season, it's also true that Moorhead is coaching in a bowl game Jan. 2. If a hire isn't announced before then, perhaps it's a sign that Benedict is the ninja we need at this moment.
RETREADS WHO WOULD PROBABLY DO FINE
Greg Schiano
Skip Holtz
Jerry Kill
uh sure why not les miles
Of these, I would guess only Schiano is even a potential candidate.
Holtz is doing his thing of having slightly-above-average teams in Conference USA. Kill, who was rumored to have been in the mix to be Bob Diaco's offensive coordinator, is now the OC at Rutgers and has stated his intention to remain out of the head coaching game after his history of health scares. Les Miles is not ever coming to UConn ever, although if UConn wanted to make a splash and really give this football thing a shot they'd drive a truck of money to the houseboat he almost assuredly owns. (If you were really jonesing for UConn to hire Mike Leach in 2011, and you were probably right to do so, then Miles is the pipe dream for you.)
While we all might have to hold down the bile in our throats if it ever happened, Schiano would be an interesting fit at UConn given his incredible program-build at Rutgers, taking that program from the dirt worst to "good enough that the Big 10 can justify adding them for the TV revenue." Schiano is a hell of a recruiter with extensive ties in the Northeast and Florida. He's looking for another opportunity to be a head coach after a failed stint in the NFL. He was a human billboard for the Rutgers program as it slowly improved.
Schiano was not a noted brilliant in-game coach, and it would annoy the hell out of Middle-Aged 4Chan The-Boneyard if he came here after a decade of mocking his bluster and state-funded helicopter. But he could solve so many of UConn's woes by simply being a better, more credible recruiter than the school has ever had.
!~FBS COORDINATOR LIGHTNING ROUND FANTASTICO~!
UConn dipped into the coordinator well last time around, and it turned out that Bob Diaco was probably better suited to coaching defense than he was to being a head coach.
That's not to say UConn couldn't find a winning coach from a pool of names that includes people like Texas defensive coordinator Todd Orlando, Michigan's coordinators (Tim Drevno and Don Brown) or USC offensive coordinator Tee Martin. But it would be a gamble. And anyways, any of those coaches having interest in the UConn job would be a surprise — though perhaps less so if Orlando or Brown emerged, given that both of them served as defensive coordinators here in the recent past. Rhett Lashlee of Auburn could also be a dark horse pick, given that Benedict's last job was at the SEC school.
However, after Benedict talked about how important head coaching experience is in his WTIC interview Monday, I don't know how likely it is for the school to take another risk with another unproven head coach.
DIP INTO FCS
Looking at a successful FCS head coach would tick off the experience box for Benedict, although recruiting at an acceptable AAC level would still be a question. If you're going to look at an FCS head coach who's built a successful program, you probably need to stay within the same rough geographic area — North Dakota State has had an incredible run, but is their coaching staff's success transferable to an East Coast university with high academic standards?
If you're going to look at an FCS program, you ought to look at James Madison, which is 13-1 and playing for that division's national championship next week. Mike Houston has taken a roster entirely composed of Eastern Seaboard players (mostly from Georgia to New Jersey) and obliterated two of the best teams at that level (Sam Houston State and NDSU) in this year's playoffs. JMU scored 28 points in a loss to North Carolina this year; against Maine, his players scored more points and won by a more comfortable margin (31-20) than Bob Diaco's players did (24-21).
Houston went 29-8 in three seasons at Division II Lenoir-Rhyne, had a 9-4 season at The Citadel (which is really, really hard to do) and is on the verge of winning a national title at JMU.
After seeing the way former NDSU coach Craig Bohl immediately turned around Wyoming in his first season, UConn could do worse than digging for a lower-division coach who's done nothing but win at whatever level he's been at. Whether that's Houston, or someone else, it's worth considering.
WTIC CALLER-APPROVED
Dan Orlovsky or
"Someone Who's Not A Thug"
Orlovsky played a skill position at a high level when he was at UConn, and thus is the only player most TIC callers can recognize. Obviously he should be the coach. (On the serious, is there anyway we can put a few bucks aside to give Orlovsky a job as a position coach when he retires from the NFL?)
If Dan-O doesn't work out, TIC callers' second choice would be to give the job to a hard-working American with good values who pulls up their pants and doesn't listen to the hip-hops and doesn't live in Bridgeport and is white.
NOT A BAD IDEA
Hamidou Diallo
Would Kentucky offer an 18-year-old their head football coach job in order to sway him to play basketball for their school? I don't think so, on account of the fact that Kentucky is a bad basketball program whose fans don't care enough about their team.
BOB DIACO IN A ZORRO MASK
ROBERTO EL DIABLO
Not gonna fool us again, Bob.
REBECCA LOBO
Rebecca Lobo
Have to think she'd get the job done.
And finally on our list…[speakers blare]
CASE OF THE EX
Randy Edsall
OK, let's talk about our old friend Randy, who was named by ESPN's Brett McMurphy as a "strong" candidate for the open job Tuesday afternoon.
Yes, UConn's peak of football success came under Edsall from 2007 to 2010. Yes, UConn hasn't had a winning season since Edsall bolted for his "dream job" at Maryland the night of the 2011 Fiesta Bowl. Yes, UConn developed a whole bunch of NFL players from the 2- and 3-star recruits Edsall brought in throughout his time with the program. Yes, Edsall built UConn football from an average FCS program in trailers and made it a competent FBS team with top-notch facilities in less than a decade. Yes, Edsall might understand that punt returns are legal in football and have been for a while.
All of these things can be true and this would still be an uninspiring, dispiriting, backwards-thinking, small-time move.
I think it's possible that Edsall could have UConn playing at an acceptable .500ish level in the American Athletic Conference within a couple years, and possibly a tick better. He showed a talent for finding low-ranked recruits and developing them, and he surrounded himself with very competent assistant coaches. He ran his program generally the right way.
I don't think it's possible that Edsall could do any more than that.
He certainly didn't when he had the carrot of a BCS league to draw recruits; UConn won two conference co-championships, in 2007 and 2010 (which I will non-ironically treasure for the rest of my life), and was at or below .500 in the Big East every other year of Edsall's tenure. Those two championships saw UConn eek out 5-2 league records on the backs of an unsustainably wacky turnover margins. The 2007 team gave up 66 points to a legit West Virginia team in the de facto conference championship game; the 2010 team was shut out by a bad Louisville team before racking up five straight wins, three of which were by three points or less.
This is not to take anything away from those teams (or from the 2009 squad, the school's best team ever and the only legit top-30ish team UConn has ever produced), who were a hell of a lot more fun to watch than the last six UConn squads. I say this merely to point out that it's hard to imagine Edsall's system building a lasting, sustainable program in a less prestigious conference, with regional rivals having a difficult-to-overcome recruiting advantage, and with UConn's long-term ability to fund athletics at a Power 5 level in doubt.
Is it possible that Edsall maximized what UConn football can do? Yes. Is it possible that the realistic ceiling here is eight or nine wins per year, because of structure, history and competition? Yes.
But while we at A Dime Back Dot Com can be cynical dicks who joke about how good it'd be to have a 7-5 season every couple years, UConn can't act as if it's destined for mediocrity forever. Bringing back Edsall for a second tour of duty would be a signal that the school believes that it truly can't do better, that it can't compete, that it can't aim for real success. Why are we doing this if we're not trying to win, and win big? If we're just trying to scratch out an existence, then it's time to drop the pretense of big-time college football at UConn, stash the program in the MAC or an FCS league, and rejoin the Big East.
Try harder or die.