Everyone on Twitter is cranky after last night's shellacking by Houston, and we won't take part in the doom and gloom parade. We have eschewed all your questions this week (except for one) and we're giving you answers to questions from everyone's favorite mystery man, Big Ron.
Remember: If your question wasn't answered or you've been living under a rock and are just hearing about this, you can submit your questions here or on Twitter (@ADimeBack).
---
Big Ron asks: Why, play-to-play, is this year's team better than last year's team?

A few reasons why UConn is an improved football team:
1) We're stopping the run better than we did last year (although our front four is not great at pressuring the QB, and the play-calling isn't helping that area).
- Advertisement -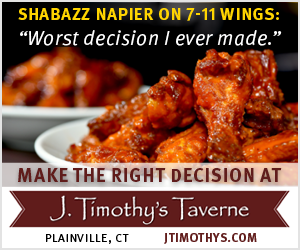 2) We have a legitimate offensive playmaker that we're actually dedicated to getting the ball to, unlike in past years (although our Shirreffs has left plays out on the field).
3) Our initial game plans have been really bad on both sides of the ball, but when we've adjusted our play-calling to play more of a spread style, we've looked semi-competent on offense. When we've figured out that we're better on defense when our corners aren't 15 yards off the ball, we haven't really gotten burned (that one syracuse dude aside). Maybe the coaches won't ever figure it out, but there is something there.
4) We're well over 200 yards per game passing again!
5) Our special teams seem to be above average, save for the bizarre punt return strategy.
All of these are improvements over last year that are unfortunately mitigated by the terribad pass defense, the lack of turnovers forced, and committing some of the worst-timed turnovers possible. If Diaco and Poindexter can't get the secondary fixed by the end of the season, I'd actually be fairly surprised. If we don't get a WTF win where the other team randomly loses nine fumbles or something, I'd be really surprised (people will chalk that win up to "grit" or "figuring it out" or whatever, but it's just a thing that happens). If those two things turn around, then this team has the fundamentals of an above-.500 team and will win a majority of the remaining games. It's just that if they don't do it soon, it might be too late for a bowl game.
---
Big Ron asks: City vacation or beach vacation?

City vacation. Despite how good I look shirtless, I'm not much of a beach guy. I'm not a good swimmer, sand is awful, and there are sharks and stuff. Give me a new city to explore by day and let me drink everything by night (or by other times of day). I'll eat the shit out of your regional cuisine, visit the shit out of your touristy landmarks, watch the shit out of your baseball team and wander the shit out of your streets and parks. I love every minute of it. Unless the city is Cincinnati. Then give me the beach.
---
Big Ron asks: What is the best sandwich?

There was unusually strong agreement in the ADB slack on the best sandwiches . And it is with that sense of camaraderie that I will give you, not just the best sandwich, but the list of best sandwiches:
1) Meatball grinder
2) Reuban
3) Pulled pork
4) Chicken/eggplant parm grinder (both delicious, but parm grinder gets only one spot)
5) Sausage and pepper grinder
---
BpenfieldJ asks: Do you read all the mailbag questions?

You may be surprised to hear this, but we do, in fact, read all the mailbag questions, even if we don't answer them all. Some weeks we get more than we can answer. Sometimes we get questions we've answered already. Sometimes we get questions we think we answered but really we just argued about them in Slack for a long time and never actually answered them. (Which is why we're totally cool with you sending in questions you've already asked before.) Sometimes, though, we just don't like your questions, much as we don't like all of you (not you, Penfield, creater of dope UConn graphics, you're great). And then we punish you with a Big Ron Mailbag. Now go to your room and think of some better mailbag questions.