Hashtag Mail Week is technically over here at A Dime Back, but we wanted to make sure we addressed the highlights of UConn football's (relatively) successful National Signing Day 2K17, the first recruiting class under new/old head coach Randy Edsall.
The executive summary: it was a decent class, maybe! Or at least good enough that our low expectations allow us to get excited over a non-crazy UConn coach executing a comprehensible plan and beating out AAC schools for prospects. We'll take it. On to the questions:
Big Ron asks: Should we be excited that UConn's class ranking on 247 jumped up almost 25 spots since Edsall came back?
Yes! Also, no.
We definitely should be plum thrilled that Edsall, in a span of six weeks (really only three weeks with both coordinators in place), managed to pull UConn's class out of the AAC basement.
- Advertisement -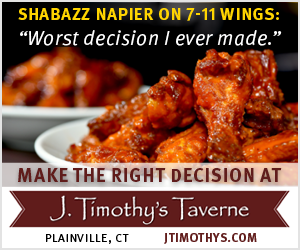 And we should be happy that Edsall, Rhett Lashlee and Billy Crocker appear to have actual strategies and ideas for recruiting beyond "recruit a bunch of 6-4, 240-pound guys and then do a football." You can see the fingerprints of all three coaches with this class.
Edsall's previous teams at UConn were almost always strongest on the offensive line and in the defensive secondary, and those are certainly two of the heaviest-recruited positions Edsall sought in this 2017 class. There appear to be a number of potential contributors in each area, including some of Edsall's top gets, like safety Darrian Beavers and my new favorite UConn player, O-lineman Robert "Big Rob" Holmes (no relation to our friend Big Ron, I presume).
Recruiting so heavily in the secondary – two of Bob Diaco's better-rated recruits were corner Ian Swenson and safety Omar Fortt – will also be a big assist to Crocker's 3-3-5 defense, which is going to require speed at almost every position. UConn's current roster construction on defense seems ideally suited to shifting players down a level (think of a guy like Luke Carrezola, who was a decent outside linebacker for Diaco, potentially moving to defensive end, where his athletic ability will be more of a difference-maker). If the staff chooses to go in that direction, recruiting secondary players and rearranging UConn's spate of already-existing fringe-y linebacker/safeties and defensive end/linebackers makes a lot of sense.
Finally, there's our new heartthrob, Rhett. It's fair to assume that Lashlee will be bringing at least some of the principles of Gus Malzahn's high-tempo spread offense, and an athletic quarterback is the cornerstone of what he will want to do. Recruiting two high school senior dual-threat QBs makes a ton of sense for the long term, as does adding a junior college quarterback who can push returning starters Bryant Shirreffs and Donovan Williams in the short term.
Now, time to temper the excitement: while Edsall did a very good job in pulling together a class this good in such a short time, and while there are quite a few promising individual players, the overall class still is what it is: 100th best in the nation, 10th best in the 12-team AAC.
UConn still needs to improve its recruiting dramatically and beat out some teams to consistently compete with the rest of the league. Perhaps one place to start would be to gain the commitment of one or more of Connecticut's top 12 FBS commits? UConn's been in a conference since 2004 and had one recruiting class ever finish in the top half of its league; the Huskies are 36-58 against conference foes since 2004. It's not rocket science.
The most exciting thing about this class (besides Big Rob) is that Edsall's six-week class is the equal of Diaco's best class, and the second-most exciting thing is that these players should be better-coached than recent UConn teams. Perhaps with another year of adults running the place and a better-than-three-win season, Edsall can make another 25-spot jump next year.
Large Ron asks: Is it a good or bad thing that Randy Edsall suggested three true freshmen could start on the O-line, given our horrendous line play in recent years?
Mostly bad. There just aren't a ton of true freshman offensive linemen who should be playing right away, instead of spending a year lifting, eating a properly regulated diet, learning advanced techniques, and driving around in a van solving mysteries.
On the other hand, any upgrade would be welcome on the line, where the Huskies have three solid players – junior center Ryan Crozier, senior guard Tommy Hopkins, and sophomore tackle Matt Peart – and then a host of large men of uncertain ability. Five of UConn's 12 returning offensive linemen are seniors this year, and perhaps the new offensive scheme will click for one or two of them to fill out the starting lineup. I would be surprised if Edsall didn't search the transfer market for another blocker in order to get through this season, and then begin 2018 with Crozier, Peart, and this class of freshmen as the core going forward.
If Edsall has to turn to Big Rob, Stanley Hubbard, James Tunstall or Ryan Van Demark in 2017, so be it. But it would speak very poorly of the previous regime's recruiting and development if they did, and it would not augur well for a successful season.
¡Grande Ronaldo! asks: Do we have too many quarterbacks? Who starts against Holy Cross?
No such thing for a program like UConn's. Unless I'm forgetting someone, UConn hasn't signed a high school quarterback recruit who stayed with the program for at least three years since Matt Bonislawski, a contemporary of Dan Orlovsky. (Everyone else was either a walk-on, transferred in, transferred out or switched positions.) That's a grim attrition rate.
To get around that, it makes sense for UConn to over-recruit at QB every single year until they find continuity at this most important position – wouldn't it be great to have a starter capable of winning games in a competitive conference plus a backup who can be primed to take over as a junior?
One can hope that one of Marvin Washington or Jordan McAfee will emerge in 2018 or 2019; based entirely on nothing besides offer lists and highlight videos, I'll go with Washington (advance congratulations to 2020 Sugar Bowl champion quarterback Jordan McAfee).
For the immediate future, I'd be stunned if the Day 1 starter this fall isn't Bryant Shirreffs or the JUCO transfer David Pindell.
Shirreffs is what he is at this point – a tough runner and an adequate enough passer to score between 14 and 24 points per game. For depth reasons, I'm very glad he is coming back, and he can be the QB of a successful Division I team; but he's just not going to win games on his own.
Pindell, meanwhile, put up good numbers at Lackawanna College, though it should be noted that both his completion percentage (63.6) and his TD-interception ratio (31-7) are both a notch worse than the junior college numbers of one Tyler Lorenzen (69.0 percent, 26-3). Pindell appears to have both a stronger arm and faster legs than Shirreffs, which make him a viable option to take over the starting job at some point in 2017.
Maybe Pindell will surprise us right out of the gate; if he does, it's a good sign given that Shirreffs has the advantage of having been a two-year FBS starter, being one of the only two scholarship QBs who get to work with Lashlee's system during spring ball, and the additional advantage of currently being a far, far, far superior quarterback to should-be-redshirt-freshman-if-we-didn't-have-a-crazy-person-for-a-coach Donovan Williams.