Hey. It's bag time. Let's go!
Remember: If your question wasn't answered or you've been living under a rock and are just hearing about this, you can submit your questions here or on Twitter (@ADimeBack).
---
Josh asks: Who is your favorite UConn athlete ever?
With due respect to Ray Allen and Diana Taurasi, who are certainly high up on the faves list, the correct answer is Rebecca Lobo. She's a Perfect Human. She's a friend of ADB. She dunks on Russ. But in all seriousness, she was also very important to 13-year-old Meghan. I was a girl who played tons of sports (I was, unfortunately, extremely not good at basketball, to my everlasting shame) and following the 1995 UConn wbb team was a seminal part of my adolescence. My best friend's family had season tickets, so when I got to go along (which was often, thanks fam!) we would race in to grab a seat close to the floor. (This predated assigned seats for wbb, yes, I am old.) We idolized those players. I rocked the Lobo French braid. I'm not sure I can oversell how much it meant to see female athletes get the kind of attention and adulation that squad did. It had a huge impact on many young girls who wanted to be athletes, and be taken seriously as athletes, including me when I was one. The image of her celebrating after the final buzzer of the National Championship is seared into my memory. So I'm ride-or-die for Lobo. She's an utter delight.
---
- Advertisement -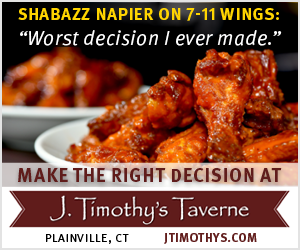 Dave asks: For those of us who are thinking about a Flex Pack for football, which games should we be going to?
The one home game I absolutely would not miss is Boston College — the rivalry returns to the Rent after 13 long, bitter years and [pressing on earpiece] I'm being told that we can no longer have nice things.
Anyway, if you're looking to snap up a two- or three-game flex pack, you've got a couple decent options.
USF and Memphis are the top teams to visit PAWSARF this year, so you'll want to grab one of them, or both if you don't mind having two games where the Huskies will be heavy underdogs.
The Tulsa-Missouri-East Carolina swing at the end of the season is risky if you want to pick out a game or two — late-season games haven't been very meaningful at UConn the last seven years or so, but all three are winnable, I think. (UConn's flex plan forces you to choose only one of Tulsa and Missouri, FYI.)
Holy Cross offers you a hopefully relaxed, warm-weather evening and a chance to welcome Edsall 2.0 back home.
I like to balance 1) the chances of seeing UConn win, 2) good weather and 3) whether or not I've heard of the opposing school before, so my three-pack would be Holy Cross, Memphis and Missouri. If you're strictly going on quality of opponent, it has to be USF/Memphis/Missouri; and if you're going strictly on likelihood of winning, I think it's Holy Cross/Tulsa/ECU.
---
Matthew asks: What new @UConnMBB player (recruit or transfer) are you most excited about seeing and why?
Obviously the answer is All-American Alterique Gilbert, who sat out all of last season with an injury (seriously, that's what happened, don't question it. Terry Larrier never played a game either).
After Gilbert, it's gotta be Kwintin "Not a Real Human" Williams. In case you missed what we wrote about him last week, behold:
Williams is a former Oregon commit, but he hasn't played competitive basketball in over a year. So who knows how much production to expect from him? But at the very least, he is bouncy and fun and needs to be ahead of the pack on every fast break.