The more things change, the more they stay the same — at least in the loss column. The UConn women have picked up where they left off last season, despite losing three iconic players, en route to a 4-0 start that includes victories over then #2 Baylor, and a road victory over #12 Florida State.
Their active win streak now sits at 79 games.
Unlike in recent years, however, the Huskies have managed to infuse some intrigue into their early season success. Let's take a look at what we've learned thus far.
It's Katie Lou Samuelson's team:  Asking a sophomore to replace Breanna Stewart is outrageous (and kinda rude), yet here we are. KLS has been the team's best player, taking on the responsibility of coming up with big buckets at critical points — including the famous Hit-A-Big-Three-Destroying-Your-Opponent's-Morale shot that all of the Husky greats have employed over the years. KLS has been a devastating outside threat, but more interestingly, has shown off an enhanced ability to drive past a defender, and to back down smaller opponents in the post. It's fun to watch.
The team can win without Kia Nurse:  Samuelson's ascent has been fortuitously timed, as UConn's expected star, Kia Nurse, has struggled. While looking much better against LSU and Dayton, Nurse's 9.3 points per game exactly matches her output from last season. If you're looking for the silver lining, there's no chance she continues to shoot 28.6 percent from the floor. She's too good. When more of those shots start to fall, and that percentage goes up, look for her confidence to rise with it. For the first time in her career, Nurse is carrying the pressures of stardom, and being targeted by opposing defenses because of it. With Samuelson firmly in control, hopefully Nurse can shed some of that pressure and settle into the role she seems best suited for: the second scoring option.
- Advertisement -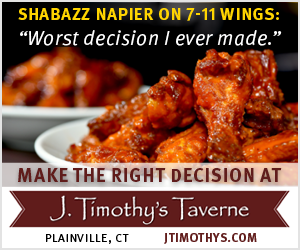 Crystal Dangerfield is ready right now:  Has there been a more pleasant surprise than Dangerfield? She looks like the best point guard in the AAC right now. A lot of people are eager to compare her to Moriah Jefferson. I get it, considering that Jefferson played alongside so many of these players. But, comparing the two as freshmen, Dangerfield is (gasp!) infinitely better. The more apt comparison may be to former Husky great Renee Montgomery, who averaged nine points per game in 2006, winning Big East Rookie of the Year. Geno Auriemma seems content with letting senior Saniya Chong take the starter's role and easing Dangerfield into game action from the bench, but there's no doubt who the team's primary point guard is at this point.
Foul trouble could be a problem:  On Tuesday night, we saw the type of performance Gabby Williams can deliver: 19 points, 11 rebounds, five assists on 9-13 shooting. She just needs to stay on the court. UConn really needed Williams in their earlier games, only to see her glued to the bench, mired in foul trouble. They survived, but they likely won't be so lucky should that trend repeat itself against the rest of their murderer's row schedule. Similar could be said for Napheesa Collier. The Huskies' front court is thin, despite some nice play by Natalie Butler. Their two best forwards need to stay on the court.
Who steps up:  While it was fascinating and rewarding to watch UConn cruise to its fourth straight national championship last season, it did lack a certain element of drama. Instead of watching the scoreboard, you were tuned in hoping to witness the next superhuman feat by Stewart, or to admire the flawless machinations of the Husky offense captained by Jefferson. This year, shit is unpredictable. A new player has risen to the challenge in each game, filling in the blanks and aiding in a UConn victory. First it was Soniya Chong and Napheesa Collier; then Dangerfield; then KLS; then Williams. There is no formula for this year's team, just budding talent and the best coach the women's game has ever seen. Speaking of…
Geno is the GOAT:  We knew Geno was the best. What we didn't know was how hot his competitive fire was still burning after a relatively easy coast to a title and an Olympic gold in the last eight months. Turns out, he's still Geno. His greatest skill is extracting the very best out of talented players, and fusing them into one team that is even better than the sum of its parts. So far, so good.
KLS could take a run at some records:  Through the first four games, KLS is averaging almost 22 points per game. She's shooting an insane 51.6 percent from three-point range. Both are likely unsustainable, but should her production hold, she'll have a shot at both single-season records… as a sophomore. Additionally, as I've watched KLS burn down villages with her hot shooting the last two weeks, I've been wondering if Kaleena Mosqueda-Lewis's career three-point record might be within reach. KML hit 398 threes in 142 games (remember when Diana Taurasi held that record? KML passed her by 80 threes. EIGHTY!). KLS, meanwhile, has 94 threes through 41 games. Per-game average, KML: 2.8; KLS: 2.3.
Using those current stats, were Samuelson to play the same number of games as Stewart (152), she'd finish with 350 threes, ahead of Taurasi, but far behind KML. But! Samuelson is averaging four threes per game this year. That's likely not sustainable, but getting to a career average of 2.65 threes-per-game would give her a shot. Of course, all of this is just wild speculation made possible by the fact that KLS is a god damn boss. Stay tuned.
If they win this year…:  Yea, it's early. And yea, a lot could go wrong. But it's hard not to dream of the best-case scenario of a fifth consecutive championship. It's certainly not an impossible goal, which is both crazy and hilarious because this is a "rebuilding" year, and if they pull it off, UConn could cement a dynasty never before seen in modern sports history. As good as this team is, next year's will be better. Geno will lose Chong, but import transfers Batouly Camara and Azura Stevens as well as a four-player recruiting class featuring the best high school senior in the country, Megan Walker, and three others with an average rank of 97.3 out of 100. The following year, Samuelson, Collier, Williams and Dangerfield will still be on the roster. This is the season for opposing teams to come take UConn's crown. If they can't now, when will they?