Hey, cool. Now we can pretend that UConn's nightmare last week at Mohegan Sun never actually happened.
On Monday, the Huskies got their first win of the 2017-18 season, even if it doesn't technically count, defeating the Return of the Merrimack 79-63. To the bullet points!
THE GOOD BULLET POINTS
UConn scored 70 points in the paint, which is a lot. The Huskies lived in the key on Monday. They attempted 33 layups and eight dunks. They scored 20 second-chance points following 18 offensive rebounds.
A lot of those points in the paint came from Terry Larrier, UConn's best player on Monday. Larrier abandoned the three-pointer (0-1 on the night) in favor of a dynamic inside game that Merrimack was unable to defend. He scored 17 points on 8-10 shooting.
The Huskies' frontcourt players again showed some skills. Against Merrimack, the two standouts were Isaiah Whaley (ten points, five rebounds, nickname Pork Chop) and Mamadou Diarra (11 points, three rebounds), but Eric Cobb, Josh Carlton, Tyler Polley and Kwintin Williams all contributed. Most importantly, all were able to avoid the type of foul trouble that hampered the group against Providence.
UConn really solved the Merrimack zone. More than we've seen in recent years, the Huskies attacked the zone up top and down below. The guards were able to get penetration up top, Larrier proved an easy entry point in the middle, and the bigs slid along the baseline resulting in a lot of open passing lanes. It likely wont be that easy against some of the other zone schemes they face this season, but at least it looks like UConn has a plan.
Kevin Ollie started a small lineup — also the best lineup — of Gilbert, Adams, Vital, Larrier, Cobb. The group played reasonably well together, but the most important takeaway here is that Larrier will be tasked with playing the four, and on Monday he did so with aplomb.
I'm pretty happy for Kwintin Williams, who nearly got shutout of minutes against Providence with a truly odd explanation. Against the infamous zone of Merrimack on Monday, Williams played well on the baseline, made one nice acrobatic layup and used his bouncing ability to get two offensive rebounds. He's definitely raw; he has a bit of a habit of missing switches on defense, and he should never attempt a three-pointer again. But he has a motor and is an active and talkative teammate. I'm not sold yet, but I am intrigued.
This was good.
That Alterique Gilbert-Jalen Adams alley oop pic.twitter.com/XtNFr1ARTE

— tcf15 (@tcf_15) October 31, 2017
THE BAD PLACE
Ollie was most upset about the team's 17 turnovers. Honestly, I wasn't too bothered by it — mostly because the Huskies did pretty well taking care of the ball against Providence. But I think it does speak to a broader problem of losing focus, something all teams do but this one really can't afford to.
I'm mad about the threes, gang. UConn was 1-14 from deep, 0-7 in the second half. They were 6-22 against Providence. Coming into the season, I figured Vital would be the shooter and the Huskies would take what they could get out of Adams and Larrier. So far they've gotten a whole bunch of nothing. Now, threes are kinda meaningless when you're scoring 70 in the paint, but not every night against the zone will be so easy.
The team also attempted four free throws, something I'd normally be very mad about, but if more teams want to give up 33 layup attempts instead of fouling, that's fine too.
The defense still needs work. A lot of guys got lost on switches — especially off the ball — and others struggled to close out on shooters. As our own Meghan Bard notes, however, Kevin Ollie has earned the benefit of the doubt for getting players to play high level defense. It's actually encouraging that the offense seems further along than the defense at this point.
Antwoine Anderson had an eventful evening. He fouled out in only 14 minutes (impressive) but somehow also amassed five assists.
Grad transfer David Onourah missed his second exhibition game. He's going for an MRI on his injured hip on Wednesday and still hopes to play the season opener against Colgate next Friday.
3,861 is a morose attendance number. The enthusiasm around UConn sports is at its nadir right now. On the plus side, lots of room left on the bandwagon!
- Advertisement -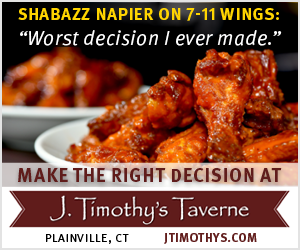 We'll do this again Sunday evening when the entire borough of Queens invades Storrs (the sixth borough). Tip is at 5:30 and can be streamed via the app thing. Or just listen to Joe D.