Welcome back to square one, where everything is familiar and the walls have weird stains from those bad blackout nights in 2013.
No, UConn never had a chance of beating Houston Thursday night in Texas, and the 42-14 scoreline reflected how the two teams are basically on different planes of football existence. When one team rarely finishes in the top 80 nationally in recruiting and the other usually 30-40 spots higher, this happens. When one team has superior athletes and the confidence to let them make plays in space, instead of hoping for a series of four-yard runs up the middle, this happens. When one team has a quarterback as talented Greg Ward Jr. and the other has a quarterback that can't hit an open receiver 25 yards downfield, this happens.
UConn lost by infinity points in front of a national audience, reinforcing the narrative that UConn football is a joke (and hey, there are kindergartners who weren't alive for UConn's last winning season, so who am I to say they're wrong?) and probably unearthing loads of hilarious "is it basketball season yet!??!?!?!??!" jokes from the youngsters on the Twitters.
But tonight's demolition, specifically, is not why we're back to square one. Again, no one realistically could say UConn had a chance. We're back here because tonight was the receipt for four games of squandered momentum, the end of Bob Diaco's era of good feelings.
Before the season, we looked at a team bringing back ten starters on offense and with a defensive scheme that seemed suitable to overcome teams with superior talent, and saw a team poised to improve in the third season of a coaching regime. Coach told me we'd be great over a beer, things were looking wonderful.
- Advertisement -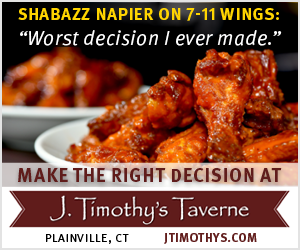 If you were a negative nancy, you might've pointed out that UConn was a sub-.500 team with an ineffective-at-best offense and an average defense, bailed out by an unsustainable turnover rate, a lucky bounce or two, and an injury to the best player on the best team on the schedule.
Bob Diaco is a great salesman, and he has said all the right things to draw the slightest flicker of interest from the skeptical UConn fan. We all know how important it is to get this thing turned around, we all want this thing turned around, and we a had a surprise bowl appearance as concrete evidence that Diaco had us headed the right way.
If I'm being coldly objective five games in, on a play-to-play basis, UConn probably is slightly improved from last year. They have been unquestionably less lucky than last year, and sequencing has affected this team's narrative in a very real way (as you might expect when a team has only been in the lead for 10 combined minutes through five games).
But so far, the end result is saying that the negative nancies were right, and the credibility gap between what Diaco says and what his team does, is growing.
We expected to see UConn pound a dreadful FCS team, only for the Huskies to need 10 points in the last 10 minutes to avoid the most embarrassing loss ever.
The UConn team we expected to see showed up over the final 2 ½ quarters at Navy, only to see a magnificent rally inexcusably squandered on the goal line because the coaching staff thinks that probability and clocks are for nerds, probably.
After UConn needed another late rally to beat a bad Virginia team (and the supposed strength of the program nearly prevent defense-ing itself into a loss in the final minute), Diaco talked a whole lot about fixing the team's poor starts. Seven days later, Syracuse was ahead 14-0 before most of the crowd was inside the Rent.
Ours is a desperate, anxious fanbase, and these first four games have clearly squeezed out whatever bit of optimism it had.
UConn blew chances to build that fanbase with the three disappointing performances at home. It blew its chances of competing for a division title with the inexcusable mishap in Annapolis. And it really harmed its chances of reaching a bowl game, possibly fatally, with a loss to a rival in what will likely be the final game at PAWS-ARF with 30,000 people in the stands this year.
How can you blame anyone for treating UConn football with apathy when the coach's words don't match reality — there is not a single offensive or defensive player on our roster that is close to "best in the nation" —  and the product he presents isn't exciting, isn't successful, and is often strategically infuriating?
So that was the state of things prior to Thursday night, which honestly went about as expected. The Huskies had probably their most encouraging first quarter of the season – save for an infuriating 3rd-and-3 run failure and punt in Houston territory, because Diaco's decisions show that he doesn't actually believe his offensive players are good enough – only for everything to go to hell literally minutes later. Noel Thomas is pretty dang good. His quarterback and his offensive line and his defense, on the other hand…
I'm not sure there was any scenario in which this UConn team didn't get their doors blown off in this game. Houston is a very good team with a legitimate Heisman candidate, playing at home on a short week, looking for revenge after losing to the Huskies last year (UConn beat Houston). In a vacuum, this result doesn't change anything.
But this year was supposed to be the one where Diaco's program took a great leap forward into being a perennial winner. Instead, the Huskies are 2-3 with a non-competitive loss to Houston, which is just about the worst-case-scenario start any reasonable person could have imagined. The offensive line is still incredibly ineffective, the play-calling on both sides of the ball remains infuriatingly cautious, UConn is handily losing the turnover battle despite that cautious style, and to add insult to injury, a newly-leaky secondary is giving up big plays each week.
Diaco can't, won't and shouldn't be on the hot seat until after next season, when virtually the whole roster will have undergone a full cycle of development. Things can change quickly, after all – a win over Cincinnati, which seems more possible now than it was in August – completely changes the tenor of the season.
It's just more than a bit frustrating that we've returned to the status quo of 13 months ago, when we hoped, without much evidence, for UConn to figure it out.