We recently started a new feature here at ADB, where we asked some new Huskies a few Important Questions. In its second iteration, Important Questions has reached what we can only assume is its pinnacle. We got to ask all-time great and our favorite Perfect Human Rebecca Lobo some Important Questions.
We should probably just shut this whole thing down now.
(We won't.)
Bask in the amazingness:
Where do you rate Breanna Stewart among the all-time UConn greats?
- Advertisement -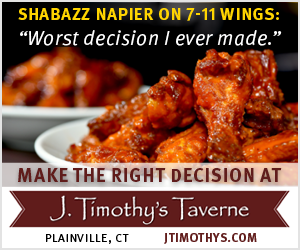 She is with Taurasi and Maya. If she wins her 4th this season, I put the list at two : Stewie and D.
Where do you place yourself in that equation?
Not with those three.
Has your place in UConn history changed because of the success that came after your time?
I think our '95 team is viewed differently now than it would have been if UConn did not become the program it is now. Instead of just a National Champion, we were the Start of Something…
How can the marketing of the women's game improve at the college and pro levels?
We just need more people to come watch a game in person. Once they do, they can truly appreciate the level of basketball they are seeing. I think that is true for any WNBA game and some college games. Watching UConn in person is a different experience than watching most other college teams.
Is it harder to receive respect as a prominent female athlete or a prominent woman in sports media?
I only care about having the respect of those whose opinions matter to me. When I played, I wanted the respect of my coaches and teammates. Now, I want the respect of those who know women's basketball. The opinion of the sports talk radio guy who bashes women's basketball doesn't matter to me one bit.
What is your favorite Geno moment?
His dance after he makes his half-court underhand shot at the end of practice. I don't know if he does it anymore, but he used to. It was pretty spectacular.
Do you still rock the French braid?
I haven't "rocked" a french braid in years. I don't know how to braid my own hair. But I can braid the heck out of my daughters' hair. I can even give them corn rows. They look sweet in them too.
Who is a bigger badass: Geno or CD?
As long as you don't ask who has a bigger one, I can answer. Their badassery is equal.
Who wins a game of one-on-one at the Bristol Y: you or Kara Lawson?
She not only wins, she crushes me. I can't even back her down and use my height because she's ridiculously strong. Now, a dance contest might come out in my favor.
Who do you think should replace Geno when he retires? Me, right?
He is irreplaceable. So, yes, you.