If you missed the illuminating Q&A I did with Howard Megdal, check it out. If you want to hear his take on the hardest-hitting questions of our time, read on as he plays Important Questions…
Who is your all-time favorite player to cover?
Pat Venditte, the switch pitcher who made his debut last year for the A's. I love how singular his life experience was and the fact that he stuck with it. He put in his six years at the minor league level and was remarkable to talk to. When I saw him make his MLB debut, I had already gone to Trenton to cover him. Gone to Scranton to cover him. That felt like a remarkable triumph of the human spirit.
What is your most embarrassing press conference moment?
Oh that's so easy! It's even UConn related. When I was just starting out, it was my first Big East media day, and I was in a group surrounding Jim Calhoun. I reached my phone out and I knocked water onto Calhoun's lap. So I give him all the credit in the world. It was like one fluid motion. He got up, he wiped his lap off, he knocked the cup to the side and he answered my question as he was doing it, like it didn't even happen. It was remarkable. Has to be it. It was mortifying.
- Advertisement -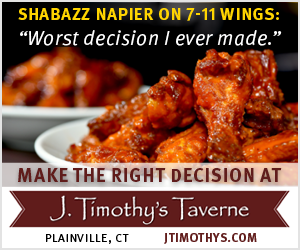 Do you prefer the current UConn logo or the old one?
I can't tell you what the right answer is. It's an inherently subjective thing. I love the old logo because it's what I grew up with. My familiarity is that when Nadav Henefeld was making threes, that is what UConn Huskies look like. So I'm hard pressed to say I like the new one as much, but I'm willing to acknowledge my inherent bias. I'm with Meghan on this.
Do you think you would be friends with Jonathan?
If willing, absolutely. No question in my mind.
Is a hot dog a sandwich?
I'm the one person on in the Internet who hasn't weighed in on this. A hot dog is delicious when done properly. That's the best I can give you. My expertise is not in the culinary field.
You're watching a game on TV. What is your dream broadcast team?
For baseball it's Vin Scully, and it's Vin Scully for anything. If Vin Scully could have officiated my wedding, I would have wanted it. I think the world of Doris Burke. I really enjoy Bill Walton. I really love Walt Clyde Frazier quite a bit. I think Ian Eagle is terrific. There's just so many good people. Kevin Burdkhardt is not talked about in the basketball realm, but he does a nice job. When Rebecca Lobo gets the chance, I'm thrilled. That's not pandering. That's reality. I hate to not narrow it down, but I definitely see all of those as perfectly wonderful choices.
This week, Howard was appointed Editorial Director of Excelle Sports, a site that focuses on women's athletics. Check it out. Also, if you're into baseball, buy his book.