JUST WHEN I THOUGHT I WAS OUT…
In a somewhat surprising twist Tuesday afternoon, the Big 12's board of directors voted to let commissioner Bob Bowlsby explore the possibility of expanding conference membership.
In early June, sources at UConn relayed the university's pessimism at being invited. At the time, the Big 12 had publicly shunned the idea of creating a conference television network, the scenario in which UConn possessed the greatest leverage. With its member schools divided against each other, it appeared any expansion at all was unlikely.
It appears that changed this week when the ACC announced a new mega-deal with ESPN that will create a new conference network, pouring boatloads of money into the coffers of conference members, and essentially prevent any further movement by extending its grant of rights for another decade.
The Big 12 seemingly had been of the impression that the days of big conference network deals were over. They were wrong.
- Advertisement -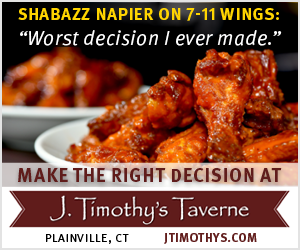 Now, facing a reality as the smallest Power Five conference, and the only without its own TV network, the Big 12 appears to be reading the writing on the wall.
As we're discussed in the past, any movement is good for UConn. The doomsday scenario of being passed over in favor of their current AAC foes still exists, but is almost irrelevant since UConn will not be able to financially survive long-term in the AAC regardless. Despite being the last program standing in a decade's worth of realignment musical chairs, any opportunity for escape is good news for UConn.
For those tired of the Big 12's histrionics, wondering why this flirtation with expansion will be different than their false starts of the past, there are several reasons to be hopeful. The first is that the vote to send Bowlsby on his fact-finding mission was unanimous, meaning the Texas schools publicly standing in the way of expansion in the past may be warming to the idea.
Additionally, Bowlsby let slip that his review process is likely step one towards a predetermined end, saying "there will be a two-stage process. Preliminary work, then a second process a little more of a perhaps… negotiations stage." If the Big 12 members have granted Bowlsby the latitude to begin discussing terms with potential new members, that signals their sincerity.
The Big 12 has had months' worth of research and sales pitches already. There is no shortage of data to pore over, and no shortage of suitors. One possibility, according to Dan Wolken, is the league expanding by four teams.
If expansion occurs, BYU is a commonly-mentioned candidate. Colorado State is also a possibility — geographically convenient and in a great media market in Denver. The rest are AAC schools. UConn, Cincinnati, Directional-Florida Universities, Houston, Memphis, Temple. Each offers something different, except Memphis which appears to offer only bribes.
Following the board of directors meeting, Oklahoma president David Boren offered his vision for the perfect expansion candidates, saying "we're looking at fan base, we're looking at access to media markets, and we're also looking at the academic reputations." Look no further.