On Saturday, an SEC football team is coming to the Rent to face a UConn team riding a two (2) game win streak. As of this writing, only about 20,000 tickets have been sold.
Now, I don't want to guilt you into attending by lecturing you about loyalty, or posting pictures of the empty stands from late in the third quarter last weekend, when all of the heat in New England was concentrated on the stadium, to make you feel bad for leaving early or not coming at all.
I do want you to come to the Rent this Saturday though, and I say this as a season ticket holder who paid quite a few dollars for tickets that you can now undoubtedly get cheaper (and with hats!). I'm telling you to come, because going to UConn football games is good, actually.
Look, I know you've heard this before. And we all sort of drank the Bob Diaco Kool-Aid and tried to convince ourselves that the team wasn't as bad and unwatchable as it really was. I'm not going to tell you that the team is great, but I will tell you that it's extremely watchable.
Yes, two years ago we played Mizzou in one of the worst football games of all time. But this is a different team. For starters, we have an actual offensive coordinator and not the guy Diaco found in the ball pit at Chuck E Cheese. Honestly, I think Rhett Lashlee might be an actual football genius. I don't know what voodoo magic David Benedict performed to lure him to UConn, but when the reckoning comes, I hope it's not too painful for him. But seriously, the offense is actually fun to watch. Lashlee has a real knack for utilizing his personnel in the best way possible, designing great passing plays, and running a balanced offense that actually scores points. All this with an offensive line that's not actually very good and a quarterback who is made of mashed potatoes. And yet, they score points, run fun plays (flea flicker!) and are extremely entertaining to watch. Who knew?
- Advertisement -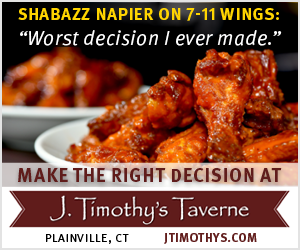 The defense? I won't lie to you.
UConn is struggling to find the right personnel to run Billy Crocker's defensive scheme. But you will see some true freshman who are going to be real damn good, and a defense that continues to get better week over week.
That's the thing I would most like to underscore. This team has shown marked improvement on both sides of the ball and special teams from game to game. It's a rebuilding season, make no mistake, but you can actually see them building the team up brick by brick. It is happening, and it is fun to watch.
I'll add my obligatory plug for tailgating here. It's going to be a perfect fall day on Saturday. The game starts at 6:30, which gives you several hours of prime outdoor day drinking to get you prepped and ready for kick off. It's not like you have anything better to do.
And inside the stadium, they're killing it, too. The addition of Chick-Fil-A has been very nice. They actually ran out of sandwiches by half time the first two games, so get your crispy chicken fix early, before No Escalators gets the last spicy chicken sandwich right in front of you.
They also have some dope food trucks including the Dairy Bar ice cream truck (GOAT) and Nora's cupcakes. That's in addition to fan fave Bears Smokehouse (not a sponsor), Chowder Pot clam chowder (great for those cold fall nights) and the Randy Edsall burrito bowl, which friend of ADB Suzie Hunter says is good, and you should trust her judgment on stadium food.
If you're fortunate, you can even get your unworthy hands on an ADB sticker.
Also, there will be a Dan Orlovsky bobblehead giveaway and the man himself plans to be on the sidelines for the game.
stoked to get back and watch @UConnFootball Sat with @RandyEdsall on sidelines. I want that stadium rocking like it used to be! #REstorred

— Dan Orlovsky (@danorlovsky7) October 26, 2017
So what I'm saying is get your friends, get your grill, get your booze and get over to the Rent on Saturday. Hang out with your pals outside while you get your grub on, and then (please) come in (relatively on time) and watch the game. You'll like it! And, you never know, they could actually win.