Here are five non-ordered things that I've been thinking about this week, as UConn prepares to welcome in Ontario's college team to the Rent:
1) There will be a lot of talk about tempo leading up to tomorrow's game, as Syracuse leads the country by averaging more than 90 offensive plays per game. The plodding, disorienting, deliberately slow Bob Diaco philosophy best summed up as "UConn fog" clocks in at around 60 plays per game.
That alone makes Saturday's game an interesting style-clash, as both teams try to effect their will on the game. UConn had a lot of success dictating the tempo against a similarly up-tempo Houston team last year, with obviously great results, and if UConn can grind out one or two long, early drives that finish in the end zone, you'd think they'll be in good shape to squeeze the life out of the game.
The tempo also is a pretty good illustration of why per-play stats (like their basketballing cousin, per-possession stats) are a better illustration of effectiveness: Syracuse's offense looks like a juggernaut at 505 yards per game (23rd-best in the country) compared to UConn at a paltry 331. On a per-play basis, though, the Orange rank 88th nationally with just under 5.5 yards per play, 17 or so spots ahead of UConn at 5.02. (Interestingly, Syracuse's offense has performed almost identically this year — perhaps even a smidge better against a slightly more difficult schedule — than next week's opponent, Houston.)
Not directly reflected in the stats is the physical effect of Syracuse's tempo, which can wear teams down, but for all of his easily-ignored coach speak, Bob Diaco's (and Matt Balis') strength-and-conditioning programs do seem to be producing marked improvements — the Huskies are outscoring teams 44-21 after halftime, and the much-maligned offense has driven down the field with ease in must-score situations in the fourth quarter of all three games. They certainly have looked to be the stronger side late in games, a nice trait to have if you're a team that is going to win or lose every game in the final minute.
- Advertisement -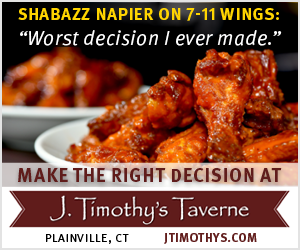 2) One of the things we're seeing over the first few games is how reliant UConn was on winning the turnover margin last year. The Huskies were +9 last year, and a result like that covered up a lot of poor offense, et al. It shouldn't be surprising that the three games in which UConn was most impressive were the wins over Houston (+4 turnover margin), East Carolina (+2) and the blowout win at UCF (+4).
Through the first three games, UConn is minus-3 in turnovers, and those turnovers have been particularly instrumental in the results of all three games — a fumble returned for a TD against Maine, forcing the Huskies to rally with 10 late points rather than put the game away earlier; the Bryant Shirreffs fumble (after his forward progress was stopped, but w/e) on the goal line that directly gave Navy seven points; and the two turnovers inside the Virginia 30 last week that made the hilarious missed field goal possible.
UConn's margin for error is already thin enough that it's going to be hard for UConn to beat any team with a pulse without turning turnovers in their favor.
3) The margin is so thin, of course, because the Huskies have combined some decent defense with just atrocious offense the first three weeks, similar to most of last year.
Matt Schonvisky over at This Is UConn Country posted a couple thoughtful analyses of UConn's offense this week, and after reading them, the only reasonable takeaway is that it's unfair and not particularly credible to call UConn's offense and play-calling "conservative." It's just that the players are bad and the plays they call don't work because of that.
That's a mean way of phrasing it, and I would probably hedge that a bit, because when the skill players are given chances to make plays, you see things like Bryant Shirreffs completing 90% of his passes during a single game, or Noel Thomas making real-live plays in space to set up last week's game-winning field goal, which indicates that there's something positive buried deep behind a thoroughly bad offensive line.
That line hasn't received a ton of help from the tight ends and running backs. Nor has there been much help from the play-calling, which has included lots of slow-developing plays that just aren't going to work with the level of blocking provided (to the point where UConn probably needs to operate solely out of the shotgun).
Through three weeks against a bad FCS team, a bad P5 team and a possibly-good AAC team, UConn is averaging just over 20 points per game and 5.02 yards per play, both outside the top 100 nationally. (The quest for Four Point Oh is not in great shape, with UConn at 3.3 yards per rush).
It's simply not good enough from both a "this team has the talent to win 8 games" perspective and a "please, people of Connecticut, buy tickets to watch this football team" perspective. Things can certainly improve over the next two months — Syracuse has had an atrocious start defensively, although you have to account for Lamar Jackson being unfair — but you'd be going out on a limb to bet that way. But we'll need to see something change before the anxiety fades away.
4) The Syracuse offense and the UConn defense are mirror images of each other, as the Orange are pretty bad at running the football and large humans Foley Fatukasi and Mikal Myers are very good at sending your running back into an alternate dimension where we park on parkways and drive on driveways. Unfortunately, UConn's defensive weakness is its secondary, and Syracuse's pass game has been solid behind QB Eric Dungey (65% completions, 7 TD, 3 INT, 320 yards per game, 6.9 per attempt) and a couple of big-play receivers, Amba Etta-Tawo and Ervin Phillips.
The play of the secondary hasn't been terribly encouraging, especially coming off a Virginia game in which the defense allowed approximately 200 consecutive short completions to start (looking at the first-quarter passing defense splits, we might want to consider a different strategy to open games), and then easily gave up two long passes on what was almost the game-losing drive.
If you're drawing up a way that Syracuse wins this game, it probably involves a couple long passes and a continuing struggle in the UConn defensive backfield.
5) This is the pivot-point game of the season for the Huskies. They can still make a bowl game with a loss, but it's going to be difficult to do if they head into their most difficult stretch of the year coming off a loss. With Houston, Cincinnati and USF on deck, UConn is looking at a 2-5 start if it comes up short tomorrow. The remaining five games after that are winnable, but that's not a nice hole to have to dig out of.
It's not unthinkable that UConn could win any of those three games (Cincinnati at home, particularly), but a win over the Orange sets up everything nicely.
Anyway, in my expert opinion, I think UConn wins a close game due to Jim Boeheim is ugly and bad.
PREDICTION: UConn 27, Syracuse 21.