Geno Auriemma won his 1,000th game as a college coach Tuesday evening. His Huskies defeated Oklahoma for the eleventh time since he took over the program in 1985.
To celebrate Geno's accomplishment, and marvel at the sheer absurdity of winning 1,000 basketball games, let's dive into some facts, figures and oddities of his journey.
WIN #1
Geno won his first game at UConn, defeating Iona on the road 73-67 on November 23, 1985. The number one song at the time was, appropriately (?), "We Built This City" by Starship.
ABSOLUTE DOMINATION
UConn's average margin of victory in Geno's 1,000 wins is 28.8 points. The average score: UConn, 81.7 – Losers, 52.9. The Huskies have won 892 games by double-figures.
#POINTS!
UConn has scored 100 or more points in 84 of Geno's wins. In only three victories did the Huskies score 50 points or fewer.
HOME COOKING
- Advertisement -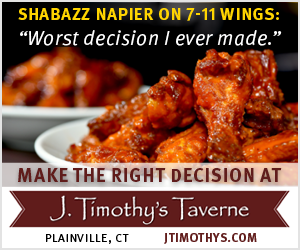 Over half (530) of Geno's wins have come at home. 319 were on the road and 151 came at neutral sites (the NCAA is pretty charitable about what it considers a neutral site for UConn).
CLOSE CALLS
Only nine of Geno's wins have come in overtime — the last was in 2004. Only 11 wins were decided by a single point, and only one tournament game, vs. Toledo in March of 1991.
NOTHING BUT RESPECT FOR MY PRESIDENT
Geno has beaten schools from 42 different states (plus Washington DC). The only states to avoid getting bludgeoned are Alaska, Delaware, Missouri, Montana, New Mexico, North Dakota, South Dakota, Wyoming and those are all barely states to begin with.
HALL MONITOR
Seton Hall owns the distinction of losing to Geno the most. 46 times, to be exact.
BACK TO THE BIG EAST
469 of Geno's wins came in Big East conference play (65 of them in the Big East Tournament. Geno is 82-0 since UConn was forced into the AAC in 2014.
POOR QUINNIPIAC
If you're looking for the answer to a Geno trivia question, it's probably December 27, 1998 when the Huskies beat Quinnipiac 117-20. It's the most points a Geno-coached team has ever scored (tie), the fewest points they've ever given up and the largest margin of victory.
DE-FENSE [CLAP, CLAP]
In 24 of Geno's wins, his team held the opponent to 30 or fewer points. Only one team has managed to score 100 points against UConn and lose, UCLA (113-102) in November of 1999.
FAVORITE DAY
Geno has won 15 times on both November 30 and December 29. He's also 3-0 on Leap Day. He's won ten games on his birthday, March 23.
FAVORITE MONTH
While we'll always associate him with March (and April), January has been the most productive month for Geno — he's won 252 games. 181 in March (and 22 in April) also good.
THE DEVIL
Geno has defeated six saints: Bonaventure, Francis (both PA and Brooklyn), John's (a lot), Joseph and Peter. Fortunately, at the pearly gates, Geno can also boast of beating the devils of Arizona State, Central Connecticut and Duke a combined 16 times.
NICE
Geno's team scored exactly 69 points in 14 wins and, in 2002, defeated Pitt 112-43. Nice.
KING OF CALIFORNIA
11 teams from California have been defeated by Geno over the years. None more than Stanford, who Geno has beaten 11 times.
PINEAPPLES AND POWERBARS
Many of Geno's wins have come in early season tournaments and events, some of which you know (Jimmy V Classic) and some you may not. Like the Dole Pineapple Classic, where Geno beat Lafayette in 1987. Or the Amana Hawkeye Classic in 1989, where Geno beat Penn State (before losing to Iowa by 32). Who can forget the Central Fidelity Invitational Tournament? Or the Hilton Head Super Shootout? The Lady Sunshine Classic is definitely real and not made up. As is the Lady Kats Invitational (UConn beat George Washington before losing to the host Kentucky). Geno's won games in the PowerBar Shootout, the Downeast Classic, the Gulf Coast Showcase and something called the American Athletic Conference Tournament, whatever the hell that is.
FROM ALABAMA TO YALE
Geno has defeated 171 different opponents. Some, like St. John's (40 wins) and Notre Dame (36) are repeat victims. Others, like the aforementioned Quinnipiac, only had to suffer the shame once.
MILESTONES
#1: Iona 11/23/85  73-67
#100: Iowa St 12/31/90  69-56
#200: Pitt 1/2/95  100-67
#300: Rhode Island 11/29/97 101-38
#400: @ Illinois 12/10/00  97-55
#500: Texas (Final Four!) 4/6/03  71-69
#600: Sacred Heart 12/31/06  82-40
#700: Hofstra 11/27/09  91-46
#800: Notre Dame (BET) 3/6/12  63-54
#900: Cincy 2/3/15  96-36
#1000: Oklahoma 12/19/17  88-64