You're still full and UConn is still undefeated. Let us gather 'round the yule mailbag.
Remember: If your question wasn't answered or you've been living under a rock and are just hearing about this, you can submit your questions here or on Twitter (@ADimeBack).
---
Hall asks: If the XL center continues to have awful attendance and the students keep protesting the game there, should they consider going strictly Gampel from now on… (this is the greatest idea ever)
Well, first of all, no one is protesting anything. The students haven't been coming to Hartford this year because it's burdensome to travel there, the competition has been awful, the games have been at inopportune times and UConn hasn't shown itself to be worth the price of the ticket in recent years. This isn't super complicated (also, non-students aren't exactly flocking to Hartford buy games either). I believe A Dime Back (or me, at least) has been on the record for years now that a renovated, or new, Gampel Pavilion should be the long-term solution for UConn. I don't think the state is going to find the necessary funds to finance the $250 million XL Center overhaul, and I don't think they should unless a serious business plan emerges — as opposed to the current one of "even though this arena loses several million dollars per year, people will come by the thousands to watch the Wolfpack if only we take on significantly more debt!" Without a fundamental change of the product being offered inside (like, obviously, a full-time NHL tenant), I don't buy the financial windfall being promised by XL proponents.
It's an open secret that UConn hasn't been happy with the terms of its contract with the XL Center (the Capital Region Development Authority, more specifically) for a while now. Political pressure from the capitol city has held the relationship together but it won't last forever — especially as the arena continues to decay, delayed slowly by half-measures in the form of fractional band-aid state funding.
- Advertisement -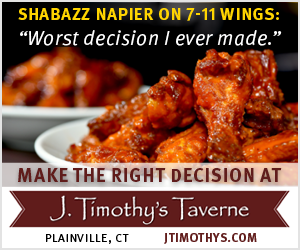 If the state does decide to finance the full-scale rebuild of XL, UConn has committed to playing basketball and hockey there for another 20 years. My fear as a college basketball fan is that attendance will stagnate (like at Rentschler Field) and UConn will have to move more and more games off-campus to provide more revenue opportunities for XL to justify the taxpayer investment. That strikes me as really unfair and shitty for UConn students who are the most frequent losers in UConn's financially motivated decisions.
---
BIG RON asks: With UConn football about to end the season, give me one positive surprise from this year, one negative surprise, one thing to focus on during the offseason. Also, in the last podcast you predicted UConn would be a bowl team next year, and that's insane, so defend that.
In reverse order: Projecting UConn to a bowl is extremely insane, yes, and I don't have a real rational basis for it. You have to presume that Rhett Lashlee stays and one of David Pindell, Marvin Washington or Jordan McAfee turns out to be #good, because there's some potential on offense — we went from the Worst Offense Ever in 2016 to an extremely average FBS offense in 2017; minus Shirreffs and Newsome it's hard to see them taking much of a leap forward, but an average offense is good enough to win 6 games. You also have to presume that UConn will not have the Worst Defense Ever, and that's where it gets very murky, because basically anyone who even approached "playing football good" this year is graduating. Maybe Large Dave Onuorah has a brother who can play nose tackle.
That being said, the schedule doesn't appear to be that arduous; if it's a stable offseason and some of Edsall's recruits start to develop, UConn could definitely go 4-2 at the Rent (URI, UMass, Temple, Cincinnati, SMU, UCF) and steal a couple road wins (Syracuse, Boise State, ECU, Tulsa, USF, Memphis).
As for the other question:
My POSITIVE SURPRISE is that an offensive line that starts two freshmen and a sophomore wasn't worse than it was. UConn's performance up front is still not quite what you'd call good (just 3.6 yards per carry this year and 24 sacks allowed), but it looks like Edsall will at least have 60% of a decent starting unit locked in for the next two seasons between Matt Peart, Ryan Van Demark and Cam DeGeorge. Throw in a (hopefully) returned-from-injury senior Ryan Crozier, a couple intriguing redshirting freshmen (350-pound "Big Rob" Holmes and Stanley Hubbard), and maybe a surprise from one the Huskies' incoming three-star OL commits (Travis Jones and Pete Rooney), and you've got the potential for there to be a stew going next season.
My NEGATIVE SURPRISE can't be anything else besides the secondary. The scheme change certainly didn't help, but UConn's back five looked utterly lost all season. Eight of the Huskies' ten defensive backs in this week's two-deep will be here for two or three more years (as well as true frosh Ian Swenson, who didn't look too bad in limited action as a starter before a shoulder injury ended his season), so there's a lot of room to grow, but it was shocking to see a program that produced a half-dozen NFL defensive backs in the last decade have no answers at the position in 2017.
What should UConn focus on this offseason? The same thing it should focus on every offseason: trying to take over the world recruiting. There isn't a position on the roster that couldn't use an upgrade, if one exists, but there are particularly big needs for an offensive playmaker (since the Huskies will badly miss Newsome's running/pass-catching ability) and on the defensive line (where there literally might not be enough bodies to adequately fill six spots without a JUCO addition or three). In addition to getting the signatures of their 16 commits (a class currently ranked 11th in the AAC), Edsall is going to need to push to grab P5 decommits and junior college players to give the roster a talent boost.
---
Jon asks: What are the odds that UConn gets ranked in the top 25 this season?
We'll probably have a better idea on Monday. If they win one of the remaining PK80 games, and then beat Syracuse in MSG, they could be 9-1 by the time they head to Arizona. In that scenario, it wouldn't shock me to see them sneak into the bottom part of the polls that Monday. After that, I'm not sure they'll be able to string enough consecutive wins together to get in, but we're also still learning how good this team actually is, so who knows? To give you a firm answer, I'll say there's a 47 percent chance UConn gets ranked at some point this season. (Also, polls are stupid so don't put too much stock in them.)
— Tyler
---
Tim asks: Does UCLA still want UConn?
It would appear not.
— Tyler
---
G asks: Our starting 5 in March
Gilbert, Adams, Vital, Larrier, Cobb. I still believe those are UConn's five best players and I'm a firm believer in playing your five best players as much as possible.
— Tyler
---
Kevin asks: Given the solid play of Polley, Whaley, Cobb, Carlton and #LargeDave do you expect Diarra to completely fall out of the rotation?
This was asked before the Oregon game in which Diarra played zero (0) minutes. I don't expect it to be permanent though. This group is going to constantly change — hence the reason for our dumb power rankings. Diarra is the low man on the totem pole at the moment but he'll get more chances to contribute.
— Tyler