It's Christmas Eve Eve and no one is working anymore, and you probably aren't even reading this, but we got this mailbag specially for you. YOU'RE WELCOME.
Remember: If your question wasn't answered or you've been living under a rock and are just hearing about this, you can submit your questions here or on Twitter (@ADimeBack).
---
Gregory Koch asks: What is the weirdest UConn gift I can give to a fellow fan?
We've got an array of UConn oddities to share with you today. First, this weird looking plush Jonathan that's oddly fat, and I don't even know.
Piggy/dog bank anyone?
- Advertisement -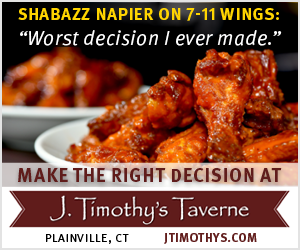 For your Dartmouth rules beer pong needs.
This is just ugly af, honestly.
I mean, what lady doesn't want panties with UConn spelled across the ass?
And here's the gift you get for Kevin Meacham, the man who loves cheese (he does not, he hates cheese because he is a monster).
---
k fitz asks: Worst December loss?  Any UConn team.
Fortunately, UConn hasn't suffered a whole lot of humiliating December losses in the last few decades. Most twelfth month defeats have been either to good teams, or in years when the Huskies just weren't that talented. There are still a few candidates to answer your question, however. I have, of course, ranked them by awfulness.
1. St. Bonaventure, December 2001. Caron Butler would lead this team to an Elite Eight. On a Friday evening in Hartford, however, St. Bonaventure would beat the ever-loving shit out of the Huskies, 88-70. The bloggers were angry that day, my friends. Fortunately, they didn't own computers yet.
2. UMass, December 2004. When you've just won a national championship, you're ranked number seven in the country and you've won 13 straight games against UMass dating back over 20 years, you shouldn't lose to fucking UMass. To be honest, no one should ever lose to UMass. The Huskies did, 61-59.
3. Yale, December 2014. This UConn team ended up in the NIT one year after winning a surprise national championship. This loss was the Huskies' third in a row, and — trigger warning — the second in a row where they lost on a three from the corner. In addition to all of that horribleness, the final score was 45-44 in one of the worst basketball games ever played.
4. Stanford, December 2010. This was the game that halted the UConn Women's first 90-game win streak. Rude as hell. Both teams ended up losing in the Final Four, the Geno Auriemma equivalent of an NIT season.
5. Houston, December 2013. Welcome to the AAC! Now, lose to Houston on New Year's Eve in front of 65 sad Texans. This game would rank higher if not for the fact that within four months, Shabazz Napier and squad would leave the taste of UConn in the collective mouth of college basketball.
---
Timmy asks: What's the biggest UConn-related grievance you'd like to air on Festivus?
My current biggest grievance is with the goddamn ceiling in Gampel. Come. On. If we're the Mecca of College Basketball, our holiest place shouldn't look like the roof is made from sad, melting colorforms. Please, for the love of Jonathan, we have got to fix that because pieces of ceiling falling on fans is a bad look.
(Oh, you thought I was going to say something about football? I'm sorry, I'm not familiar with that sport.)
– Meghan, again
---
Justin Brockaway asks: Which men's/women's basketball player or coach gives the best and worst Christmas gifts?
Chris Dailey shops at Nordstroms a lot, so I am certain she could pick out a tasteful trinket or stylish frock for everyone on her list.
Glen Miller gives everyone socks. Even though they're dope socks, unless you're my mom, you don't want socks for Christmas. Stop buying socks for people, Glen.
– Still Meghan
---
Trill Goldberg: If you wanted one gift from UConn sports for this coming year, what would you ask for?
Well, Santa, I would like another UConn WBB championship. I know I already have a bunch, but an even dozen would really complete the collection.
Oh, and a shiny new conference to play with. My current one is sad and broken and needs to be replaced.
But the best gift I could get this Christmas? It's Diallo, you know the answer is a Hamidou Diallo suiting up for the second half of the season. A Christmas Miracle!
– Meghan, because she is the only one not already on holiday break.