Today we'll get nostalgic about attending UConn without your newfangled amenities (what the fuck is a restaurant??), try to make sense of the Huskies' 2018 scholarship situation and hunt for a fluke win on the football schedule. Join us, won't you?
Remember: If your question wasn't answered or you've been living under a rock and are just hearing about this, you can submit your questions here or on Twitter (@ADimeBack).
---
Jon asks: If we don't have any open scholarships for 2018 why are we still recruiting? What happens if one of those kids commits and JA/TL don't leave
This practice is called over-signing. You might remember the uproar over it a few years ago on the football side of college sports, resulting in some modest reforms. It's still common on the basketball side and is, frankly, a cool thing to consider after several years of incomplete UConn rosters. For the most part, these issues sort themselves out. In Kevin Ollie's relatively brief tenure, he's seen ten players leave the program with eligibility remaining (counting Sam Cassell Jr. who left as a grad transfer). It's a pretty safe bet to assume that some of the guys able to come back next will be headed elsewhere instead — at least one from the glut of analogous front court question marks plus possibly Adams and/or Larrier. And that's not factoring in the possibility of recruits de-committing before the season. If everyone decided to return, the staff would then have to begin some uncomfortable conversations about which player loses his scholarship. Many scholarships are awarded on an annual basis (instead of for a full four-years). If push came to shove, a player with the means to afford tuition could be bumped down to a walk-on –– or someone could pull a Michael Bradley. It's pretty gross but that's the business.
---
- Advertisement -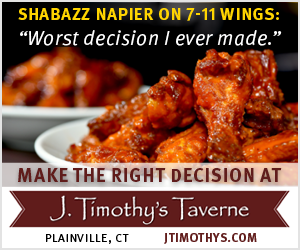 Dan asks: Any chance our offense can steal a game in a shootout this year or is East Carolina just skewing our perspectives?
The answers are somehow "yes" and "also yes". East Carolina is truly terrible defensively so it would not be a great idea to use last week as a baseline expectation for the offense for the rest of the season. And the fact that UConn has only scored three times in first halves is concerning; how much of the statistical improvement can we chalk up to UConn trailing by multiple scores in the second half and the opponent letting up a bit on defense?
That being said, the schedule sets up as favorably as possible for UConn to win one super high-scoring game in the near future. UConn plays four teams who rank below 90th defensively in the advanced stats, and all four of those games are in the next five weeks (this week's opponent, SMU is ranked 94th; #53 Temple is the only exception), so if the defense can find itself in the next month — or at least force, like, one turnover — I would put decent money on UConn pulling out a wacky 47-42 win that blows all our minds.
---
Chris asks: Jonathan's or WEBB Site?
So for those who aren't Old like me and Licata, Jonathan's was a "restaurant" that used to be located in the Student Union (think burgers and fries and what not, glorified fast food) and the WEBB Site was a grab and go cafeteria that used to be located in Alumni (we also had a dining hall in Alumni back in the day – youngins don't even know what they're missing). Jonathan's was good, because the burgers and fries were totally decent, and there was no Mickey D's anywhere nearby. But (if I'm remembering correctly), you had to use real dollars there, while the WEBB Site, or The Deli, as it was called, was solely a dining plan operation. So you could use meals (they had a dollar value that equaled one meal) to get grinders, personal pizzas, and all the good shit to stock your dorm: water, milk, Gatorade, OJ, chips, cookies and probably a bunch of other stuff I'm not remembering. Like, end of semester, people would use up meals taking out cases of water and whatnot. The bottled water was extremely necessary because dorm water was (still is?) hella gross. I lived in Alumni for 3 years, and The Deli kept me alive. I basically subsisted on tuna grinders for at least a semester or two. So while I will pour one out for Jonathan's, the biggest RIP goes to the Deli/WEBB Site. You are missed.
Steve asks: Kind of a serious question for older alums, how on earth did you live without Storrs Center?
Well, we had Store 24 and, like, a head shop and C.O. Jones, but the real answer is that we had approximately 80 percent fewer rules and less supervision. Like, you could very easily drink and maybe partake of other, less legal activities in your dorm room without anyone giving you shit. (See also: Spring Weekend) So without Geno's our parents took us to Willington Pizza (which you should still do, taco pizza is GOAT), and we still ordered DP Dough and Wings Over at 1 am. And, of course, there was the constant access to Dairy Bar ice cream. But we would definitely have weighed at least 10 pounds more if that cookie place that delivers existed. Pretty jealous of that, frankly. But short answer is: spent all our time at the Daily Campus and the rest of the time at varying levels of altered consciousness. It was fun.