ADB isn't going to let some American fascism stop the mail. Fulfilling our patriotic duty, we've got answers to your questions about Jalen Adams, how we're feeling about football and about adding coaches to the roster to distract you from the downfall of America.
Remember: If your question wasn't answered or you've been living under a rock and are just hearing about this, you can submit your questions here or on Twitter (@ADimeBack).
---
Josh asks:  Could Jalen enter the draft this year if he continues at this rate?
Also Mike asks: I'm very ok with this b/c we need him back, but any thoughts as to why Jalen's not on any draft boards? Look at his numbers
Could Adams enter the draft? Yes. Honestly, he'd be foolish not to test the waters for all of the same reasons that was true of Daniel Hamilton a year ago. Will Adams hire an agent and participate in the draft? Maybe.
- Advertisement -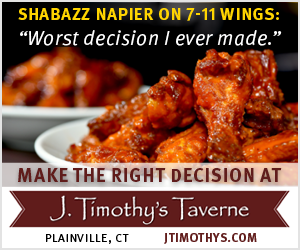 Look, each kid has his own motivations. Daniel Hamilton was clearly done being a college athlete. We have no way of knowing what's going on in Adams' head. If he is done being a college player and ready to collect a paycheck, he's gone.
But it would be a mistake — for many of the same reasons it was for Hamilton. Adams' numbers are good but not elite. He has enough holes in his game (think we'll do an in-depth post on this soon) that will scare off NBA teams not looking for a project. His recent hot streak has come against ECU and USF in games that few scouts will have even watched (hate you, CBS Sports Network). And lastly, but importantly, this year's draft is packed with high-end point guards — including, potentially, the first five overall picks.
Obviously, it's critically important for UConn that Adams returns for his junior year. Without him, the Huskies appear destined for a fourth-consecutive season with double-digit losses. With him, they will have the potential to make some serious noise in March.
Historically, UConn's star players have used their junior seasons to vault themselves into the national spotlight — or in the case of Shabazz Napier, refine their NBA-quality skill set. Adams is a fringe draft pick now. With offseason development and an improved performance next year, his stock will continue to rise.
---
Eddy Five asks: Are you still uninspired?
I'm assuming Eddy here is asking about our current mental state re: football. As our readers are surely aware, here at ADB HQ we have been very skeptical of the entire concept of Randy Edsall Part Two. The hiring seemed to show little imagination, and seemed unlikely to move the program forward in the way it needs to for us to not be relegated to the G5 for the rest of eternity.
However. Since then, the football staff has come together rather impressively, particularly when we snatched Auburn's OC to be our OC (a feat I still can't get over, and one I assume required some kind of magic or superpower). There are some familiar faces, and overall, it's a really good staff, especially when you consider it was done with approximately $3.4M less than the Diaco staff was scheduled to make this year. In the short time that Edsall's been on the job, he's done some actual recruiting landing four, three-star commits and generally fleshing out a class that was quite paltry when Diaco was shown the door. Considering the time constraints, it's been a good effort. (Though UConn is still dead last in the AAC with this year's class, but we're getting close to that top 100, so, you know, fingers crossed.)
Unfortunately, the nature of a coaching change means some commits were left out in the cold, and UConn's gotten some terrible (and hypocritical) press because of it. (This is the part where I remind you that football recruiting is awful and we need an early signing period, but, for serious, this is always how this shit goes down.) As a season ticket holder, I'm still pretty salty about moving the BC home game to Boston and to the terrible venue that is Fenway Park, but I do get why it needed to happen. ($$$$) Anyway, aside from all that, it's been a pretty positive few weeks for UConn football.
So am I inspired? No, not yet. They haven't actually played a game yet, so let's try to keep our emotions in check. But I am cautiously optimistic. UConn has been dealt some serious blows the last few years, so I'm wary of poking my head out of the bunker. But suffice it to say, I'm actually looking forward to watching some football this fall. And when the last season ended, I wasn't looking to watch football pretty much ever again. So we've got that going for us, right?
---
GoldenStateHusky asks via email: Would our team play better if KO suited up and joined us? Freeman? Moore?
Considering KO was playing in the NBA like a hot second ago, and beat most of the team in the Husky Run this year (again), I would say, yeah, this six-man squad would definitely benefit from a recent professional basketball player. KO can still D up, and is way fitter than any of us could ever hope to be. Considering they're playing with three guards (sometimes at the same time) an extra ballhandler would definitely help. Not sure what KFree's fitness level is, but they could really use a rebounder. Freeman used to bang around in the post in the Old Big East when that was still a thing, so I'm gonna say he would help, too. As I will never say a bad word about Ricky Moore, I'm going to leave this answer here.
– Meghan, obviously