Via the redoubtable Dave Borges, UConn forward Daniel Hamilton will declare for this year's NBA Draft, but will not hire an agent.
Daniel Hamilton intends to declare for NBA draft, not hire an agent, per his mom. Will have until May 25 to withdraw his name. #UConn

— David Borges (@DaveBorges) March 24, 2016
Due to a recent change in NCAA rules, players are now allowed to declare themselves eligible for the Draft, participate in the NBA Combine, and still return to school so long as they maintain their amateur status — namely, refrain from consulting with agents or taking any financial gain.
- Advertisement -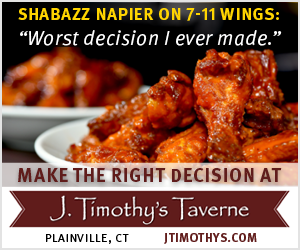 While the headline may concern you, this is actually a good thing and a smart move on Hamilton's part. Recently Kentucky coach John Calipari announced that every player on his roster — walk-ons included — would declare for the Draft in hopes of participating in the combine.
The benefits are clear. The players get to work out with NBA teams, receive feedback and participate in the comparative drills and exercises at the combine, garnering a sense of their place in the competitive landscape, and in areas in which they need to improve.
Arming young players with information before they have to make decisions on their career is a very good thing.
An overlooked aspect of this rule change is that players who are invited to the combine (which will likely include Hamilton) are granted additional access to their college coaches for workouts. Before withdrawing from the draft, eligible players are now allowed up to 20 hours a week for work outs — up from eight hours a week previously.
Add up these advantages and it would be foolish not to declare for the Draft. Look for Amida Brimah, Rodney Purvis and possibly Jalen Adams to do likewise in the coming weeks. All of those players, including Hamilton, are likely to return to Storrs next season, but they should take every opportunity presented with them to improve their games and learn what NBA teams think about their skills.