Randy Edsall is once again the head coach of your UConn Huskies football team. Life is a strange. Time is a flat circle. I don't know what the fuck is going on anymore. We answered some football-centric questions to get you into 2017, when thank Jonathan 2016 will finally be over.
Remember: If your question wasn't answered or you've been living under a rock and are just hearing about this, you can submit your questions here or on Twitter (@ADimeBack).
---
Jungle Husky asks:  Who do you think are viable candidates for off/def coordinators?
Viable is hard to define here, since I would have been certain that we could have come up with a more inspiring choice for HC than Randy Edsall, but let's see what we can do with this.
Offensive Coordinator
- Advertisement -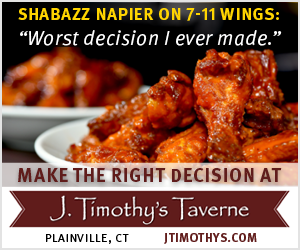 Todd Downing, Oakland Raiders QB Coach – Downing is probably the best QB coach in the NFL at the moment, and he has rightly received plaudits for his exceptional work with Derek Carr. He'd instantly bring credibility to an offense that hasn't been able to put up impressive numbers in over a decade. It's reasonable to assume that Downing could find a better job elsewhere, but a boy can dream, can't he?
Bill Bedenbaugh, Oklahoma Offensive Line Coach – For a program that relies as much on the run as UConn has, having a deficient offensive line has been catastrophic. Bedenbaugh has obviously been working with more talented players, but he's done exceptional work in developing Oklahoma's offensive line talent, and could be a major asset for the Huskies as they look to rebuild their program.
Kirk Ciarrocca, Western Michigan Offensive Coordinator – Since taking over as the offensive coordinator at Western Michigan, Ciarrocca has turned the Broncos from one of the worst offenses in the country (118th in scoring in 2013) to one of the best (8th in the country in 2016). Ciarrocca, a Temple alumnus, has extensive experience in the northeast, having worked at Western Connecticut as passing game coordinator and offensive coordinator, at Princeton and Pennsylvania as wide receivers coach, a Delaware from 2003 (when they won the FCS national championship) through 2007, coaching Joe Flacco and producing the top-scoring offense in FCS. It wouldn't be a promotion for Ciarrocca, but it's likely that a return to the east coast and an upgrade from the MAC to the AAC would be enough to entice Ciarrocca to UConn
Ricky Rahne, Penn State Passing Game Coordinator, Tight Ends Coach – Penn State's explosive offense in 2016 will serve as a resume booster for the entirety of their offensive coaching staff, Rahne included. Having previously worked at Kansas State and Vanderbilt, Rahne has shown a talent for developing prolific quarterbacks, like Penn State all-time passing leader Christian Hackenberg.
Defensive Coordinator
Nate Woody, Appalachian State Defensive Coordinator – When Appalachian State hired Woody, he was taking over one of the worst defenses in FCS Football. The past two seasons, they've been one of the best in FBS, ranking 8th in the nation in 2016. He's never worked above the Sun Belt, having spent the prior 13 seasons at Wofford, but he appears to be ready for a call up to the AAC.
Al Washington, Boston College Special Teams Coordinator, Defensive Line Coach – Yeah, I hate BC as much as the next guy, but Washington has done great work for Steve Addazio, as the Eagles had one of the stoutest run defenses in the country this year, ranking 7th in the country in yards allowed on the ground.
Lyle Hemphill, Stony Brook Defensive Coordinator – Since Hemphill became the defensive coordinator for the Seawolves (dope name), they've consistently had one of the best defensive units in FCS, ranking first in the nation in yards allowed per play (4.18) in 2016, a year after allowing the fewest yards per game in the country (250.1).
---
Mike Taylor asks: Top 10 UConn football moments?
1) USF 2010
2) Notre Dame 2009
3) Houston 2015
4) USF 2007
5) Louisville 2012
6) The Larry Taylor game
7) West Virginia 2010
8) Motor City Bowl
9) Iowa State 2002
10) Pitt 2006
Honorable mentions: Almost beating Michigan, that time we beat the shit out of Rutgers right before they left for the Big 10, beating South Carolina in a bowl game, that time we ran six pass plays but still beat Buffalo by a million
---
Spencer Warshauer asks: Can Randy convince any of his old coordinators/assistants to come back? Do you see any former Edsall players being a coach?
From what we're hearing former Connecticut coordinators with way better jobs Joe Moorhead and Todd Orlando were uninterested in the head coach job. So they ain't coming to be assistants. Beyond that, who knows? I would personally prefer new up-and-comers (see Peter's answer) that can help grow the program and possibly be groomed to take it over when Edsall is done.
As far as players? I assume you're asking about the possibility of QB Coach Dan Orlovsky. He had this to say on the subject to the Hartford Courant:
"I'll say this," Orlovsky said. "I love football. I still love playing it. I still play it at a high level. … I have no desire to stop playing football, but more often than not this league tells you when you're done rather than you telling it when you're done. Coach Edsall knows where I stand. I've been playing football since I was eight. The easy answer is I don't see myself ever being away from football."
So I would bet several American dollars on the possibility of seeing our pal Danny O wearing UConn blue and white on the sidelines at the Rent at some point. It really is a best case scenario, both because he's obviously qualified as a long-time NFL QB, but also as an in-state recruit, he's probably best suited to bring in a great QB, something UConn has been sorely lacking since, well, him.