My dad has been a UConn fan since well before I was born, so I figured it'd be a good idea to get his thoughts on the upcoming season.
What follows is the hard-hitting journalism that only A Dime Back could provide, as we go one-on-one with the legendary Bill Steinberg.
As someone who has followed UConn since before the Jim Calhoun era, how would you assess the job Kevin Ollie has done over the last four seasons?
KO has done a great job. As a first time coach, I don't think anyone could ask more of him. In some ways, I think he's done a better job than Calhoun. It seems he gets the team to gel with each other better than Calhoun. In other ways, I don't think he does as good a job. For example, adjusting to game situations and recognizing that he may need to get in to a player's face as well as Calhoun.
What do you think about the AAC as a basketball conference?
- Advertisement -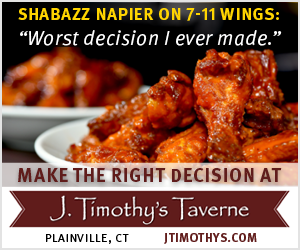 Not much. I would rather be in a more highly "recognized" conference. The AAC has some good teams but no other historically significant programs. Eventually, if we stay in the AAC, we will lose all the gains made under Calhoun and the Big East.
Which player do you hope has made the greatest improvement from last season to this season?
Amida Brimah.
What will be this team's greatest strength? Greatest weakness?
Guard play will be the strength. Front court the weakness.
What are your expectations for the team this season?
I've almost given up on "expectations" because I've been wrong so many times recently.  When I think they have all the parts to make a run, they tend to disappoint.
What qualifies as a good season at UConn? Or does it change from year to year?
A good season is one in which UConn gets to the Sweet Sixteen.
With UConn playing Syracuse at MSG this year, what are your memories of attending that 6 OT game with your favorite son?
Having a great time with you. How tired I was. Disappointed that every time UConn jumped out to a lead in the overtime sessions, Cuse would come back to tie. Knowing the game was over when Thabeet fouled out.
Who's your favorite UConn player of all-time?
So many: Doron Sheffer, Rudy Johnson, Cliff Robinson, I could go on.
Favorite current player?
I don't know if I have one. AB — I always wish him the best, but he usually disappoints. We'll see about Enoch.
What's your earliest UConn memory involving your favorite son?
Watching back-to-back wins in the 1990 BET over Georgetown and Syracuse in the hospital room just days after you were born.
True or False: You almost disowned me when I jinxed UConn during their comeback in the Albany game.
I don't remember but probably true.
Over the years, which UConn logo has been your favorite?
This one. It's probably closest to what the real Jonathan looked like.