The UConn women open their regular season tonight at Florida State at 6 p.m. In the last few years, we haven't had much to preview. What could we say? They were going to win, and win by a lot. But now that we're in the Post-Stewie Era, we here at ADB have put together a helpful guide to this strange new world. Here's what to watch tonight:
1) Who is in the starting lineup? Katie Lou Samuelson didn't play until halfway through the third quarter in the second exhibition, and Napheesa Collier got the start over Natalie Butler. Does Crystal Dangerfield start at PG or Soniya Chong?
2) Rebounding. FSU has a bunch of over 6-footers, and while our girl Gabby Williams has done work in exhibition games, she's going to be outsized by the people she's fighting for rebounds with.
3) CD Clipboard Watch. Chris Dailey hasn't had to body up on Geno in a while. Whether that was because he's mellowed, or because the team was beating everyone by a million points remains to be seen.
4) The scoreboard. While we're used to UConn blowing games wide open in the first half, don't count on it tonight. FSU is ranked 12th in the country and features a veteran-laden lineup. The Huskies are gearing up for an insane stretch on their schedule (weird how teams agree to play Geno once his three All-Americans graduate), so FSU should be a good first test.
- Advertisement -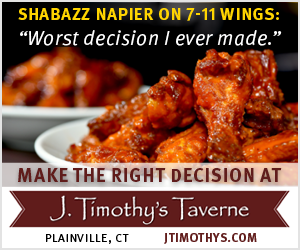 5) KLS. Can she step up and fill (some of) the Stewie role, and is she in Geno's doghouse? Wouldn't be the first time he's benched his best player(s) because he was unhappy with their effort in practice.
6) Does Geno value learning more than winning? Will he leave a struggling lineup on the court to let them work through early season issues (especially w/ Dangerfield), or will he have a quick hook?
7) Who's running the offense? Does it go to the freshman, Dangerfield? Does he give Chong a chance? Or does he put the ball in the experienced hands of Kia Nurse and let her run the show?
Tune in to ESPN2 this evening to find out.