It has now been 5,000 days since Syracuse won their lone national championship. Can you believe it's been that long since Carmelo Anthony received his last unmarked manilla envelope full of cash as a collegiate player? Wow.
Of course, since that somehow-not-vacated day of April 7, 2003, the UConn men have won an additional three titles. The UConn women have won eight. Tyler Olander alone has won two national championships, which is more than Syracuse coach Jim Boeheim, you see.
Yes, 2003 is but a distant memory. One where 50 Cent's "In Da Club" was the number one song in the country and we didn't yet know that Syracuse covered up drug tests for their players.
Michael Vick was a rising star in the NFL. Gas cost $1.59 per gallon and Bernie Fine was in a totally normal marriage. Beyonce had yet to release a solo album.
The day after Syracuse won its lone title, Kevin Ollie played 28 minutes for the Seattle Supersonics. Hideki Matsui made his home debut for the New York Yankees — hitting a home run against the Twins. He has been retired for 1,606 days.
- Advertisement -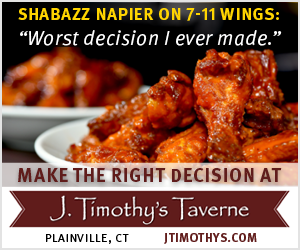 Two days after Syracuse won its lone title, the United States took the city of Baghdad during the invasion of Iraq. Three weeks later, President Bush gave his infamous "Mission Accomplished" speech. He would win re-election in November of 2004, one of four presidential elections that have taken place since Syracuse last won a national championship (though, they do sell "Mission Accomplished" t-shirts in the Syracuse gift shop to celebrate their December 2013 victory over Canisius).
The world's population has increased by over 1 billion since Syracuse last won a title.
Louisville has played in four different conferences. St. John's has employed five head coaches. UConn has won 329 games and Syracuse has won 342 241.
On that night in April of 2003, Shabazz Napier was in middle school, Jalen Adams was seven years old, Bob Diaco was an assistant at Eastern Michigan and our own Russ Steinberg had yet to be born.
(expect a follow-up post 5,000 days from now.)