Since you're reading this relatively obscure UConn blog, I feel it's a safe bet that you're at least vaguely aware of the year-round, will-they-or-won't-they drama that is Conference Realignment (imagine that echoes).
At this very moment, Big 12 member schools are meeting to discuss the possibility of expanding from 10 to 12 teams, splitting into divisions, adding a conference championship game, and potentially seeking a conference network.
With FOX paying the Big Ten roughly $Eleventy Kerpillion annually in their new media deal, some of the lesser members of the Big 12 have to be worried that standard bearers Texas, Oklahoma, and Kansas will split for a piece of a bigger pie elsewhere. As a result, most of the Big 12 seems to be interested in expanding, with the exception of Texas.
Texas, of course, replete with the still-failing Longhorn Network, might have to make some concessions in order to develop a Big 12 network, and Texas has never really been known for caring about anyone around them (a fact to which Nebraska, Texas A&M, Missouri, Colorado, Arkansas, TCU, SMU, Houston, and Rice can all attest). 
- Advertisement -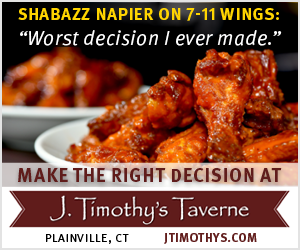 In addition, the Big 12 has been contracting research firms to guide their next move. According to several reports, the Big 12 can maximize its chances to reach the College Football Playoffs by expanding to 12 teams (two 6-team divisions), and having each division champ play for the Big 12 championship, similar to how other leagues have always operated (and how the Big 12 did up until a few years ago).
So if the Big 12 is going to follow that advice and expand, who are the targets? Assuming they don't manage to poach anyone from the ACC (yet), the best options would all appear to be in the AAC, MWC, or Provo, Utah.
UConn has been oft-mentioned by many sources, along with Cincinnati, BYU, Memphis, Houston, UCF, USF, ECU, and Boise State. Before a bunch of weird UCF fans say it, yes, UConn is on the weaker end of that list in terms of football history. Fortunately, the Big 12 is not hurting for credibility in football, with blueblood programs in Texas and Oklahoma, and several other consistently strong contenders.
What the Big 12 does need – if it wants a network, that is – is reach. UConn, with significant market penetration in both New York City and Boston, can provide nearly as much reach as the entire Big 12 combined at the moment. UConn also has the strongest academics, the largest athletic budget, the most significant presence in professional sports, and the most overall athletic success.
So if the Big 12 expands and doesn't include UConn, where does that leave us?
Well, it wouldn't be great, particularly if they took other AAC schools instead. However, there may be other lifelines. The ACC may see the Big 12's current push towards a network as a threat, and try to create their own. In order to do this, the ACC would likely need to convince Notre Dame to join the league as a full member, which would mean the ACC would probably look to add another program. UConn would appear to be the best fit for that. With the new Big Ten deal pushing them out in front of the SEC, the SEC may expand in order to renegotiate their own contract. It's unlikely that UConn would be a candidate for the SEC, but any movement by them could result in backfill by a league they targeted, like the ACC.
So here we are again. Hopefully the current silence by UConn administration is a strategic one, and we'll all be celebrating a new conference invite by the end of the summer. Or, I'll kill myself. Either way, you'll all be entertained.