UConn head coach Kevin Ollie and his team are out on the recruiting trail, still searching for the first commit in the 2017 class. Judging by our inbox full of your mailbag questions, you people are hungry for more info. So we've summarized and compressed most of your queries into this post and I'll do my best to answer the ones that weren't impossibly stupid.
How many open scholarships remain for 2016?
Two. See this breakdown from ya boy TCF.
Are there any realistic prospects left to fill those spots?
Depends on your definition of "realistic," I suppose. Hartford's Pancake Thomas just announced he plans to transfer, and is eligible immediately. Surely UConn could get involved, but it's likely he'd end up somewhere with more minutes available at the two. Anyone good enough to have interest in UConn is likely to have suitors with more playing time available. The Lasan Kromah types are hard to come by, and this team doesn't really have the holes that last year's team did.
- Advertisement -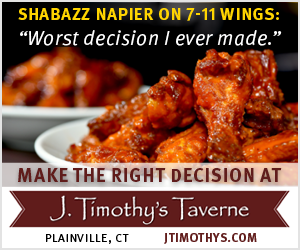 How problematic is it that Ollie continues to have unfilled roster spots?
More annoying than problematic. Very few teams, even among the top programs, regularly use all 13 scholarships. With 13 active players, at least three guys are going to really struggle to get on the floor. Villanova, last year's national champion, only had eight players get more than 75 minutes on the season. Yeah, Kevin Ollie could fill all of those spots, but that's how you end up with transfers and a low APR.
The only spot on this team that I'd have liked to upgrade would have been power forward (again), but between Juwan Durham, Kentan Facey, Mamdou Diarra, Vance Jackson, Steve Enoch, and possibly Terry Larrier, there are plenty of options available at the four.
Should we be concerned that no 2017 recruits are committed yet?
It's not great, certainly. This isn't uncommon following a big recruiting class – UConn's 2007 class added only Donell Beverly to a team that didn't even make the NIT, largely due to the huge freshman class that prospective recruits didn't want to compete with.
When do you expect the first domino to fall?
Makai Ashton-Langford (four-star point guard) is going to be on campus this weekend, so the smart money is then. MAL has been rumored to be leaning UConn more strongly in recent weeks, and just moved his visit up to get on campus earlier. He's an aggressive point guard, gets to the basket, profiles similarly to Jalen Adams. His outside shot needs work though.
Who is UConn's top 2017 target?
Hamidou Diallo, a five-star ball-dominant wing who plays at Putnam Science Academy in Northeast Connecticut. Diallo's a big-time scorer. He's long, athletic and finishes in traffic.
Can they land him?
They can, of course. But will they? It's going to be a tough road to hoe with Duke and Kentucky both very much involved. Ollie has been on Diallo longer than anyone (and has a very good relationship with the staff at PSA). Diallo's been on campus several times, and his best friend, Mamadou Diarra, will be joining the team this season.

Who is Ollie targeting at the PG position?
In addition to the aforementioned Ashton-Langford, Ollie is heavily pursuing New Haven native Tremont Waters and, more recently, Paul Scruggs. David Beatty is more of a combo guard, but he too remains a UConn target.
Will he land more than one?
It's not likely, but depending on how he's told them he plans to use them, it's possible.
Which big men are being pursued by UConn?
Despite the Zach Brown debacle, Ollie is still involved with some of the top big men in the 2017 class, especially Nick Richards and Mohammed Bamba. Either player would be a huge coup, as both would appear to have their pick of college programs. Other targets include Josh Carlton and Tyler Polley.
How would you prioritize UConn's needs in the 2017 class?
It's hard to predict what the team will need for next season, but with Purvis definitely gone and Adams a possible early entrant, I'd try to bring in at least two guards, preferably Ashton-Langford and Diallo.
Is there an under-the-radar recruit you like?
Josh Carlton has piqued my interest since UConn started recruiting him. He looks like a bit of a late bloomer who could transform into an impact big man by the time he gets to campus. Expect his stock to rise this year.