UConn football has had its share of brutal, brutal losses in the past several years, and might have set a new benchmark, somehow, in Saturday's 22-21 loss at Cincinnati.
The Huskies dominated the game for three quarters, but only mustered a 15-7 lead thanks, in part, to some questionable play-calling and execution in the red zone. Cincinnati scored a pair of fourth-quarter touchdowns to take the lead, and David Pindell orchestrated the defining "hey, we might just turn this thing around next year" drive of the season, going 93 yards in 1:41 before Pindell's touchdown pass to Hergy Mayala with no time remaining.
Then, things took an abrupt turn. Mayala was called for a (honestly pretty iffy) taunting penalty after making the catch, and the resulting 15-yard penalty led to Michael Tarbutt booting the 35-yard game-tying PAT wide left to end the game.
A silly situational play compounded by poor execution of a basic football play is What UConn Is, At This Point, so it perhaps isn't surprising that the Huskies have finished 3-9 for the second straight season.
Even if it was a matchup of two go-nowhere 3-8 teams, Saturday was an opportunity for the Huskies to pick off a fourth win (something they've accomplished just once since Barack Obama was inaugurated for his second term), and the way they played for three quarters, they absolutely should have won this game.
- Advertisement -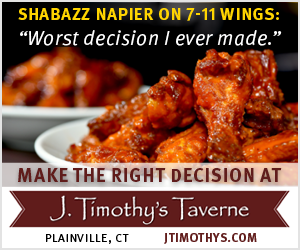 The defense totally dominated the line of scrimmage to shut down the Bearcats' running game, and the secondary was mostly good enough. On offense, UConn was unable to move the ball in big chunks, but the 3rd Down Conversion Gods were in its favor – prior to the last-minute TD drive, the Huskies had scored on four of their nine possessions (and six of those drives included double-digit plays). Unfortunately, all that success and clock domination totaled just 15 points, leaving the game close enough for Cincinnati to take control once the Bearcats' offense figured things out.
There will be talk after the game about this young and bad UConn team needing to "learn to win." I don't care for that phrasing, because it implies that if only UConn players wanted it more, everything would fall into place. That's not how it works. UConn won more one-score games this season (three) than they lost (two). In close games against teams of similar quality, the Huskies did about as well as you could expect them to.
The reason they're 3-9 is because they're not good enough, skilled enough, fast enough, strong enough, [insert adjective] enough football players, and in a large enough sample that adds up.
The 2017 Huskies didn't quit, they represented our school well, and they won a game I didn't think they'd win (at Temple). Today's ending was unquestionably bitter, but hopefully in two years when Keyion Dixon scores the game-winning TD in the AAC Championship Game, we'll look back on the 2017 squad as the group that started the turnaround.
In the meantime, Randy Edsall and staff have a long, uncertain road ahead of them. It's an arduous climb to average, and we haven't even gotten a foothold yet.
At some point I'll have some longer-form thoughts on the season that was, but for now we'll close out the season with some of the game's Good & Bad:
THE GOOD
Pindell played fairly well, and led a Shirreffs-vs.-Navy-like drive for what should have been the game-tying score. He ran the ball very effectively, made a few tight-window throws and (mostly) made good decisions throwing on the run, one terrible Brett Favre-ish interception just before halftime aside. It wasn't an A+ performance, because the Huskies left about 17 points on the board, but it was probably enough to make Pindell the starter once spring practice comes around. I'm not entirely sold on anointing Pindell as The Guy without seeing what the redshirt freshmen (Washington & McAfee) have to offer, but I feel pretty good about the future at QB for the first time in a long while.
Keyion Dixon's beast mode run to get out of bounds with 17 seconds left, giving UConn four (eventually five) chances to tie the game while keeping the timeout was the most impressive thing a UConn offensive player has done in years.
The defense was pretty, pretty, pretty good…for 45 minutes. It was a pleasant surprise to see a few freshmen stand out – notably, linebacker Ryan Gilmartin looked very solid in the first half, and safety Omar Fortt did a nice job in helping plug up the Bearcats' run offense. Elsewhere, Foley Fatukasi and Junior Joseph each had a sack in their final games in UConn uniforms, Marshe Terry picked off a Hunter Moore pass in the end zone, and even Tre Bell stepped in with his best play of the season, stopping Cincinnati QB Hunter Moore on a keeper on 4th down. For once, they gave their offense every chance to put the game out of reach.
Tarbutt drilled a 53-yard field goal that would've been good from 60 in the third quarter. (Like ya Michael, so you may want to close the window now if you're reading.)
Finally, regardless of how despondent we all may get after a loss like that, mad respect to the departing seniors. This was a class that was mostly recruited by Paul Pasqualoni, stuck around through two coaching changes, and contributed as best they could in 2017 in a scheme not designed for them. Both sides of the ball's MVPs were seniors (Shirreffs and Fatukasi), and they'll be missed. Thanks for representing UConn with class and dignity, and best of luck.
THE BAD
Hergy Mayala and the AAC refs, what are you collectively doing? The taunting penalty was kind of BS, especially given the emotion of that last drive. But what on earth are you doing putting your team in that situation? Your team is 3-8 and you were, at the time of said taunting, losing the football game. C'mon. I typically lean towards letting players celebrate big plays with abandon, but situational awareness is also important. (See also: Mayala stepping on the end line unnecessarily before catching a 2-point conversion that would have changed the complexion of the fourth quarter). Mayala is going to be one of the few seniors playing key roles next year, and one would hope this will be a learning experience.
As for what followed: Tarbutt hasn't been great, and I think probably half of the diehards watching, myself included, knew he was going to shank the extra point even before the taunting penalty. Inexcusable. I'm not sure we have a better option on the roster at the moment, and Tarbutt certainly wouldn't be the first UConn kicker to struggle early in his career and turn things around. But that position should be far from settled heading into next year.
The defense regressed in the fourth quarter as Moore connected on sideline throw after sideline throw. It felt like if the game had gone to overtime, Cincinnati would have continued to score easily, which is probably why Edsall was planning to go for two before the Mayala penalty. There are just as many questions heading into 2018 as there were going into 2017.
Cincinnati's real bad at the moment and I'm not certain UConn will ever have a better chance to finally win at Nippert Stadium. I felt sad and feeling sad is bad.
UP NEXT
Who stays on the roster? Which high school kids sign up for the Edsall Experience? Who will trap Rhett Lashlee with a net to make sure he stays away from all transportation headed in the direction of the southeastern part of the country? Will the spring game have some impossibly arcane rules? Will the athletic department continue to charge more than most ACC teams for season tickets to a fanbase that has had all of its enthusiasm squeezed out of it? (Probably!) Will we still pick UConn to win five or six games next year? (Definitely!)