So that happened.
UConn is back from its Hawaiian sojourn, returning to Connecticut with a depleted lineup. Wednesday night against Boston University, the Huskies only had eight scholarship players suited up. Eight.
With Terry Larrier, Alterique Gilbert and Mamdou Diarra now out for the year, and a significant portion of UConn's expected offense gone with them, the Huskies now have to figure out a way to make the rest of this season something other than an exercise in pain management.
While they did manage to eke out a win against the Terriers, it was really, really ugly. Offensive woes continued to plague the team, and despite his lit as hell performance in Maui, Jalen Adams was a non-factor last night, going a miserable 3-15 from the floor. There is no margin for error this year, and even against the dregs of the AAC, the team will be counting on Adams to provide the bulk of its offense. No-shows like that aren't going to result in too many wins.
Rodney Purvis continues to struggle, missing layups and three-pointers. Though kudos to Purv for providing the 6-6-6, points-rebounds-assists stat line — literally the only enjoyable thing about last night's game. Purvis is another player UConn is going to need to make shots if they have any hope of a season that doesn't leave me curled up in the fetal position come February.
- Advertisement -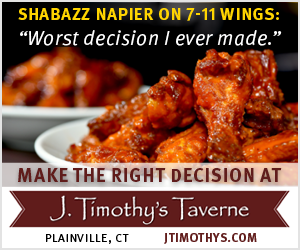 Kevin Ollie went with a weird lineup to start. Steve Enoch got the start over Vance Jackson (I'll get to that in a minute) along with Amida Brimah in the front court, with Purv, Adams and Christian Vital in the back court. As much as I love a three-guard lineup –and double centers is kinda fun — the choice was puzzling. UConn struggled against BU's zone defense (drink!) and three-point specialist Jackson spent a lot of time on the bench. As those of you who regularly hang out around here know, the best way to beat the zone is to make three-point shots. So I dunno what the hell was going on there.
I like Jackson's game a lot. Aside from the aforementioned three-point shooting, he's got great physicality and very good rebounding instincts; he also passes well, sees the floor well, moves without the ball well and generally plays smart basketball (hat tip to the last possession foul with UConn up three, putting BU on the line to shoot two and, for all intents and purposes, ending the game). All that said, though, Jackson's fitness is not where it needs to be yet, and he does struggle to get back on defense.
I don't especially worry about KO getting a kid into game shape, but time is obviously a factor now. Vane is going to need to come along a lot faster than they were likely planning. So hang out with Purvis a lot, is what I'm saying, because the one area where Purvis does not struggle at all is fitness. He played 37 minutes last night and is likely to have a similarly heavy workload all season.
Jackson did end up with 22 minutes last night, and Kenton Facey, also out of the starting lineup, played 21, though he did manage to pull down a team-leading seven rebounds – all defensive. Defensive rebounds were a huge problem for UConn (drink!), and Facey really needs to step up.
Also of note is that freshman Juwan Durham only played seven minutes. Ollie is clearly trying to bring him back slowly after missing so much time to injuries, but they need the body and the rebounds, so hopefully Durham can get right quickly.
While much of the squad struggled, Vital stepped up big with his best game this season. I was high on this kid from the moment I saw his on-ball defense, but he's impressed with his mature play and solid ball-handling. Not to mention that he can actually shoot. He was 3-6 from three, and 4-7 from the floor, leading the team with 13 points. He also managed to grab five rebounds, but had only one assist to four turnovers. Adams also had four turnovers, but balanced it out with a team-high four assists.
All of the above should express how just morbidly bad that basketball game was. UConn led 21-17 at the half. The Huskies shot just over 52 percent from the line, 32 percent from the floor and a dismal 29.4 percent from three. This game was painfully awful. Luckily, BU is terrible and shot even worse than UConn. But in an XL that barely looked half-full (attendance was announced at just over 8,200, and yeah, OK) it was a microcosm of the sorry state of affairs that Husky fans are currently dealing with.
The level of play we saw simply isn't going to cut it. And I don't know about anyone else, but I'm really worried about what we're going to see in NYC on Monday against Syracuse. The morale among UConn fans is at an all-time low (#banfootball) and I don't think we can take a drubbing from Cuse right now. I know I can't. I hope you all have therapy sessions booked, is what I'm saying. Or at least the foresight to buy-out your neighborhood liquor store before tip-off.
I'm trying not to be a total downer, but things are looking bleak. The basketball UConn is playing right now is bad. Just really, really bad. Unwatchable.
The team struggles in basically every facet of the game, and it will be challenging to keep the players from just giving up on the season entirely (hi again, football). I hope they don't, for their own sake as much as ours. But I can't in good conscience say I have any expectations for this team at the moment.
However, just so I don't leave you all on that depressing note, your undefeated UConn women's basketball team plays tonight against DePaul and that should definitely be more watchable basketball than what we saw last night.