UConn again fared well in US News & World Report's annual ranking of America's colleges and universities. For the sixth consecutive year, UConn landed in the top 25 of public universities (20th this year, down from 19th), and placed 60th overall. Princeton took the top spot — no word on how this affects their standing in the New York TV market.
While not providing any new information per se, the updated report does give us another opportunity to point out UConn's academic superiority to the other schools mentioned as candidates in the never-ending saga of Big 12 expansion.
Among the universities that actually play sports (sorry Rice and Tulane), UConn dominates. BYU is the closest competitor at 68, one spot short of an honor code violation. That's bad news for Cincinnati (135th), though it did take the top spot in the Ruining Spaghetti and Chili Simultaneously category.
USF (159th) scored only 36 points out of a possible 100, still better than its 29.9% men's basketball winning percentage since joining the AAC. They will issue a response to their ranking as soon as they figure out spell-check.
UCF (176th) will be shocked to learn that playing video games does not equal college. Apparently boasting a gigantic (250,000+) alumni base doesn't count for much if they all majored in Arguing With 13 Year Olds Playing Halo.
- Advertisement -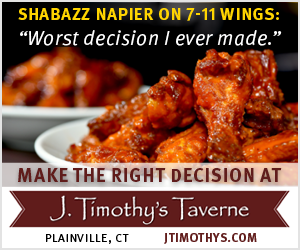 Last, and absolutely least, is Houston (194th), the Memphis of college academics. UConn is closer to Harvard than Houston is to Kansas.
Of the current Big 12 members, only Texas surpasses UConn.
| | |
| --- | --- |
| School | USN&WR Rank |
| Texas | 56 |
| UConn* | 60 |
| BYU* | 68 |
| Baylor | 71 |
| TCU | 82 |
| Iowa St. | 111 |
| Oklahoma | 111 |
| Kansas | 118 |
| Cincy* | 135 |
| Kansas St. | 135 |
| Oklahoma St. | 152 |
| USF* | 159 |
| Texas Tech | 176 |
| UCF* | 176 |
| WVU | 183 |
| Houston* | 194 |
*expansion candidates