In the sport of women's basketball, there is no stronger force than the UConn Huskies. As they prepare to take on Dayton on Monday evening, another step towards the tenth national title in the program's history, it is not only this championship run that deserves attention, but one that will happen one year from now when the best teams of the women's collegiate ranks are scheduled to travel to Indianapolis for the 2016 Final Four.
UConn should flex their muscle, show their strength, and tell the world they are ready to boycott that Final Four.
Last week, Indiana Gov. Mike Pence signed into law a bill that would allow the state's businesses to discriminate against gay, lesbian, bisexual and transgender patrons. Across the country, the reaction has been strong. In the world of sports, the NCAA — whose home office resides in Indianapolis — has voiced their concern in advance of the men's basketball Final Four, which will be played in Indianapolis next week. Following the signing of the bill, NCAA president Mark Emmert released a statement indicating strong concern and a vague threat regarding the NCAA's future in Indiana.
In full: "The NCAA national office and our members are deeply committed to providing an inclusive environment for all our events.  We are especially concerned about how this legislation could affect our student-athletes and employees.  We will work diligently to assure student-athletes competing in, and visitors attending, next week's Men's Final Four in Indianapolis are not impacted negatively by this bill. Moving forward, we intend to closely examine the implications of this bill and how it might affect future events as well as our workforce."
- Advertisement -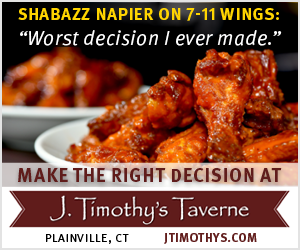 One of those future events is already on the books – the 2016 Women's Final Four, set to be hosted in Indianapolis next spring.
While men's basketball, and men's sports as a whole, have gradually become more inclusive of LGBT athletes over the past few years, the women's game has historically been more entwined in the community, with both big name openly gay athletes and a recent marketing campaign launched by the WNBA courting an LGBT audience.
There is arguably no greater brand in women's sports than the UConn Huskies. Their success on the court over the last two decades has garnered nationwide attention, and their outspoken coach, Geno Auriemma, has developed a reputation for openly delivering his opinions off the court in the same confident manner that his teams have historically played with.
Asked his thoughts on the new law in Indiana by Jeff Jacobs of the Hartford Courant, Auriemma expressed disgust. "Is there no limit to what people will do to promote their agenda?" he asked. "There is no limit I guess. Whether it's race or religion or gay rights, it's 2015. We're fighting wars overseas because religious fanatics are trying to take over the world. I thought we were supposed to stand for something other than that."
In the same piece, UConn athletic director Warde Manuel delivered a similar message, saying "I find it unacceptable that we as a society have to be at this point where laws are passed that allow discrimination to take place."
The grand point that Jacobs makes in the piece is that the NCAA should move the 2016 women's Final Four. Many others have expressed a similar sentiment, including NBA great, and current commentator Charles Barkley. The NBA, WNBA and their two Indiana teams released a statement supporting inclusion.
Yet, while quotes and statements are an important show of solidarity, UConn is in a unique position to take action. They should threaten to boycott the Final Four next season unless it is moved from Indiana.
With UConn on the verge of reaching their eighth consecutive Final Four, they bring a level of certainty to the event that drives both NCAA marketing, and ticket sales to a devoted UConn fan base. The prospect of a Husky-less final could incite the NCAA into searching for a replacement venue.
The move would give the NCAA some cover, and a significant ally, in pushing back against the Indiana state government. It would also give the NCAA a tool in reaching out and showing support to a growing audience of LGBT fans.
Auriemma, Manuel and the players on the team – notably Breanna Stewart and Moriah Jefferson, who will be seniors next season – would be placing themselves on the right side of history, though at the risk of their own on-court success. The duo could be in a position of win their fourth-consecutive national championship, a feat no one else has accomplished in the women's game. They would have to stand ready to abandon that pursuit in the name of civil rights.
It is a lot to ask of these young women, and the coaching staff who has worked so hard alongside them. Not only would they need to be willing to forfeit their own chance of a ring, but they would immediately move to the center of a social and political fight that many people their age would loathe to endure. But they also would be taking a stand for justice.
If the ultimate goal is to stand for what is right, to support the LGBT community, and to send a message that discrimination can not be tolerated, UConn should threaten to boycott, and the NCAA should lock arms and get the hell out of Indiana.