Games against Syracuse, Georgetown, and Ohio State highlight UConn's non-conference schedule, which the school released Thursday morning.
The season will start officially on Nov. 11 with a home game against Wagner, which appears to be part of the Maui Invitational. The Huskies then host the Huskies of Northeastern before heading west to meet Loyola Marymount, ahead of three games in Maui. The full Maui bracket should be released soon, and the field includes Oklahoma State, Oregon, North Carolina, Georgetown, Tennessee and Chaminade. Reports indicate that UConn and Georgetown will be on opposite sides of the Maui bracket because of their scheduled regular-season game.
Boston University, North Florida and Auburn are the other three home games on the schedule, while marquee match-ups at Ohio State and Georgetown, and a neutral court game against Syracuse, figure to be the most exciting.
For those thinking ahead to tournament time, one strength to this schedule is that Loyola Marymount is the worst team overall, according to KenPom, coming in at 226 last year. Compare that to last season, when the Huskies played an RPI-crushing three sub-300 teams.
- Advertisement -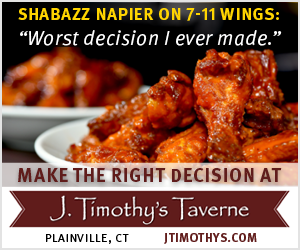 The downside to the schedule may be that there are no marquee home games, but two stand out as maybe tougher than expected: Auburn (Dec. 23) has been miserable in recent years, but brings in an excellent recruiting class, while North Florida (Dec. 18) returns its two best players, according to KenPom, from a team that won the Atlantic Sun regular season last year. Both those games might end up looking like solid wins by March.
The full non-conference schedule can be seen below:
Sun., Oct. 30 – New Haven (exhib.)
Sat., Nov. 5 – Southern Connecticut (exhib.)
Fri., Nov. 11 – Wagner
Mon., Nov. 14 – Northeastern
Thurs., Nov. 17 – at Loyola Marymount
Mon., Nov. 21 – at Maui Invitational
Tues., Nov. 22 – at Maui Invitational
Wed., Nov. 23 – at Maui Invitational
Wed., Nov. 30 – Boston University
Mon., Dec. 5 – vs. Syracuse (Madison Square Garden)
Sat., Dec. 10 – at Ohio State
Sun., Dec. 18 – North Florida
Fri., Dec. 23 – Auburn
Sat., Jan. 14 – at Georgetown