In case you missed it, UConn has unveiled a Happy Holidays video, featuring coaches, students, administrators and mascots, called "Decking the Halls." It's one huge ball of delight.
Blown away by its greatness? We were too. Here's a quick breakdown of what you just witnessed:
We start with Geno Auriemma knitting in front of the fireplace — something we can only assume he does every day when he's not busy winning championships. I'll be completely honest: If that was the entire 2:45, I would have been totally fine with that. Give me the Geno Auriemma Knitting Hour on CPTV and I'll watch it every week.
But then Kevin Ollie walks in and he's carrying the 2014 men's basketball championship trophy. Upon seeing this, Geno mutters "good idea" and gets up. We know where this is going.
But first, there's some fun Christmas music and some students stringing up lights. Love the #teamwork here, fellas.
- Advertisement -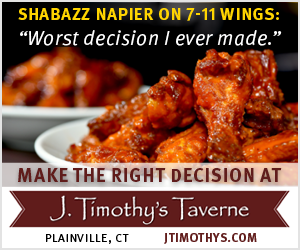 CUT TO JONATHAN WRITING HIS NEW YEARS RESOLUTIONS!
We all know the new Jonathan is horrifying and not cute like the old one, but you have to love the childish handwriting. He also wants to take the perfect selfie.
JONATHAN: PLEASE FIND ME AT THE FOOTBALL GAME ON SATURDAY. I WILL TAKE A SELFIE WITH YOU.
Quick look at the real Jonathan lapping up some eggnog and it's back to Geno! And he's got his trophy. Sorry KO, but dual national championships means two trophies on the mantle.
Cut to Susan Herbst and some popcorn shenanigans.
At this point, you have to wonder if all the UConn coaches, administrators, mascots and a few students all just live in a house together. I choose to believe this is true, and I want to visit.
More Christmas decoratin' follows, then OH MY GOD ANOTHER TROPHY. We didn't forget you, Nancy Stevens. Field hockey might not have the same draw as basketball, but UConn still kicks ass at it and it should be celebrated. You put that trophy up there. We love it and we love you.
Now the chef at the Lambda Lambda Husky house shows up and he has cookies! They look delicious. My grandma makes cookies that look just like that. She used to send them to my dorm in college and I'd gobble them right up. Then she'd scold me for not sharing them. Sorry Grandma, but they were addressed to me, OK?!
(Nice job by the chef for discreetly taking one when no one was watching)
And now we have some high-tech dreidel makin'! Hey, if you're going to commit to the eight nights, you might as well do it right. Look at that thing spin!
(Shoutout to man putting Husky ties in the stockings)
Then comes the best part in the entire damn video: Bob Diaco trying to wrap a football. He can't do it! Watch him get so adorably frustrated, then throw a bow on it and end the damn thing. The upstanding citizens at @UConnGIFS even GIF'd it, so here it is:
"@NoEscalators: Bob Diaco failing to wrap a football needs to be giffed and it needs to be giffed now" pic.twitter.com/SOr7pNspLc

— UConnGIFs (@UConnGIFs) December 4, 2014
Happy Holidays, friends!