The big UConn football news of this month is that the Huskies will be visiting powerhouse and current reigning national champion Clemson in 2021, and will receive a healthy sum of $1.2 million for their trouble.
Two things about this are self-evident:
1. It is not a great look to prostrate yourself at the feet of a power-conference team in order to get a big cash payout. (Two of the better-paid sacrificial lambs in college football last season included Western Kentucky and UMass, two schools who are not attempting to maintain the impression of being a power conference-ish program).
2. UConn probably very badly needs that big cash payout, given that the AAC TV deal barely pays more than Clemson's one-time bludgeoning fee.
So, yeah. It's understandable and necessary if slightly disappointing to see UConn serving itself up like this. On the other hand: it's cool to play teams that are likely to contend for national championships. The program hasn't sought out that sort of challenge since the early FBS days, when the then-independent Huskies played theoretical future conference-mates Miami and Virginia Tech. I wouldn't want UConn to be accepting buy games every season like a common Directional Michigan, but once in a while, sure?
- Advertisement -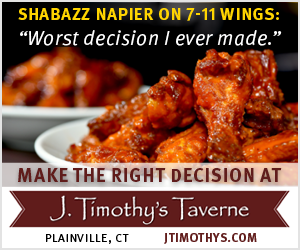 And hey, a lot can happen in four years. Maybe Randy Edsall and Beautiful Human Rhett Lashlee will have figured out how to turn this program around, and suddenly an on-the-rise Husky program gets a big-time opportunity to make a name for itself in a top-notch college football atmosphere.
I think UConn can (and should) be a bit picky with which schools it will accept these kinds of games from. If the Huskies are going to do this, it should be sparingly, and it should be against the biggest-name of the big-name programs.
To me, the obvious buy-game opponent is Penn State. It would be a manageable drive, and it would be a great opportunity to play in front of 100,000 folks, not to mention a lot of northeastern recruits that UConn would probably like to pluck off.
Other schools worth scheduling a buy-game would be fairly obvious — this is the Ohio State, Alabama, USC, Oklahoma, LSU tier. Below that elite tier, UConn can and should attempt to squeeze a home game out of any deal, using whatever leverage it may have with other sports, and being willing to accept playing two road games in exchange for one home game.
Meanwhile, the Huskies have already scheduled a few outright home-and-home series with middle- and lower-tier Power 5s (Missouri, Syracuse, Illinois, Indiana, NC State) in the next six or seven years; one would think that these sorts of games will remain possible even if UConn signs on for one-off buy games.
Ideally, UConn's non-conference scheduling while stuck in the AAC should make it feasible to reach a bowl every season; fitting in a road trip to an elite team every so often shouldn't make for an impossible schedule if the Huskies continue to fill the remainder with a mix of FCS, G5 and lower-level P5 teams.
(P.S. In retrospect, that Notre Dame series — featuring five true road games and five neutral site "home" games — would have been way more debasing than playing a $1 million game at Clemson. Giving up a home game to play Boston College in front of a split-ish crowd in a baseball stadium is, too.)