EAST HARTFORD – Wins are wins, no matter how dumb, and Saturday's 13-10 win over Virginia at PAWS-ARF was supremely dumb.
UConn winning despite gaining just 277 yards of offense, outgained by more than 100? Dumb. UConn winning despite two turnovers on the five drives in which they happened to drag themselves inside the Virginia 30-yard-line? Dan Quayle dumb. UConn winning because a Virginia kicker who had never played a snap of football before today hooked a would-be-game-tying field goal attempt as time expired? Dumber than the area down under the Manhattan Bridge overpass.
But a win it was – shout to current team MVP and all-around terrific person Bobby Puyol – and UConn is 2-1 after winning a game it needed to win to realistically have any shot of a return bowl trip.
So, that having been said, let's have a frank (verducci) discussion.
UConn's offense scored three points over the first 52 minutes of a 60-minute football game today, against a team that allowed 37 points to Richmond and will struggle to win more than two or three games. The Huskies' game-tying touchdown drive was only so because of two hilarious defensive penalties, a comical pass interference on 3rd-and-20, and a face mask on a 3rd-and-8.
- Advertisement -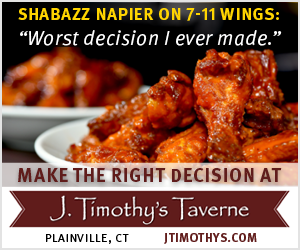 To be honest, this has been a demoralizing 2-1 start (which, yes, does count as a sort of progress!). The offensive line has looked possibly worse than it did a year ago, allowing four sacks and falling well short yet again in the Quest For Four Point Oh, with just 3.1 yards per carry today. Bryant Shirreffs looked fine when he was slinging the ball to Noel Thomas on crossing routes and slants, and terrified for his life on every other dropback.
Shirreffs only threw seven passes in the first half, and by the midpoint of the third quarter (THE THIRD QUARTER) he had thrown a grand total of three passes longer than five yards in the air. He completed two of them, for 25 yards. Besides two long runs by Arkeel Newsome, UConn had 14 rushes for 0 yards in the first half.
This is retrograde football, boring to the fans you are desperately trying to attract, and made all the worse by the anxiety derived from the fact that UConn has been in the lead for a total of 10 minutes and 53 seconds out of 180 minutes played this season.
On probably the best weather day we're going to get all year, hundreds of fans began to stream out of the Rent in the third quarter, with UConn trailing by just a touchdown at the end of the third quarter. It's not a great look to have an empty student section in the fourth quarter of a tie game. It's also not a great look to score three points on a bad ACC team in 2016, when every other college football team seems to be able to conjure up 20 points per game at will.
I'd never do it myself, but I can't blame a single person who left the stadium with UConn down 10-3. Sports are entertainment, and there was nothing entertaining about the first three quarters of today's game. Bob Diaco can keep saying that running the football is part of the character of this team, but if they keep averaging around 3.0 yards per carry, their character will be worth a 3-9 or 4-8 record.
To their credit, sort of, UConn improved as the game went on, with some smart, easy throws to Noel Thomas (as well as some pass interference penalties, which I'm told are impossible to get on inside handoffs). The 4th-and-short pass to Alec Bloom was the most encouraging play call of the season. And the final result would have been considerably more comfortable had they scored at least three points on both of drives inside the UVa 30 that ended in turnovers – a Shirreffs pick and a fumble on a poorly-executed toss play, respectively.
Unfortunately, when you play as conservatively as UConn did, any mistake is a killer. Diaco did address the offense's slow starts after the game, telling reporters that the coaching staff "is on it" and that "we feel exactly the same as you." But for those words to mean something to this skeptical fanbase, we'll need to see some recognition that a run-first philosophy isn't going to cut it for this team.
Defensively, UConn was mostly very solid, although that unit bookended a very poor start with a finish that nearly blew a 13-10 lead in record time, saved mostly by some quizzical clock management by Virginia.
The secondary didn't distinguish itself early on against Virginia quarterback Kurt Benkert, who took all of the underneath stuff that UConn's soft pass coverage gave him. But after an 86-yard field goal drive and a 90-yard touchdown drive, the D appeared to make some adjustments – and Benkert started to force some of the short throws he had easily completed – and they were able to get off the field on third down, crucially: after starting 4-for-6 on third downs, Virginia was just 1-for-10 the rest of the way.
The result was a string of six consecutive forced punts interrupted by an incredible interception from Jamar Summers, setting up the game-tying touchdown midway through the fourth.
Virginia threatened to retake the lead shortly after, but large, angry human Foley Fatukasi saved the day, stuffing a 4th-and-1 run up the middle with the help of Junior Joseph. The Cavaliers then probably should have forced overtime after completing two long passes on their final drive – including an inexcusable coverage breakdown on a 4th-and-10 – only to be saved by a rushed field goal kick that never had a chance.
Look, UConn probably deserved to beat a good Navy team on the road last week, and they probably deserved to lose to a bad Virginia team at home this week. Call it a wash. (Which limb would you give up for UConn to be 3-0 with a home game against Syracuse coming up, though? I never really had much use for my left arm, anyway.)
After the first three games, it should be clear by now that UConn isn't going to win games by out-talenting their opponents. But there are enough good players here to beat teams at this level without needing a Rube Goldbergian series of mishaps by their opponent. And with today's win, there's a clear path to a bowl game without needing to win any of the three toughest games: beat Tulane and UCF, then split four winnable games against Temple/BC/Syracuse/East Carolina.
But to get there (and gosh, to even reach the heights of seven or eight wins!), UConn needs a coaching staff that coaches smart – a staff that doesn't do weird and bad things with the clock and timeouts (this week's editions, letting Virginia waste 40 seconds before a punt late in the first half, and letting Shirreffs get killed on a sack on the last play of the half, were at least minor) –  and one that recognizes the strengths of this offense (wide receivers, tight ends, running backs when they're in space, quarterback most of the time) and the weaknesses (Off. Fens. Ive. Line.).
Bob Diaco is a smart, thoughtful coach who has his team pretty much where we thought they'd be after three games, record-wise. But he must see that UConn's offensive strategy is not optimizing its personnel, nor is it maximizing the team's chances of succeeding. They're playing with fire every time they wait for a two-score deficit before playing the sport the way that every other 21st-century offense does.
Do not get burned by Syracuse.