Niels Giffey scored 15 first half points. Again. Omar Calhoun continued his hot shooting on his way to a game-high 17 points. DeAndre Daniels found his groove in the second half where he dropped in 11 points. The guard tandem of Shabazz Napier and Ryan Boatright continued to display their maturation, combining for 22 points, 14 rebounds and 15 assists.
When it was all-told, #19 UConn (3-0) bankrupted Detroit (1-2) in a 101-55 drubbing in Gampel Pavilion.
Detroit got off to a hot start behind the hot hand of Juwan Howard, Jr., who scored a quick eight points as UConn struggled to adapt. That wouldn't last long.
Giffey and Calhoun began their hot streaks. Napier and Boatright floated into the paint and kicked it out at will. What little intrigue there was when UConn trailed with 16:38 left in the first was gone ten minutes later as the Huskies put their foot down — heading to the locker room with a 48-26 lead.
While the game was in no way close, it should be noted that this Detroit team may not be that bad. They were, after all, a 20-win team last year that played in the NIT. No small feat for a small school, all things considered.
- Advertisement -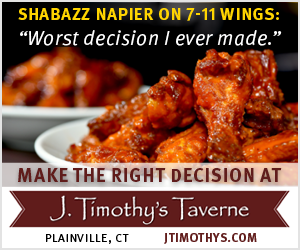 UConn may just be that good. All twelve players on the roster played for the Huskies. All scored but walk-on Pat Lenehan. While the depth was a hot topic after the game, it was equally impressive how the effort and intensity carried throughout the roster — resulting in bullying Detroit on the backboards 49-34.
"We showed our muscle down there," said coach Kevin Ollie. "Our defense was extraordinary. Our defense changed the game."
Defense, indeed. UConn held Detroit to 30.4% shooting on the game, and an abysmal 13% on three-point attempts (3-23).
The true highlight of the game, however, came when walk-on Tor Watts raced to the hoop for layup. The crowd — and the bench — went crazy. A nice moment for Watts was indicative of the tone set by Ollie and amplified by team leaders like Napier and Boatright.
"Tor and Pat [Lenehan] do all the things that don't get seen. [We'll take] any opportunity to get them in the game to show we appreciate them. We're all a team here."
A team that has flashes of absolute brilliance, and a chance to make some serious noise as the season continues.
Notes:
Tyler Olander and Kenton Facey both played well late in the second half. Olander hit another three, because, sure, why not? He finished with ten points. Facey grabbed seven rebounds and was very active on the boards. He also had a very nice assist, earning him a congratulatory slap on the ass from Ollie.
It's becoming comedic that all of Niels Giffey's points come in the first half. In fairness, he did only play five minutes after intermission on Thursday.
UConn passed the ball exceptionally well, picking up 21 assists on their 35 field goals. Other nice passes aided in the Huskies attempting 28 free throws.
Up Next:
The 2K Classic continues on Sunday (11/17) in Gampel against Boston University. Tip is early (noon) and the game will be on ESPNU.