UConn was run off its home court by the best team in the nation on Saturday, losing to Villanova 81-61. It was the Huskies' second 20+ point loss this week and the upcoming schedule doesn't offer much respite — UConn is predicted to lose its next four games.
There were, at best, two positives from this game. First, freshman Josh Carlton had 13 points and nine rebounds. It was the third game in a row that he scored in double-figures — he's averaged eight rebounds in those games. It's rare this season to see UConn's bigs hang with an AAC opponent, let alone Villanova, so Carlton's performance is encouraging.
Second, Terry Larrier played basketball, which is a positive considering his face is broken. UConn disclosed before the game that the forward suffered a sinus fracture. Larrier played wearing a face mask, though not very effectively. He scored six points on 3-14 shooting while missing all six of his three-point attempts. After the game, Kevin Ollie said Larrier will undergo surgery this week and be out — in the best-case scenario — seven to ten days.
Some thoughts:
The final score probably shouldn't surprise you, considering UConn is: bad. The Huskies have now lost five games by 20 or more points this season. Per Ed Daigneault and Neill Ostrout, the last time a UConn squad lost so badly so frequently was the 1968-69 team that finished 5-19. It doesn't feel like a good sign that Kevin Ollie's teams have done an historic amount of losing the last two years.
- Advertisement -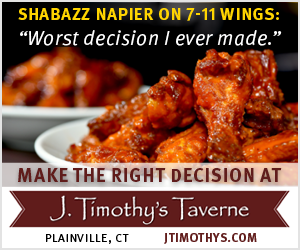 It's really amazing how quickly Villanova blew past UConn on the basketball stage. Since the Huskies began playing in the AAC, and Nova in the new Big East, the Wildcats have been ranked in the top three in the nation each year. Watching their roster today, it's clear that UConn has nowhere near the talent necessary to compete for championships, and likely won't for some time.
The sellout crowd booed the Huskies off the court at halftime, again when the Villanova lead extended to 31 and finally when the game came to an end. We can debate the appropriateness of booing unpaid college kids (though I'm not sure how you're supposed to distinguish booing the players vs. booing the adults), but I'm more interested in the continuous erosion of patience from UConn fans. When's the next time UConn sells out a game? Maybe Arizona next year? Wichita again if they're a top-five team? I'm not convinced people will continue to shell out $50 for tickets to watch UConn get its brains beaten in, even against top tier opponents.
KO: "when the ship is sinking, rats jump off the ship. scavengers jump off the ship. we're not rats, we're not scavengers. we're going to stay on the damn boat"

— steph ❄️ (@Steph_Sheehan) January 20, 2018
What? Ollie is careening towards Diaco Territory. The nonsensical analogies, unyielding optimism and complete lack of contrition comes off as completely tone deaf when the team is constantly losing. Winning makes lunacy charming. Otherwise… yikes.
The game was tied at five around the 15 minute mark of the first half and, though UConn was getting murdered on the offensive glass, it was playing well enough to keep the game competitive. It was then, for reasons beyond understanding, that Ollie put Antwoine Anderson, Dave Onuorah and Tyler Polley into the game. In the last seven games, that trio has combined to score 36 points in 292 minutes. The Huskies, obviously wouldn't have won regardless, but it'd be nice to not concede five minutes into the game.
Last year's UConn team was, by all accounts, the worst the program has seen since 1987. And I'm fairly certain they would destroy this year's squad. You can make an argument (and I would) that Rodney Purvis, Vance Jackson, Amida Brimah and Kentan Facey would each be the second-best player on the current roster.
Larrier is a flawed player but without him, Jalen Adams' life looks miserable. Nova coach Jay Wright acknowledged after the game that Larrier didn't look like himself on Saturday (again, understandable, because his face is mashed potatoes). Without having to worry about Larrier though, the Wildcats were able to double Adams on pick-and-rolls, collapse to prevent his drives and generally make things difficult. Adams was 7-20 from the floor and had six of UConn's ten turnovers.
It's depressing watching Adams' prime wasted on such bad teams.
Up Next:
The Huskies host SMU at Gampel on Thursday night. The game tips at 7pm and will be on CBS Sports Network. The get-in price on the official site is currently $43 and $13.95 on StubHub. Of course.