So, you guys are having a tough time. Let's talk it out with a special Wednesday mailbag. All questions answered by me unless otherwise marked.
Chris asks: are they going to go winless?
No.
Michael asks: What is the deal w/Gampel roof?  On TV it looks awful.  Bad look for University.  Either fix it or adjust the camera angles.
Well, there's nothing to be done about camera angles. I guess some off-white spray paint is probably the short-term solution you're looking for. We've answered some version of this question for years, but you (the readers) are consistently mad about it. There are plans to (finally) repair the roof coming in 2017. Try not to think about it too much. We've got bigger problems.
- Advertisement -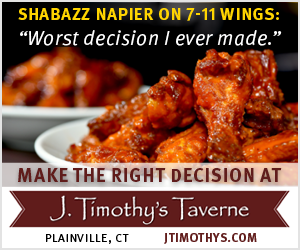 Joe asks: tastiest brand of bleach?
We're a Clorox website. They sponsor our podcast (not monetarily, but spiritually). Buy some Clorox bleach. [ad]
Michael asks: Why does it feel like we have not run a set play on offense for 4 years?
I think folks overestimate the amount of set plays run in basketball games nowadays. Most offenses operate based on schemes that center around loosely defined off-ball motion and pick-and-roll scenarios, allowing the personnel on the court to improvise within that structure to get up a good shot. Now, UConn's schemes are certainly lacking, and have been since the scheme was "please Shabazz, just handle this shit." Whether the blame for this lies more in strategy or execution, I think we'll have to speculate, but it's undeniable that UConn is not running the type of offense that Kevin Ollie and his staff envisioned. (Also the actual set plays drawn up after timeouts or for key late game possessions are very bad).
Mike asks: the thing is, we're a couple threes and a few more made free throws from being 2-0. How are people already in panic mode?
They've lost to two of the five worst teams on their schedule on their on-campus home court. I think the panic is warranted. I'm also not sure I understand the "couple of threes and a few more made free throws" line of thinking. Yes, if they scored a lot more points they would have won, but these games weren't flukes. UConn was outplayed — badly — in consecutive games by inferior opponents. I don't see how any reasonable person could watch those contests and come away with a positive impression of this team.
Don asks: if you want to be positive, could always talk about the Field Hockey team
Kevin "Big" Meacham answers: Glad to! Field hockey is the non-WBB bright spot of the UConn athletic department right now, because Nancy Stevens is a wizard and she's managed to keep her program incredibly consistent near the top of the Division I rankings despite playing in a horrific conference (Big East champs, babby!).
We're in the Final Four for the fourth straight season, including back-to-back national titles in 2013 and 2014, courtesy of wins over Duke and Syracuse, respectively. (They just beat Syracuse again in double overtime to get back to the Final Four). That success at the expense of hated rivals should be reason enough to support the team, whether you head down to Norfolk for Friday's semifinals or just decide to watch a livestream and tweet very authoritatively about a sport you've probably never watched for more than 10 minutes.
But there's also the fact that despite being 20-1 with its only loss a one-goal defeat on the road to a top-five team, UConn didn't receive one of the four seeds in the 16-team main bracket, which meant they had to dirty their cleats with the rust shavings on the ground in Syracuse for their first two games. THIS IS WHAT HAPPENS WHEN YOU [use an outdated metric like RPI to seed your field hockey tournament and screw] US.
Speaking of recent UConn championship teams, there's a couple badass Germans who will probably be responsible for whatever success the Huskies have this weekend: Charlotte Veitner is already the school's all-time leading point-scorer despite being a junior (she has 27 goals and 17 assists in 23 matches, including the game-winner against Syracuse), and Anna Middendorf will fuck your shit up on defense, as she has for almost 3 1/2 seasons as a starter. Middendorf is also a big weapon on penalty corners, which are a thing I can explain to you for a small fee. Amanda Collins (22 G, 12 A) and Casey Umstead (18 G, 15 A) are also quite productive.
UConn-North Carolina should be a terrific semifinal; the other two teams in the bracket are Delaware and Princeton, and c'mon, are either of those teams going to beat either UConn or UNC? (I don't know, they might? Never forget that famous field hockey saying, "It's all about the field hockey.")
Andrew asks: how long of a leash does Diaco have? Does Ollie have?
Oh good, we've found a way to include football in Misery Fest Mailbag 2016! Neither is going anywhere — unless it's on their own accord. UConn is cash-strapped and is approaching another financial cliff when the checks from their old Big East conference-mates stop rolling in. They can't afford to fire Diaco. And, while I'm personally very disappointed in his job performance, it would signal a pretty awful message about UConn football for them to fire the coach that they literally just extended.
On the Ollie front, he has a very long leash — and deservedly so. He has certainly struggled mightily this season, but his strengths still greatly outweigh his weaknesses. He's a good recruiter, a great defensive coach (last two games notwithstanding) and his presence as a high profile alum with a national championship ring is one of the things keeping UConn basketball from slipping completely out of the national conversation. If the Huskies were to fire Ollie and replace him with some hot shot assistant from Wichita State or whatever, who then led the program to some top-20 rankings and maybe a Sweet Sixteen or two, UConn isn't The Basketball Capital of the World; UConn is Marquette.
It's in everyone's best interest to keep Ollie on board and have him succeed. To me, that means a continued overhaul of his coaching staff. They need someone who is capable of developing big men (Ollie's biggest failure) and an offensive guru who can come in and actually execute the offense that Ollie wants.
Michael asks: Will the team ever be productive against a zone defense?
Meghan Bard answers: No. No, it will not. Look, I could tell you that even Jim Calhoun's teams struggled against zones despite always playing Syracuse twice a year and Jim Boeheim not having done anything new or interesting ever. But the reality is that every Ollie team has been off-the-charts awful against the zone, and KO has been the coach long enough that they should have some kind of answer to a defense everyone knows they suck against and that they face with increasing regularity. The real problem, though, is that the way to break up the zone is to make your shots on the perimeter. As long as teams can pack it in while not giving up three-pointers, that's exactly what they're going to do. This team needs to figure out how to penetrate, and the guys whose job it is to make shots actually have to make their shots. Maybe I'm just salty because we lost two buy games, but I'm not holding out hope they ever get it together against a zone.
Jon asks: now that we've lost to Wagner and Northeastern, are you still on board the "this schedule won't destroy our RPI" train?
Uh, yes, I guess [vroom vroom, or whatever sound a train makes, idk]. The schedule isn't the problem here.
Jared asks: do you see UConn finding their way back into the top 25 at any point this season?
Russ Steinberg answers: No, but that's not to say UConn can't become a top 25-caliber team at any point this season. I just think the hole the Huskies have dug is too deep.
Best realistic case scenario: UConn beats LMU and Oklahoma State before falling to North Carolina in Maui. Even if, somehow, it can manage to beat either Wisconsin or Oregon in the third-place game (not likely), you're still looking at a 3-3 overall record with games against Syracuse and Ohio State looming.
UConn hasn't had a winning streak longer than four games since cutting the nets down in Dallas and there's no indication that this team is capable of stringing together enough wins to get back into the polls. The non-conference schedule is too tough, and even in conference play, there are enough potential stumbling blocks, particularly with a young team.
That said, if this team does finally start playing to the level we expected at the beginning of the year, it can be one of the 25 best teams in the country, even if the resume doesn't reflect that.
Josh asks: do you think that our men's b-Ball team has a chance to turn its nosediving season around? When would that have to happen by?
Of course! This is a fucking crazy thing to say at the moment, but the nice thing about losing to two shitty teams is that there are still a lot of good potential wins left on the schedule. If the Huskies can pull it together enough to get to 20-10 with wins over, say, Syracuse, Ohio State, Cincinnati and SMU, they'll at least be in the running for an at-large bid. As for when it needs to turn around? Uh, right now. Or, tomorrow at 10pm EST to be precise.
Tim asks: what's worse: Losing to NE or that I expected them to lose to NE after watching the Wagner game?
The latter. We've talked a lot recently about how building and maintaining fan interest is especially critical for UConn given their financial situation. The last thing you want is to play yourself out of contention early in the season (cough, football) and play the rest of your games in a half-empty arena. That's not good for this season's ticket sales and it's not good for next season's ticket sales — it's also not good for recruiting, by the way. That's part of the reason I think UConn really needs to win two games in Maui. If they come home from Hawaii at 2-4, I'm not sure they'll draw 10,000 to the Boston University game in Hartford on the 30th. The stakes for UConn sports are really high at the moment.