The ball is tipped (or whatever the football equivalent is). UConn begins its season this evening against Holy Cross. Game time is 7:30 with the parking lots opening at 2:30 (season ticket holders) and 3:30 (bad fans). Plenty of tickets are still available here. If you can't make it, the game is on SNY. If you're in the NYC area, join Russ and Big Meach at Van Diemens — follow Russ on twitter to learn how you can earn an ADB sticker.
Meanwhile, our own Meghan Bard will be at the Rent handing out ADB stickers as well. Follow her on twitter to learn more.
Remember: If your question wasn't answered or you've been living under a rock and are just hearing about this, you can submit your questions here or on Twitter (@ADimeBack).
---
GBushman asks: Score prediction for tomorrow from all of you?
Amar asks: Do you think that we have the lead going into the half?
Jon asks: Do we score first quarter points this game?
Here's three questions for the price of one, so we can talk about what tonight means. Holy Cross was a bad FCS team last year. Their last football game was a 40-point loss to Fordham, although honestly Fordham probably would have beaten late-season UConn last year. UConn should, must win this game easily.
- Advertisement -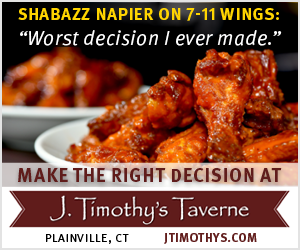 Not to dredge up old memories, but while Edsall used to summarily crush overmatched FCS teams (even with his bad teams in 2005 and 2006), UConn hasn't taken care of business against FCS teams since 2011, when the Huskies beat Fordham 35-3 in Paul Pasqualoni's first game as UConn coach (which also coincides with the high point of the Pasqualoni era.) The Towson loss in 2013 marks the point at which UConn football went from "declining" to "cliff-fall-off-ing".
And somehow it got worse under Bob Diaco, who needed a punt return to beat Stony Brook(!) by three in 2014, held on for a five-point win against Villanova in 2015, and trailed Maine by a touchdown with under seven minutes to play before rallying to win on a late field goal in 2016. Perhaps not surprisingly, none of those teams turned out to be very good.
So yes, I do believe the new offense will produce enough big plays that UConn should score several first quarter points. I do think the defense should keep Holy Cross out of the end zone until the game is out of reach, which will hopefully be by halftime. And I do think UConn will win, 38-10. If you have any hopes of an immediate turnaround, you'll know whether it's a possibility after tonight.
---
Nolan The Large Boy asks: Are you excited about the clam chowder? I've been sweating profusely in excitement for four days in anticipation for tomorrow.
Yes, Large Adult Nolan, I AM excited about the Chowder Pot clam chowder that will now be served at the Rent. Honestly, it's shameful that we haven't been able to procure that quintessential New England food at this sportsing venue before now. Fenway has Legal Seafood, we've got the Chowder Pot. My family used to patronize the erstwhile location in Manchester (current locations in Hartford and Branford), and I gotta tell you, it's some damn good chowder. And trust, fam, I would know. I am a clam chowder expert. A connoisseur. As a true, self-respecting New Englander, I've got my own recipe that I've painstaking refined over the years. None of that gloppy shit Campbell's passes off as chowder, but the perfect broth that compliments without completely killing the flavor of those wonderful, delicious mollusks. It's a perfect summer food (as that is when clam season is), but it's also the best thing to hold between your cold hands on a chilly fall day while you are watching UConn football (hopefully) win games. Those late-season games just got way more palatable. While everyone is freaking out about Chick-Fil-A, Chowder Pot clam chowder is low key the best addition to the Rent food offering. Get you some of that deliciousness.
---
Storrs South asks: Fuck, kill, marry between Jeff Hathaway, Paul Pasqualoni, Bob Diaco
This is the easiest question ever. As insane as he is, Bob Diaco is still remarkably pretty, so that takes care of one. You marry Pasqualoni because he's like 100 years old and probably has some money. And you kill (WE DO NOT ADVOCATE THE KILLING OF ANYBODY BUT HYPOTHETICALLY SPEAKING) Hathaway because he did more than anyone to torpedo UConn athletics forever and ever.
---
Big Ron asks: It was really stupid how we didn't return punts there for a while. Are we going to special teams now?
Appears so! Edsall's dedication to rolling back some of the dumber concepts of the Diaco era is admirable, and it makes sense, given that his two Big East co-championship teams were exceptionally good in those areas. The All-Fair Catch Punt Return strategy is dead, it seems like, and it's refreshing to have a head coach once again acknowledge that yes, punt returns are good, actually.
That being said, there's, like, a very good chance UConn might be awful on special teams this year despite that renewed commitment.
Because the roster is, how do you say, not so much with the depth, Edsall is going to be throwing a lot of young players, including many of the backups on the two-deep, onto the return and coverage teams. That could lead to some hungry guys making big plays in an effort to get noticed and earn snaps with the offense or defense. But it could also lead to a bunch of freshman who miss assignments and give up big returns and/or get their returners killed.
Hoping for the former option is true freshman Jordan Swann, who is slated to handle punt returns. Swann seems to have good speed, and that he emerged on a team with a plethora of wide receivers and defensive backs indicates something about how much confidence Edsall has in him. He and Quayvon Skanes will be back on kickoff returns. Maybe it'll be OK?
Meanwhile, the punting and kicking situations are pretty much a question mark outside of reliable sophomore long snapper Nick Zecchino, who is technically UConn's highest-rated recruit ever (because he was a top five long snapper nationally when he committed last year).
Michael Tarbutt has a powerful leg and won the starting job on kickoffs and FG/PAT kicks. He's got potential at least. Then there's the glorious battle between redshirt freshman Brett Graham and Australian freshman Luke Magliozzi, and for the sake of making as many kangaroo jokes as possible I hope Magliozzi emerges to rugby punt other teams into oblivion.