So much for a "rebuilding year."
Last night, the UConn women's basketball team defeated previously undefeated Maryland in front of nearly 18,000 loud as hell fans at the Xfinity Center in College Park, extending their winning streak to 87 games and leaving everyone to wonder if anyone will beat them ever for the rest of time.
Katie Lou Samuelson had what Geno called a "gutty" performance. That was true of both her on-court and off-court situations. Lou was clearly sick, "upchucking" (as the classy Doris Burke said) on the sidelines before dropping 23 points on the Terrapins.
Lou struggled in the first half, but managed to find her shot in the second, at one point scoring eight consecutive points. It was one of the more badass things I've ever seen. Most of us would be totally laid out by a stomach bug, but Lou wasn't going to spend the game worshiping the porcelain goddess. She puked and rallied in a display of toughness rarely seen. The level of commitment, and just sheer force of will is impressive in a way that words can't do justice. Or at least not my words. We don't quote poetry around these here parts much, but the words of Rudyard Kipling seem pretty apt today.
If you can force your heart and nerve and sinew
To serve your turn long after they are gone,
And so hold on when there is nothing in you
Except the Will which says to them: 'Hold on!'
- Advertisement -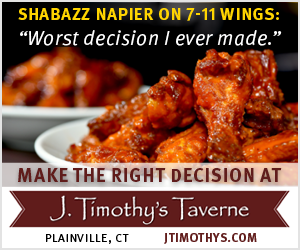 I'm marveling in your general direction, Lou. That was one hell of an effort. Now please get some rest and plenty of fluids, OK? Do you need someone to bring you some soup?
Kia Nurse showed incredible poise and leadership throughout the game. Despite leading by 19 at one point in the second half, with UConn's front court in foul trouble (thanks, garbage women's basketball refs) Maryland made a late surge, getting within five with under four minutes to play. Kia, who had 19 points to go along with her five assists kept her team composed down the stretch, slowing the tempo and keeping her head when others were losing theirs (don't stop me now, I'm on a roll).
ADB fave and Ambassador of Wokeness Gabby Williams had another stellar outing. She filled up the stat sheet with 16 points, nine rebounds, five assists, two blocks and a steal. Once again, her incredible athleticism was on display. I couldn't help but notice how often she gets a hand on a pass that ends up in her teammate's hands. She doesn't get credit for a steal, but it sure is hell belongs to her.
Now, last year we talked a lot about how watching the UConn women just blow everyone out of the gym was fun, and don't get me wrong, it really was. But last night was an incredible basketball game. Maryland played their asses off. Freshman point guard Destiny Slocum dropped 23 points along with seven assists, including going 5-10 from behind the arc. Sometime she was wayyyyy behind the arc. It's going to be really fun to watch her play for the next few years.
That may be the best part of being a women's basketball fan. Knowing that you're going to get to watch players develop and thrive over four seasons. Last night, I watched Gabby, who is playing at the very top of her game, and got to remind myself that we've got a whole other season to enjoy watching her out-rebound girls 6" taller than she is, get a hand on every pass that goes anywhere near her, and make passes that many point guards couldn't pull off. To be able to invest emotionally in these players, to watch them get better and better, is so rewarding as a fan.
But this game? This game was fun. So much fun. It's great to see a Maryland team making the most of its No. 1 recruiting class. Those ladies are going to real contenders for the next few years. As much as I enjoy a blow out, living and dying with every possession, screaming at the screen when Lou or Gabby or Kia hit a jumper, that is why you watch sports. It's been a rough few months for UConn fans, and the elation that comes from watching a game like last night's is a balm for our poor, battered hearts.
Side note: props to the Maryland women's basketball fans, who sold this game out days in advance, and crammed 18K loud ass people in there. Having more fans is good for everyone. It's really wonderful to see so many people appreciate women's sports being played at a high level.
UConn now turns its attention to its less-heralded conference schedule. I don't think anyone really expected the Huskies to run the gauntlet of their out-of-conference schedule and make it to 2017 unscathed. But here we are. Streak-tying win number 90 will (potentially) be played against the only ranked AAC foe, USF, on January 10. And South Carolina, currently ranked sixth, is still looming as potential win 100 on February 13.
But next up the face UCF on New Year's Day in Orlando. The game will be showing on SNY.