As the 2016 recruiting year gasps its dying breaths, UConn finds itself looking over a talented, but incomplete, roster with two open scholarships and a few soft spots.
There is a tremendous amount of talent on board for this upcoming season, thanks largely to an elite recruiting class (#6 by 247 composite), no small feat in the middling AAC. Yet the roster could use a bit more depth on the wing and a veteran 4-man who could step in if the young players aren't quite ready.
One option that just presented itself is Nebraska forward Andrew White III. White announced this weekend that he will be leaving Nebraska as a graduate transfer, enabling him to play immediately next season wherever he ends up. While it's not clear if there is any interest between UConn and White, there certainly should be.
White is a perfect fit for Ollie's offense: a combo forward with solid size, good rebounding, and great shooting. As a forward who likes to create mismatches with slower players, White would likely excel in UConn's offense, finding himself with a lot of open looks from deep, where he shot 41.2 percent last season. Of course, it takes two to tango in recruiting, but Ollie should be calling White every day, telling him how much success he'd have playing up front with Terry Larrier and Amida Brimah, and alongside a troika of talented guards.
White represents a perfect replacement for Shonn Miller. They had identical rebounding percentages (11.6% of all available rebounds), and were similarly efficient on offense (Miller's TS% was .629 last year – White's was .615), with the biggest difference being White's tendency to attack from outside.
- Advertisement -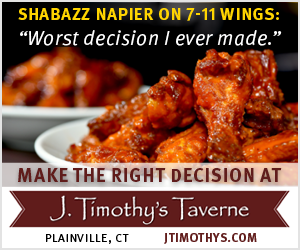 White could also replace some of the scoring load lost with the early departure of forward Daniel Hamilton. Ollie has consistently expressed a desire to play "position-less basketball," hunting for players with diverse skills that can handle multiple spots on the court. White fits that model exactly, and would enhance Ollie's resources to experiment with both big and small lineups.
It's unclear if White would consider UConn. As is often the case for graduate transfers (ex: Sterling Gibbs), White may already have a school in mind for next season. He hails from Richmond, Virginia – a rare section of the east coast where UConn has not had much recruiting success. The Huskies were also missing from White's original recruitment in the high school class of 2012. But if Ollie hasn't already made contact, he needs to do so, and soon. Adding White to this UConn roster would immediately transform the Huskies into a Final Four contender, and Ollie is running out of time to fill his last to roster spots with contributors.