With the 2016-17 men's basketball season officially over, let's recap the year using the same questions the A Dime Back staff answered in the preseason roundtable way back in October, when life still made sense.
Where should UConn be ranked heading into the season?
The Huskies began the season ranked number 18 in the AP Poll. That, uh, didn't last long as you may recall. Following an opening night loss to Wagner, UConn was unranked the following week. Things only got worse from there, as the team lost to Northeastern, and then lost half its roster to injury. UConn is currently 93rd on KenPom.
Our preseason predictions:
Tyler: 18
Meghan: 16
Russ: 15-20
Peter: 15
Kevin: receiving votes
Record Prediction
The most pessimistic (me, somehow) forecast a nine-loss season. UConn lost 17 games. It was the program's first season under .500 since Jim Calhoun's debut 30 years ago. The Huskies did manage to finish 9-9 in the regular season against their conference opponents in the AAC, followed by two more wins in the conference tournament before bowing out to Cincinnati.
Our preseason predictions:
Kevin: 22-8
Peter: 25-6
Meghan: 23-7
Tyler: 21-9
Russ: 22-8

WTF Loss
- Advertisement -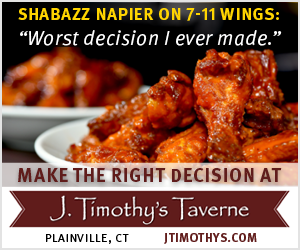 Honestly, you could pick from a half-dozen candidates for this award. There's the Georgetown game, where UConn blew a 14-point lead. Or the late season loss to East Carolina as the team fought for preferential tournament seeding. To settle this properly, however, we're awarding a tie to the first two losses of the year, consecutive games, at home, against Wagner and Northeastern. Wagner finished 16-14 and was a genuinely bad team. Of course, it's sports. Crazy shit happens sometimes. Except, three days later — after a weekend to, theoretically, correct errors — UConn then lost to Northeastern playing, essentially, the exact same game.
Our preseason predictions:
Meghan: @ Tulsa
Russ: @ Tulsa
Tyler: Oklahoma St
Kevin: Memphis
Peter: @ Tulsa
Beat Quality
As is typical of Kevin Ollie's teams, its best quality ended up being its resilience. Despite the Huskies' dreadful regular season, the team turned it on in the AAC Tournament — as they did in the two prior years — putting a good scare into the rest of the league, even if some legendarily poor AAC officiating helped officially end the Huskies' season. Another laudable attribute typical of Ollie's teams was its physical stamina. Despite playing severely undermanned for most of the year, the Huskies fended off lingering injuries and fatigue to play some of their best offensive basketball in their final games.
Our preseason predictions:
Tyler: athleticism
Peter: ball-handling
Kevin: defense
Meghan: guard play
Russ: control
Worst Quality
Structural integrity of human bodies. Mamadou Diarra (knees), Terry Larrier (knee), Alterique Gilbert (shoulder), Juwan Durham (foot, flu), Steve Enoch (foot), Jalen Adams (head), Christian Vital (head) and Vance Jackson (head) all missed games for UConn because of injury. All told, Huskies players missed over 100 combined games. 8 of 11 scholarship players missed at least one game. The quantity, severity and impact of these injuries was unprecedented. With so many missing in action, UConn's lack of depth was badly exposed. Foul trouble went from inconvenient to catastrophic — you may recall Mike Noyes playing in the first half of UConn's season-ending loss to Karl Hess on Saturday. Inserting any of those missing action back into the lineup likely results in a few more wins for the Huskies.
Our preseason predictions:
Meghan: rebounding
Russ: consistency inside
Kevin: rebounding & 3P shooting
Peter: rebounding
Tyler: rebounding
Who is the X Factor
The one silver lining to the rash of injuries was seeing several UConn players rise to the occasion in their absence. In the preseason roundtable, I predicted Kentan Facey would be the team's X Factor and I'll stick by that now. Always a talented rebounder, Facey bloomed into a productive offensive player given the lion's share of minutes at the four spot. His 7.1 rebounds per game led the team, somewhat making up for the loss of Daniel Hamilton.
Our preseason predictions:
Tyler: Facey
Russ: Enoch
Meghan: Durham
Kevin: Jackson
Peter: Facey, Durham & Diarra
Breakout Player
Another tie! This time between freshmen Christian Vital and Vance Jackson. Each was forced into an outsized role due to injury and each stepped up admirably. Vital emerged as a useful player on offense and a legitimate weapon on defense. The team's lack of depth forced them to employ more zone defense than in years past, but in the man-to-man scheme, Vital was a dynamic on-ball defender, perhaps the best freshman on that side of the ball since Shabazz Napier in 2011.
Jackson's season took off when his shot started falling. In conference play, he was an outstanding 48.4 percent from three-point range. All told, his 39.7 percent on the season is the highest mark by a UConn freshman in over a decade (Rudy Gay in 2005). Yet, it was his contributions elsewhere that proved how valuable Jackson is. He rebounded fairly well and showed a passing ability that will serve him well as his career continues.
Our preseason predictions:
Kevin: Adams
Meghan: Adams
Peter: Larrier
Russ: Larrier
Tyler: Purvis
Who will lead the team in scoring, rebounding & assists?
Adams – 14.4 points
Facey – 7.1 rebounds
Adams – 6.1 assists
Our preseason predictions:
Meghan: Purvis – Facey – Adams
Peter: Purvis – Facey – Adams
Kevin: Purvis – Facey – Adams
Russ: Purvis – Facey – Adams
Tyler: Purvis – Larrier – Adams
Jalen Adams Over/Under: 14 points, 4 assists
See above — over on both. Fuck it doe.
Our preseason predictions:
Russ: under on both
Tyler: over on both
Kevin: under on scoring, over on assists
Meghan: under scoring, over assists
Peter: under scoring, over assists
Jamal Coombs-McDaniel Award (bench guy who inexplicably leads the team in scoring once or twice)
Steve Enoch's 15 point performance against USF might win this award. It was a narrow field considering UConn had no bench to speak of for most of the season.
Our preseason predictions:
Meghan: Jackson
Russ: Jackson
Tyler: Enoch
Kevin: Facey
Peter: Vital
Guess the attendance of the 12/23 Auburn game
The official attendance was 12,051. I guessed 12,018 and PRICE IS RIGHT I AM COMING FOR YOU. Unfortunately, low turnout was a common theme this year.
Our preseason predictions:
Russ: 11k
Kevin: 9,570
Peter: qualified sell-out
Meghan: 7,500
Tyler: 12,018
What will Mick Cronin be mad about this year?
It turns out he was mad about reporters asking questions following the worst officiated game in the long, proud tradition of the American Athletic [pause to hold down vomit] Conference.
Our preseason predictions:
Too long to summarize.
Wild Card – make literally any other prediction
UConn beat Syracuse in Madison Square Garden. This doesn't have anything to do with the wild card prediction, but it needed to be included somewhere in here.
Our preseason predictions:
Tyler: Adams triple-double
Meghan: Enoch windmill dunk
Russ: #FireOllie twitter at it again
Kevin: Overreaction to Cuse game
Peter: Big Ron will be revealed