It's #MailWeek at A Dime Back. The men are off until the weekend and you folks are just salivating for content, so we're going to answer your best (ish) mailbag questions one at a time, giving longer answers than you'd find in our normal Friday feature. You can submit your questions here or on Twitter (@ADimeBack)
Big Ron asks: Is Christian Vital's double-double the most inexplicable of the Calhoun/Ollie era?
This question came from our favorite man of mystery following Christian Vital's surprise double-double against Tulane on Saturday night. Let's top ten this beast.
10. Phil Gamble, Jan 30, 1988 vs. Georgetown: 16 points, 11 rebounds
Gamble was the team's second-leading scorer in 1988, but it was against #15 Georgetown that he recorded the lone double-double of his career (UConn lost by one).
9. Ed Nelson, Dec 18, 2005 vs. New Hampshire: 12 points, 11 rebounds
When Big Ed wasn't escorting young co-eds around campus in his pickup truck, he was sticking opposing forwards on the court. Yet, despite his reputation as a tough interior player, his only career double-double came against UNH in 2005. By the numbers (Nelson averaged 3.2 points and 3.1 rebounds per game that year), this one should be ranked much higher, but we don't want to run afoul of Grampa Bob.
8. Dan Cryulik, Jan 27, 1990 vs. St. John's: 13 points, 10 rebounds
- Advertisement -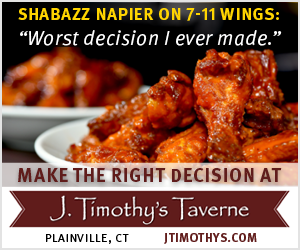 Similar to Nelson, Cryulik was a large enough human that a double-double shouldn't have been totally surprising. But his lone one came in the middle of a sophomore season that saw him average only 3.8 points and 3.5 rebounds per game.
7. Ajou Deng, Nov 17, 2000 vs. Quinnipiac: 10 points, 12 rebounds
Hey, remember him? You might if you've watched highlights of the 1999 championship game recently in which the broadcast crew boldly predicts the young Sudanese kid wearing a suit on the bench could become the next Donyell Marshall. Instead, Deng flamed out at UConn after two seasons in which he averaged only 4.6 points and 3.7 rebounds. Bonus points for this game because Edmund Saunders also had a double-double. You do you, Quinnipiac.
6. Christian Vital, Jan 28, 2017 vs. Tulane: 14 points, 10 rebounds
I have a feeling this double-double won't feel so inexplicable in a few years once Vital's career is complete. As his shot improves and he matures into an upperclassman, more quality games await him. For now though, even Vital seems confused.
When did this happen? 😅 https://t.co/nbpC0aAHBs

— Christian CV Vital (@I_AMCV) January 29, 2017
5. Willie McCloud, Dec 8, 1987 vs. Villanova: 11 points, 10 rebounds
4. Murray Williams, Feb 29, 1988 vs. St. John's: 13 points, 12 rebounds
Williams and McCloud each averaged around five points and three-and-a-half rebounds per game in the 1987-88 season, yet both (along with Gamble above) managed to record a double-double. I'm giving Williams the "more inexplicable" honor however because he weighed about 95 pounds.
3. Albert Mouring, Jan 2, 1999 vs. Georgetown: 12 points, 10 rebounds
Mouring was one of my all-time favorite UConn players and, for the life of me, I can't recall him ever grabbing a rebound. That he managed ten in a game is, well, inexplicable.
2. Tyler Olander, Nov 17, 2011 vs. Maine: 11 points, 10 rebounds
1. Tyler Olander, Nov 20, 2011 vs. Coppin State: 11 points, 10 rebounds
Tyler Olander recording a double-double is somewhat inexplicable. Tyler Olander recording double-doubles in BACK TO BACK games is just plain crazy. He played 135 games at UConn and registered double-digit rebounds — you guessed it — TWICE. Tyler Olander has more double-doubles than Jim Boeheim has national championships.