In what has amounted to a wholly depressing season for UConn, the play of Jalen Adams has often been a bright spot. The sophomore guard has adapted to his new role as the team's primary offensive weapon, and often its main ball-handler.
The result has been a doubling of his scoring average — up to 14.7 points per game — and a similarly significant spike in both rebounds and assists. Despite preseason intentions of playing Adams off the ball next to freshman Alterique Gilbert, a season-ending injury to the latter has forced Adams into near-permanent point guard duties. He has responded by leading the AAC in assists per game (6.6), and is currently fourth in the country in assist rate — a feat made more impressive considering the collective offensive struggles of this UConn team.
Adams' performance has led to many anointing him the next great Husky point guard — the destined successor to Kemba Walker, Shabazz Napier and Ryan Boatright. Given what we've seen from Adams this year, those expectations aren't unreasonable, but they will be unattainable unless he continues to develop and reshape his game to fit the needs of both the Huskies and future NBA suitors.
We'll focus on three key areas, two of which are objective and one of which is subjective.
The first, and most glaring, weakness in Adams' game is his inability to get to the free throw line. This is a problem that extends to nearly every player on UConn's roster, raising legitimate questions of strategy vs. ability, but Adams is the most afflicted.
- Advertisement -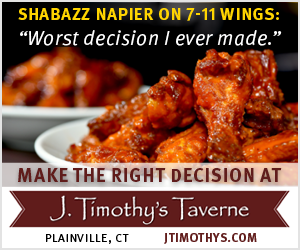 Of UConn's "regulars" [read: able to walk and/or lift things], only Juwan Durham has a lower free throw rate than Adams (.212). Having their main ball-handler, and top shot-taker, rarely get to the free throw line helps explain (in part) the Huskies' scoring troubles this season. Adams is quick and agile enough to get to the rim. When he starts turning more possessions into free points, look for the entire offense to become more efficient as defenders attempt to cut off Adams' access to the rim. Getting to the free throw line is also the best way to mitigate poor outside shooting, which brings us to point number two.
In UConn's first 11 games of the season, Adams shot 43.3 percent from three-point range — a gigantic improvement from his 27.3 percent effort as a freshman. In that 11th game against Auburn, however, Adams suffered a concussion that forced him to the bench and caused him to miss the next contest against Houston. In the nine games since his return, Adams has made only nine of his 35 three-point attempts (25.7 percent) — a trend masked in part by markedly improved shooting from deep by his teammates.
With sound mechanics, Adams' struggles from three as a freshman were mostly chalked up to a small sample size — he only had 44 attempts. Yet now — 22 games into his sophomore campaign — it appears Adams may have more work to do in the offseason to turn his three-point shot into a legitimate weapon.
In fairness, the deterioration of his shooting percentage from deep could also be tied to fatigue. Few players in the country have been tasked with doing more for their teams than Adams given UConn's injury troubles. But even with a deeper roster next season, Adams will need to show the three-point shot as a serviceable tool to maximize his potential on offense.
Getting reinforcements next season will be a relief for Adams. Gilbert's return, along with the arrival of Makai Ashton-Langford and the depth of Christian Vital, should help relieve Adams of some of the ball-handling duties, allowing him to function as a keystone in the offense — think 2004 Ben Gordon. Toss Terry Larrier and Vance Jackson into the mix and UConn should be blessed with some offensive firepower that has been sorely missing this season. But the responsibility for leading the offense will still fall to Adams.
The best guards in UConn history — those mentioned above — all had the ability put the team on their back and carry them to victory. Adams has the talent to do the same but has yet to show a consistent ability to assert himself into that role. We got one spectacular flash of it against Cincinnati in the AAC Tournament last year, when Adams scored 22 points off the bench, including the unforgettable shot to keep the Huskies in the game. We got another glimpse early this year against Oklahoma State, when Adams shook off a brutal first half to finish with 34 points in a loss.
That needs to become the norm, not the exception. We all remember Kemba and Shabazz for their sustained brilliance, but hidden just beneath that was the innate ability to wrangle control of the game when they felt it slipping away. For Kemba, this often meant forcing his way to the free throw line. For Shabazz, it was stepping up his defensive intensity to force a turnover, or hitting a momentum-stopping shot that had no business going in.
In 2011, Kemba had 34 games in which he scored 18 or more points, despite shooting 35 percent or less from the floor. Boatright did it 21 times in 2015, Shabazz 19 times in 2014. It's that ability to get points on the board, even when your shot is off, that Adams has yet to show consistently.
Adams has a bright future ahead of him. He could leave college right now and be a star for a European team. He could make some steps forward next year and find himself in the first round of the draft. But to truly maximize his potential, and grow into the superstar that his talent offers, he has some work to do.