The UConn Huskies are undefeated. As a final hors d'oeuvre before a Thanksgiving matchup with Oregon, the Huskies stomped on Boston University, 85-66, on Sunday night.
To the bullet points.
GOOD THINGS
Christian Vital exploded for 30 points, hitting four threes and getting to the line for 11 free throw attempts — making eight. Vital had been slumping coming into the game but showed up against BU determined to make a difference. He was a force defensively, forcing seven deflections (according to Kevin Ollie's postgame remarks). He had five rebounds. He was good, you see. The nice thing about having really good players like Vital is that, even if they struggle at times, given enough time on the court they'll usually course-correct back to their true talent level. This holiday season, I remain thankful that twitter dot com (free website) does not coach the UConn Huskies.
It was good to see UConn put away a bad team. Once they recovered from a really slow start (more on this later), the Huskies never let up, playing fast and efficiently. They made 30 of their final 55 shots (54.5 percent), scored 17 points on the fast break and another 17 on second-chance opportunities. Overall, it was a good offensive showing.
Antwoine Anderson continues to be a really nice piece for UConn. With 11 points against BU, he's now scored in double-figures in each of the Huskies' first three games. It can't be easy to come to a new team as a fifth-year senior and see your shot attempts cut in half, but Anderson has adapted well to his new role. As odd as it might seem, he's been UConn's most consistent guard this year.
- Advertisement -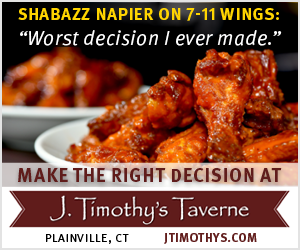 Large Dave Onuorah is fun as hell. His numbers (two points, five rebounds in 14 minutes) are nothing to write home about, but he is adding a level of physicality to UConn's defense that has been missing in the last several years. Here's his one hoop, by the way.
Another #LargeDave hustle play #UConn pic.twitter.com/fS7qrmcOnJ

— tcf15 (@tcf_15) November 20, 2017
The guards did a hell of a job rebounding on Sunday. Jalen Adams, Alterique Gilbert, Terry Larrier, Vital and Anderson combined for 29 boards. BU, as a team, had 32.
Although the collective group of non-Larrier big guys isn't the most talented bunch, their energy level has been impressive. Part of the reason you're not noticing a big shift in production from one guy to the next is that they're all doing pretty much the same thing: rebounding well, playing physical defense and throwing a few points on the board here and there.
UConn is undefeated.
NITPICKING BAD BULLETS
The first ten minutes or so were painful. The Huskies missed 11 of their first 12 shots and trailed off-and-on until the 6:06 mark in the first half. This is obvious, but they can't come out slow against Oregon on Thursday. It's easy enough to erase a deficit against a bad team like BU, but UConn isn't good enough to take a quarter of the game off.
The shot selection — while improving! — still needs some refinement. Vital was four of ten from three. The rest of the team was six for 20. Put simply, no one but Vital should take a three unless they're wide open, the shot clock is about to expire or kidnappers are demanding they shoot threes as the ransom for some sort of hostage situation.
I hope Jalen Adams enjoyed his relaxing evening because the Huskies are going to need a lot more from him this week. He scored five points in the first half and a quiet seven in the second.
It might be an unrealistic expectation at this point in his career, but it would still be nice if Adams would find himself at the line more. He didn't attempt a single free throw against BU.
Eric Cobb missed most of the game after spraining his ankle in the first half. Ollie sounded optimistic after the game when asked if Cobb would be ready to go in Portland.
The missed free throws were annoying. UConn was 13-20 (though 7-8 in the second half). Hopefully just a blip on the radar, but something worth watching going forward.
***
Eat your turkey. Drink your wine. Then watch UConn play Oregon on Thursday night at 9pm. The game is on ESPNU.