Scoreboards don't really care about abstract concepts, so there is every chance UConn could improve as a football team in 2016 and still wind up having a less successful season.
It's important to stipulate that idea on this, the day the 2016 season opens, as a reminder that UConn was not a good football team in 2015, but reached a bowl in Bob Diaco's second season anyway, before anyone thought it realistically possible. Last year was a season in which the Huskies got a couple of fortunate bounces they needed (not the least of which was the fact that Tim Boyle's lateral to Garrett Anderson definitely should have been picked off and returned for Houston's go-ahead touchdown. I still cringe every time I see it, which is four times a day, every day, for 10 months).
After last year, UConn can sell hope again, and there is a visible path forward to the Huskies being a contending team in the AAC, but it's a hard road, not nearly as simple or formulaic as "six wins last year + a bunch of returning starters = nine wins!"
With a decently challenging schedule and a thin margin for error, not to mention a number of key positions in which avoiding injury is vital, there are actual expectations on Caped Crusader Bob Diaco as he enters his third year. It's a weird position to be in, because UConn's win-loss record is simultaneously both A) not as good an indicator of how healthy the program is compared to their overall play-to-play performance and B) the most important thing ever given that the Big 12 is currently texting every school it knows at 3 a.m. asking if they up.
Besides that, there is also the meta matter of rebuilding UConn football's fanbase, a slow and delicate process that really is gonna require a 10-win season or two, and/or lots of free booze, realistically.
- Advertisement -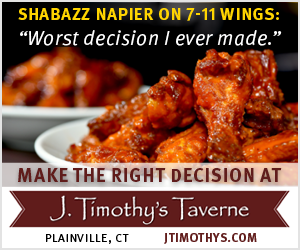 So let's get things started by taking a look at UConn's 12 opponents as sorted into very scientific tiers, in roughly ascending order of difficulty:
MUST-WIN, TEAM IS BAD DIVISION
Maine (home, Sept. 1), Tulane (home, Nov. 26)
UConn bookends its season with what appear to be its two easiest games, both at home. Maine is breaking in a new coach on a team that went 3-8 a season ago, and is projected to finish towards the bottom of an FCS conference – a good one, but still an FCS conference. A win should be a given (if it's not, then we'll have to re-evaluate everything that follows), so tonight needs to be about performance, about showing that this team has advanced from where it was in the St. Petersburg Bowl. I want to see UConn move the ball effectively on offense, particularly on the ground. I want to see how the offensive line works as a unit. I want to see plays made at every level of the defense. I want to see an efficient passing game. I want to see execution of a game plan and a sign that the progress we saw in 2015 was real. (And please, no injuries.)
The Huskies haven't had an easy time with their last three FCS opponents, so while a four-touchdown win wouldn't mean that they're headed for a 10-win season, it would make us all sleep a little bit better.
It would be a sign of incredible progress if the Thanksgiving weekend game at the Rent were meaningful in terms of an AAC East Division race. It's probably more likely that the game will be about solidifying a winning season, following either A) the most satisfying victory in program history in Chestnut Hill or B) the most insufferable loss in the short history of UConn football. Tulane has a new coach (Willie Fritz) who should have the Green Wave competitive within a few years, but for this season, they project to be the worst or second-worst team in the AmeriCon. These two teams have played a pair of anti-classics the past two seasons (average score: Tulane 7.5, UConn 5), combining for one offensive touchdown; if this game isn't much different, at least we'll be able to re-watch Jalen Adams' triple-double from three days earlier in the Maui Invitational final.
MUST-WIN, HATED RIVAL DIVISION
UCF (home, Oct. 22)
The only team I care about beating. Scott Frost? More like Scott Get Lost, pal-o, before I give you a knuckle sandwich. You can throw out the records when the #conFLiCT is played before a rabid crowd of UConn fans who have grown up their entire lives hating a 50-mile belt of Florida that is neither north nor south. Central Florida? More like Dental Florida, 'cause that knuckle sandwich is gonna cause you some serious tooth adjustment, and you have a super-high deductible for non-preventative care dental visits, and you're not gonna be able to prevent this.
Anyway, UConn should probably win this game.
MUST-WIN, TEAM IS DUMB DIVISION
Syracuse (home, Sept. 24), Boston College (awayish, Nov. 19)
The first four games of the season are so crucial for UConn, because beginning with the Houston game Sept. 29, probably the Huskies' three most difficult games all come in games 5, 6 and 7, depending on your opinion of Cincinnati this year. All four games are winnable-ish, and the best possible thing for UConn as a school would be to start off 3-0 (including what would be sufficiently impressive wins over a good Navy team and a talented Virginia squad) and get a little bit of buzz going amongst the fanbase prior to welcoming our former Big East punching bag to PAWS-ARF. The Orange are breaking in a new coach and per college football guru Phil Steele, they have above-average ACC talent in exactly one position group (wide receivers, 7th out of 14), although Bill Connelly's efficiency numbers like the 'Cuse a bit more. It's a game UConn needs to win for sentimental reasons (due to Jim Boeheim is extremely bad), and a game the Huskies probably need to win because if they're 2-2 (or worse) heading to Houston, getting back to a bowl is going to be extremely tricky.
Boston College is bad and must be defeated. Cheat if you have to.
TOSS-UPS
Virginia (home, Sept. 17), East Carolina (away, Oct. 29)
Two more teams with first-year head coaches in this tier, so it would be nice to see UConn bag both of these wins to shore up their bowl credentials. Virginia is projected as either the worst or second-worst ACC team, but Bronco Mendenhall enters after a very successful run as BYU's head coach, and he will be very familiar with Bob Diaco's UConn, having played them the last two years. The Cavaliers have a solid offense, but a defense that allowed 30 points per game and will be two weeks into breaking in a new defensive scheme (including new starters on the D-line). This is a very winnable game if UConn is improved from last year.
I'm not sure what to expect from mysterious East Carolina. UConn blasted them last year at the Rent, racking up 400 offensive yards (and its best game running the ball all season). For whatever reason, ECU fired coach Ruffin McNeill, who had had a nice run, and now the Pirates have what appears to be a pass-oriented offense under Scottie Montgomery without a proven quarterback (starter Phillip Nelson put up very middling numbers at Minnesota before transferring there). Still, it's a road game – UConn is 6-20 on the road over the past five years – and ECU does have a very strong home field advantage due to non-state pride. Potentially tricky.
THE CONTENDER/PRETENDER ZONE
Navy (away, Sept. 10), Cincinnati (home, Oct. 8), Temple (home, Nov. 4)
UConn hasn't finished above .500 in conference play since 2010; for that to happen in 2016, they'll need to take two of these three games.
The Navy game is the key for how the rest of this season will play out. Win that, and it's a clear sign of progress, giving UConn a very real chance of being 4-0 prior to their trip to Houston, with a shot to do something really special this season. A loss (as seems more likely, given the Huskies' past problems stopping Navy's triple-option and their struggles away from East Hartford) doesn't mean UConn will be bad this season, but it means that improvement is going to be a bit slower than hoped.
Complicating matters is that who knows how good Navy is going to be this year? They graduated their amazing quarterback Keenan Reynolds and bring back just one starter on offense; then again, it's Navy – a system offense with an excellent coach, Ken Niumatalolo, who has gone at least 8-5 in all but one of his eight seasons.
The other two games in this tier will have a lot to do with UConn's placement in the AAC East standings, as they represent teams who infuriatingly beat UConn on a regular basis. The Bearcats in particular just always seem to have UConn exactly figured out; the past four games between them have seen an average score of 38-12. Cincinnati was just 7-6 last year, but still finished with a winning record despite being desperately unlucky with turnovers (minus-19!). Averaging 538 yards of offense per game does wonders, apparently. This is the middle game of that treacherous three-game stretch in late September/early October, the easiest one if only because it's at home. Luckily, UConn has had prayers answered during Cincinnati games before.
Temple's kind of the model for what UConn is trying to do, except that they're a year ahead. Last year was Matt Rhule's third year in charge, and he rode 19 seniors and a strong defense to an impressive East Division title, 10 wins, and a national ranking, the first notable thing ever accomplished by Temple football. If Diaco accomplishes that in his third year, we'll build a statue for him. The Owls lose 10 starters from that team, but keep a playmaking quarterback (PJ Walker) and what should remain a good defensive unit. To me, this is the most winnable of the three games in this tier, but is almost definitely a toss-up.
GRAVY
Houston (away, Sept. 29), USF (away, Oct. 15)
Speaking of public monuments, if Diaco can pull off wins in either of these games, the exterior of Rentschler Field should be modified so as to resemble his face.
Winning at Houston, against a team who is definitely not mad they rejuvenated UConn football by losing here 10 months ago – in fact they think it's funny – is going to be damn near impossible. It'll be a road game, on a short week, and likely with Greg Ward Jr. playing a full 60-minute game, on the fast track at Houston's stadium. Fish cake will be on the menu.
USF, meanwhile, appears poised for a breakout under third-year coach Willie Taggart, who had two seasons similar to Diaco's first two (USF was 6-18 combined in 2013 and 2014) before the Bulls figured it out, winning seven of their last eight – one of those wins coming at the Rent, when they overcame a 500-yard offensive day from UConn (!) by holding firm on the ~300 plays the Huskies ran inside their half of the field. They seem to be relatively loaded with talent, with Quinton Flowers and Marlon Mack potentially the best QB/RB combination in the conference, and an aggressive defense full of speed. While there's always a chance USF can really USF things up at any given moment, the Bulls look like the team to beat in the AAC East, and UConn always struggles in Tampa, with one notable exception.
FINAL VERDICT:
7-5 (4-4 AmeriCon).
I think the Huskies grab two of three against the ACC teams, win three of five against the AAC East (UCF, ECU and one of Cincinnati/Temple), one against the AAC West (Tulane). UConn returns to a minor bowl (this time a win) against a school that we're all surprised to learn has a Division I football team.
There are more than seven winnable games on this schedule, but it's hard to reasonably expect a team that was below average overall (and 2-6 against top 100 teams) last year to get that good, that quickly. This is a team with a ceiling of nine wins if the offensive line improvement is real, Bryant Shirreffs stays healthy, and the defense doesn't lose a step from where it was in 2015. It's also a team with a floor of about four wins if those three things go wrong and/or UConn finds itself on the wrong end of turnover margin over the course of the season.
So for me, 7-5 is a reasonable goal, and would represent a step forward (in terms of building a program capable of consistent winning seasons) even if it's not the great leap forward that many of us are hoping for.
More than seven wins would be fantastic and proof that Diaco possesses dark magic, and/or that his strength & conditioning program, his defensive scheme, and his recruiting strategy are all paying dividends by maximizing the talent he's inherited and brought in.
Less than seven wins isn't necessarily a disaster, given how many things need to break UConn's way. But 10 months after the win over Houston gave the first sign that Diaco might be on to something here, after 10 months of buildup to this season featuring a narrative that UConn is a program "on the rise," at a time when UConn's success at the one sport that matters to power conferences is so crucial, well…it would be a very hard reality check if the Huskies failed to get back a bowl this year.
So let's just go out there and win all the games, agreed?
Beat Maine.